Fireflies provide automatic transcription of live meetings and uploaded audio files in minutes. It's a smart AI-backed meeting recorder and central platform for post-meeting collaborations, too.
That's all great. But is Fireflies user-friendly?
That's a valid question. After all, having powerful features means nothing if a productivity application will give you a headache, right?
Yes, Fireflies is very easy to use and can help reduce workload by 76%.
Most first-time users can easily navigate their way through the dashboard—that's true. But we don't discount the fact that there is still a bit of a learning curve that comes with using Fireflies.
And this is why we created this in-depth guide on how to use Fireflies—from signup to utilizing Fireflies' integrations.
This guide covers the following:
Getting Started with Fireflies
What is Fireflies.ai?
How to customize your meetings?
How to invite Fred (Fireflies' beloved Notetaker Bot) to your meetings?
During a Meeting
How long Fred will stay in your meeting?
Will Fred make a sound?
How to get the best output from Fireflies.ai?
After the meeting
How long does the transcription process take and how accurate is it?
Fireflies Notebook & impact on post-meeting team collaboration
Fireflies.ai Integrations
The best apps and web services that Fireflies integrate with to automate manual (not to mention boring and tedious) tasks and improve workflows.
Ready? Let's begin.
What is Fireflies.ai?

Some refer to Fireflies as a meeting transcription app. Others, an AI meeting assistant. And then there are those who say that Fireflies is an app that transcribes audio files to text.
All are correct. Fireflies can do all those.
To simplify things further, let's refer to Fireflies as your AI meeting assistant—an umbrella term that covers everything that Fireflies can do.
Here are some of them:
Records and transcribes your online and in-person meetings so that you can focus on your conversations.
Help teams achieve productive post-meeting collaborations.
Has a powerful, time-saving feature called Smart Search Filters. You can search across your automatically-generated transcript to identify critical action items, tasks, and other key meeting insights after your call. You can review hour-long meetings in minutes. And that's not even an exaggeration.
Automate your workflow through Fireflies' integrations.
Analyze conversations to identify critical metrics like sentiments and speaker's word per minute, silence duration, talk-to-listen ratio, etc.
Other notable features include Soundbites, Threads, and more. We're going to dissect these later.
For now, let's get started on how to use Fireflies.ai for your meetings, shall we?
Getting started with Fireflies

How to sign up for Fireflies.ai

Signing up for Fireflies.ai is a hassle-free process.
Open the Fireflies app.
2. You can sign up via Outlook Calendar or Google Calendar. We used Google Calendar for this guide.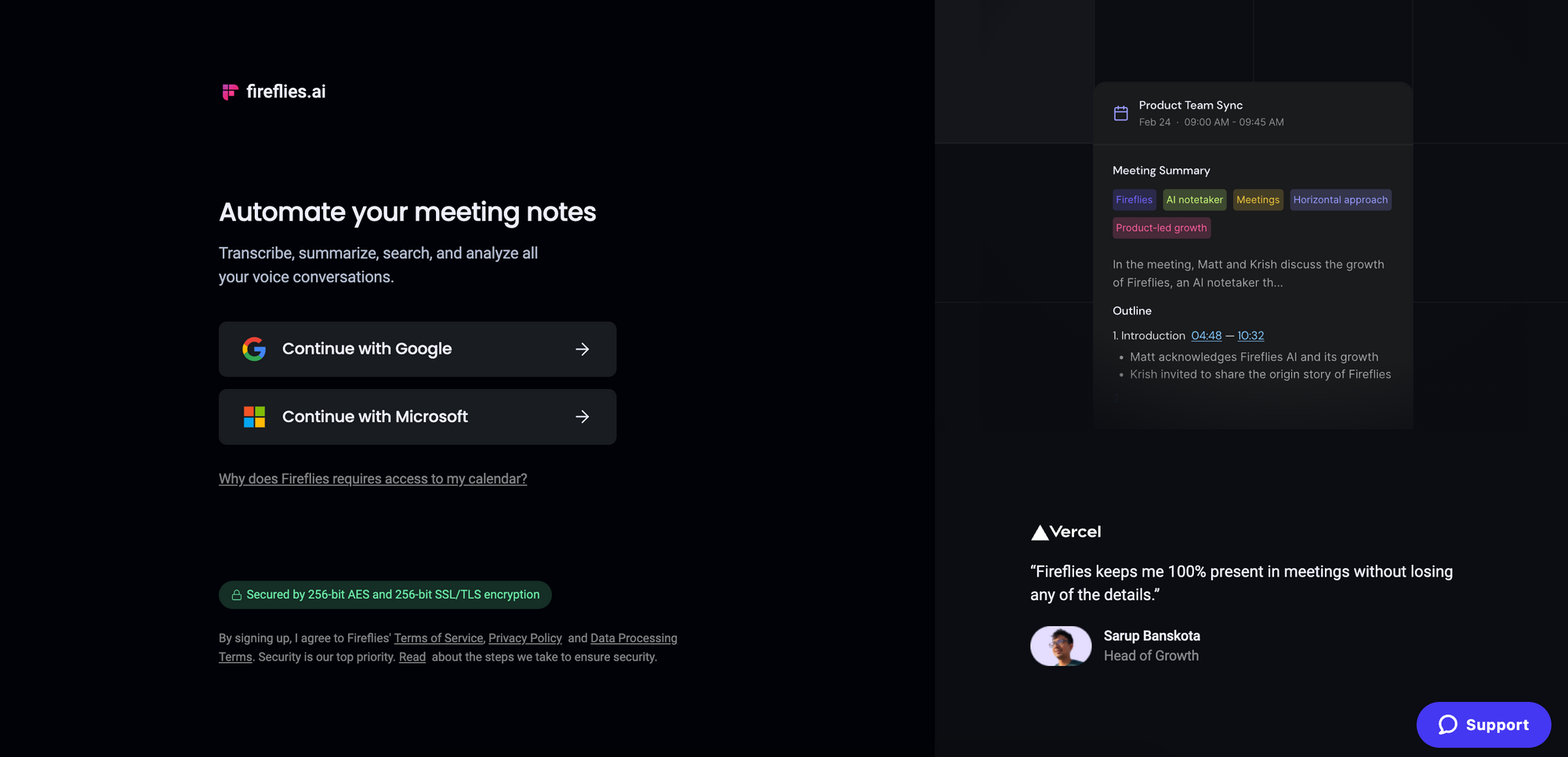 3.  Sign in to your Google account
4. Click Allow to enable Fireflies
How to customize your Fireflies account

After signing up, Fireflies will give you the option to customize your account.
You can set the preferences, which includes meetings that Fred (Fireflies AI notetaker bot) will join, who receives the meeting recaps, and how to enable the meeting compliance feature to name a few.
You don't have to do this right away. You can opt to do this at a later time. We, however, highly suggest that you complete this process so that you'll get a better Fireflies experience.
Here's how to customize your account:
Go to app.fireflies.ai
Log in using Google or Outlook credentials
After you've successfully logged in, click Settings located on the left menu bar
On the Settings page, you can customize Fireflies according to your goals.
In the Auto-join Settings section, you can select how Fred will automatically join your meetings. Fred can join your meetings in three ways:
Fred will join all calendar events that have a meeting link
Fred will only join calendar events that you own
Fred will join specific calendar events that you invited fred@fireflies.ai to
Fred will join only your internal meetings, which has your company domain
Fred will join external events that don't have your company domain in the email

Once you've chosen your preferred way in which Fred will join, Fred will continue to use this method until you change it.
In addition, our system will automatically detect meetings with teammates and meetings with external participants based on the email domains of participants.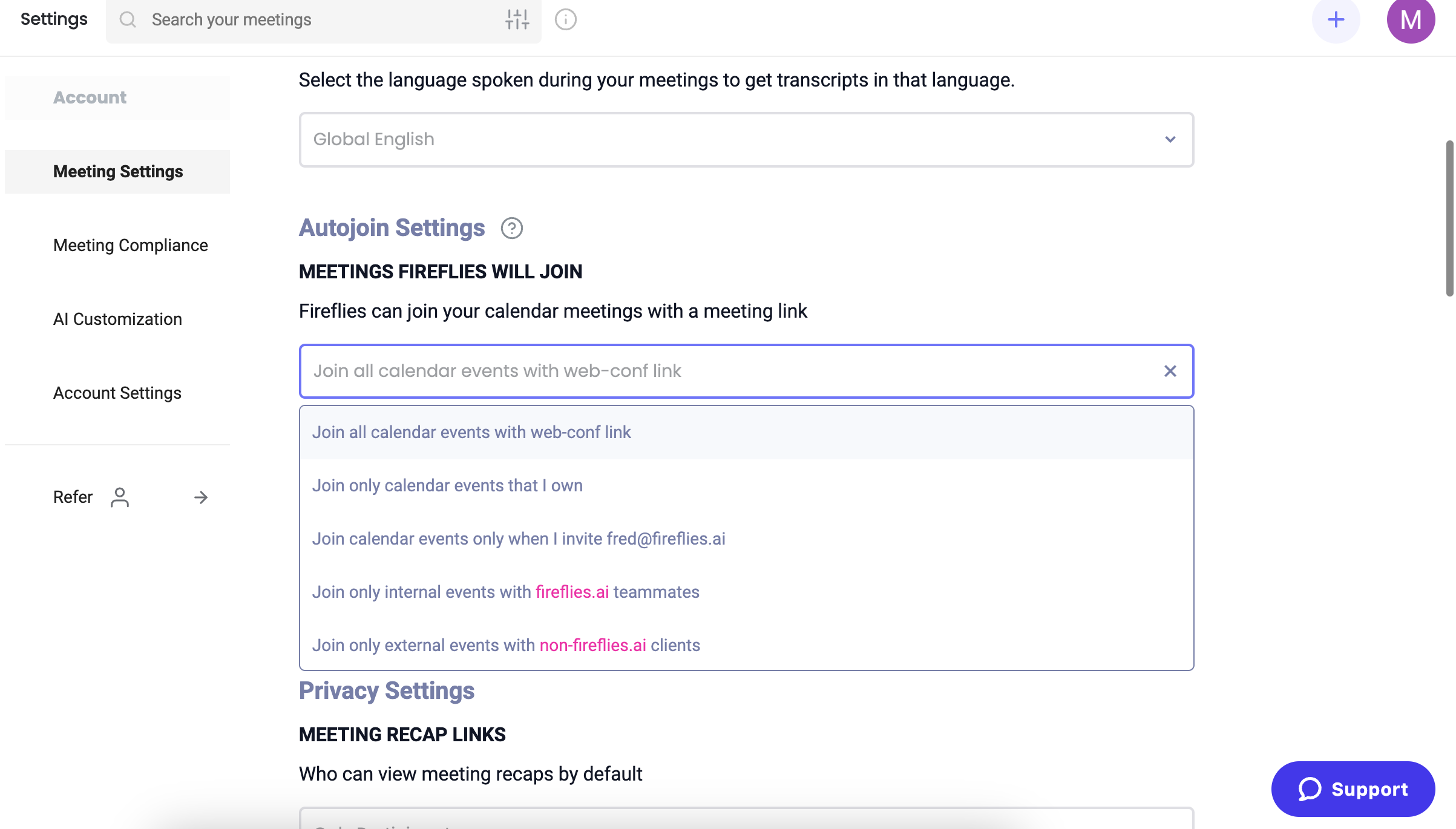 In the Email Settings section, you can select who will receive the transcripts and audio recaps after your meeting.
Note that if you choose Send recaps to only me and my teammates, "teammates" refers to the teammates you have invited or added to your Fireflies workspace.
If you're wondering how to do it, here's a quick guide on how to use Fireflies with your teammates.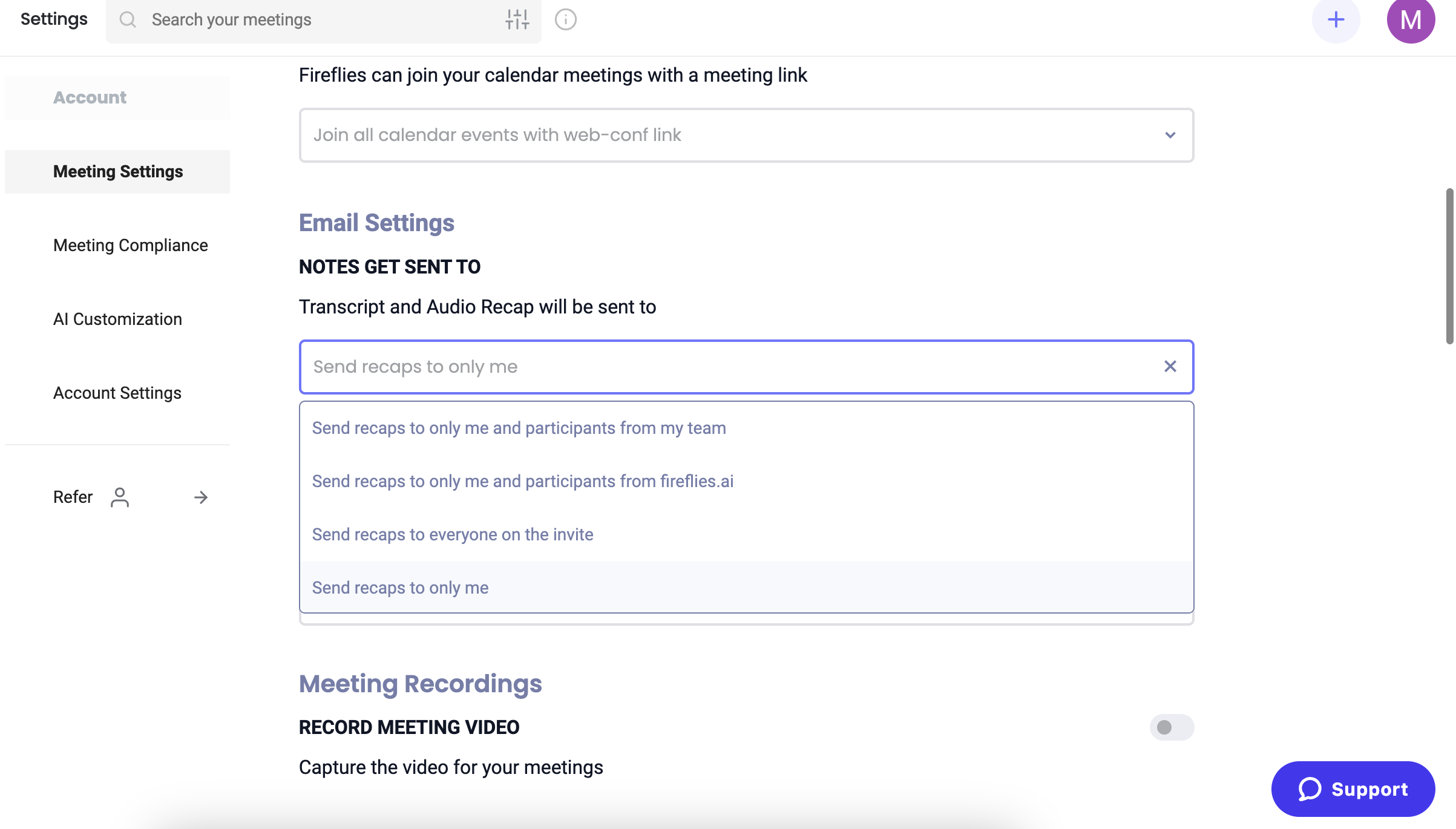 The Privacy Settings section is where you can select the participants who can view the meeting recaps.
Here's a cool setting that you should try: Meeting Rules. Through this setting, Fred will join meetings by detecting certain keywords.
In the Meeting Rules section, you can input keywords you want Fred to join. If the title of a meeting contains any of the pre-specified words, Fred will join it.
For example, if you want Fred to join meetings that have the words "voice" and "lessons" in them, Fred will automatically join those meetings.

You can also include keywords of the meetings that you don't want Fred to join.
The Meeting Compliance section is where you can automatically enable a call disclaimer notification. This is an important part of every call.
We encourage you to use this feature to gain or revoke consent from the meeting attendees.
You can customize the message according to the call recording law in your geographical location or to your preference. You can edit the notification by clicking the text. Don't forget to click Save once you're done.
Turn on PARTICIPANTS ARE NOTIFIED WITH YOUR MESSAGE to enable notifications.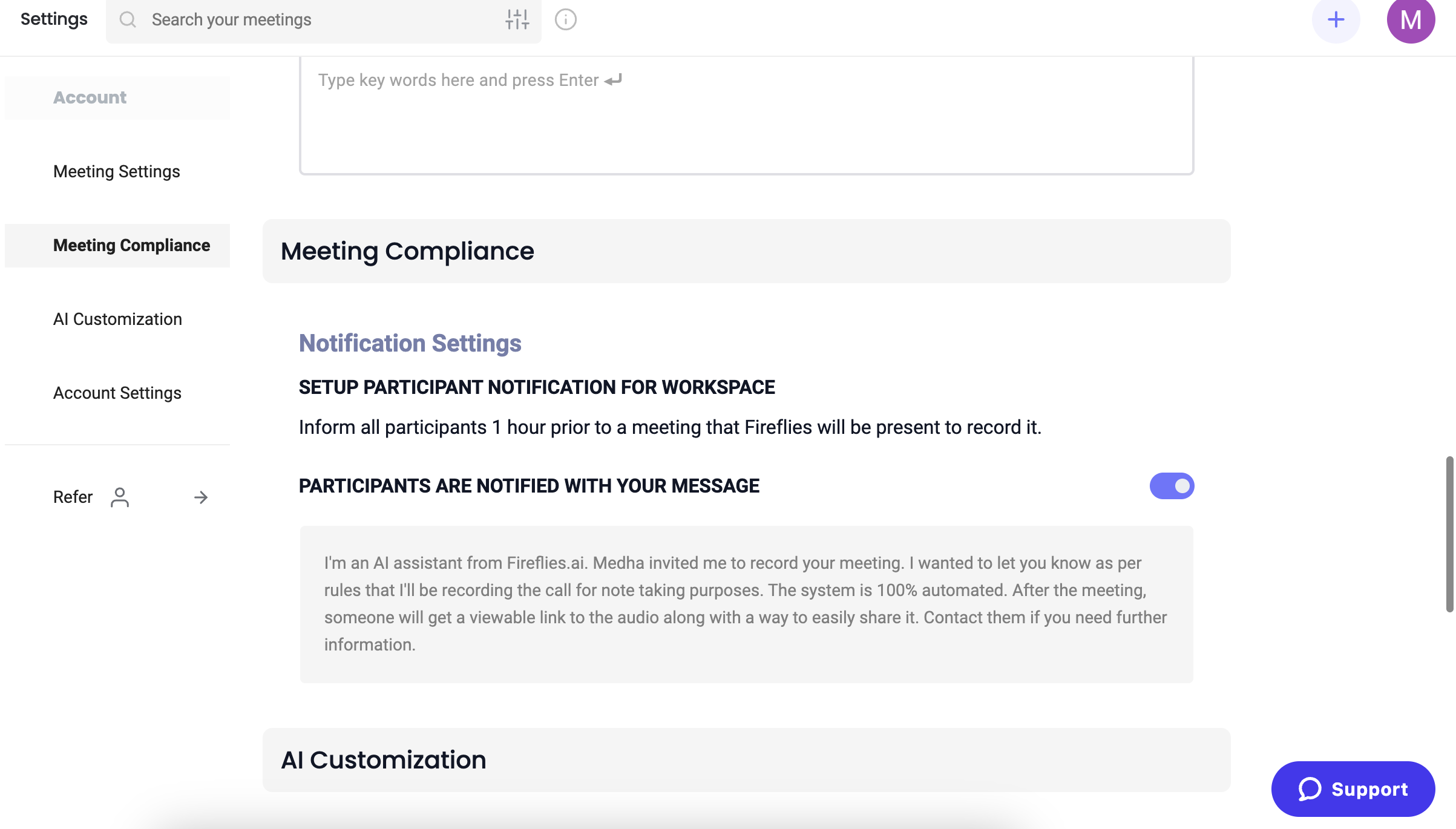 In the Industry Settings section, select the type of meeting you usually attend. This enables Fireflies to optimize the speech model according to the industry ensuring precise transcriptions.
In the Custom Vocabulary section, you can add words or phrases that are unique to your business using Custom Vocabulary. This makes for better AI transcription.
Let's say you're an immigration lawyer. You can add legalese terms in the custom vocabulary so that the system can train on it to give you a better experience.
The Custom Vocabulary feature is available for Pro and Business accounts.
How to Invite Fireflies to your Meetings

Inviting Fireflies to your meeting is straightforward and easy. We already talked about how Fred can automatically join your meetings earlier.
Apart from that, there are other ways that you can invite Fireflies to record and transcribe your meetings. Here are the different methods:
Method 1: Calendar Invites
Create a meeting on Google or Microsoft Outlook Calendar
Invite fred@fireflies.ai to the meeting
Include the meeting URL in the description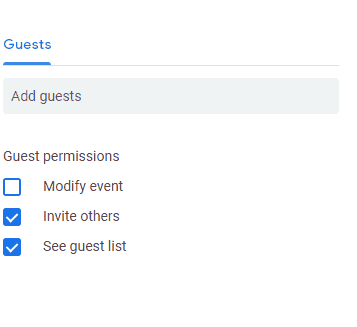 If this method suits you, please make sure that you select Join only when I invite fred@fireflies.ai in the Autojoin Settings.
Method 2: Autojoin
If you don't want to manually invite Fireflies to each meeting, you can use the auto-join options.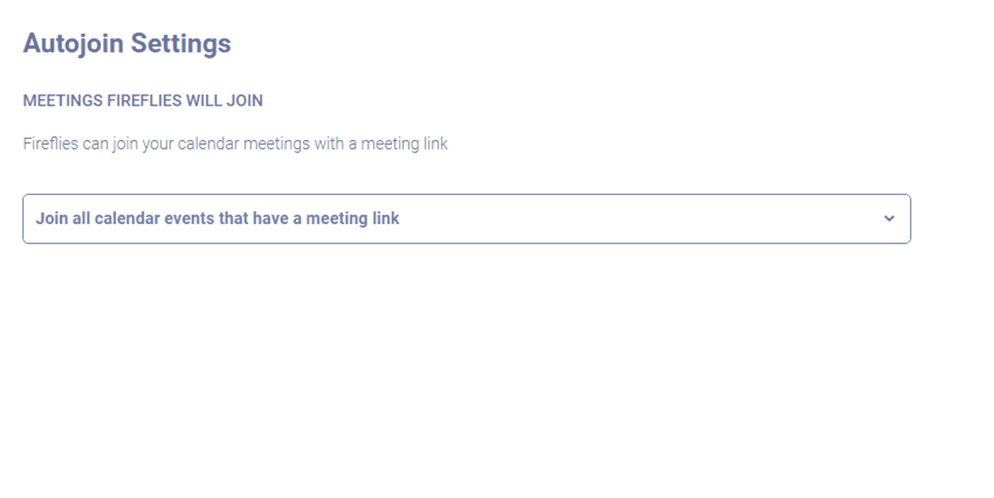 Configure Fireflies to automatically join any meeting on your calendar that has a meeting URL.
Go to Settings
In the Auto-join Settings section, choose your preferred option. Gmail and Outlook users have the following options:
Join all that have a meeting link
Join only those that I own
Join only when I invite fred@fireflies.ai (manual invite)
If you're using a company email, you have the following options:

Method 3: Invite Fred to an ongoing meeting
With this method, you can invite Fireflies' automatic notetaker bot to any ongoing meeting:
Click Add Now
Type in your meeting name, choose a meeting duration, and add the meeting URL
Fred will join your meeting in a few minutes after you click the Add Now button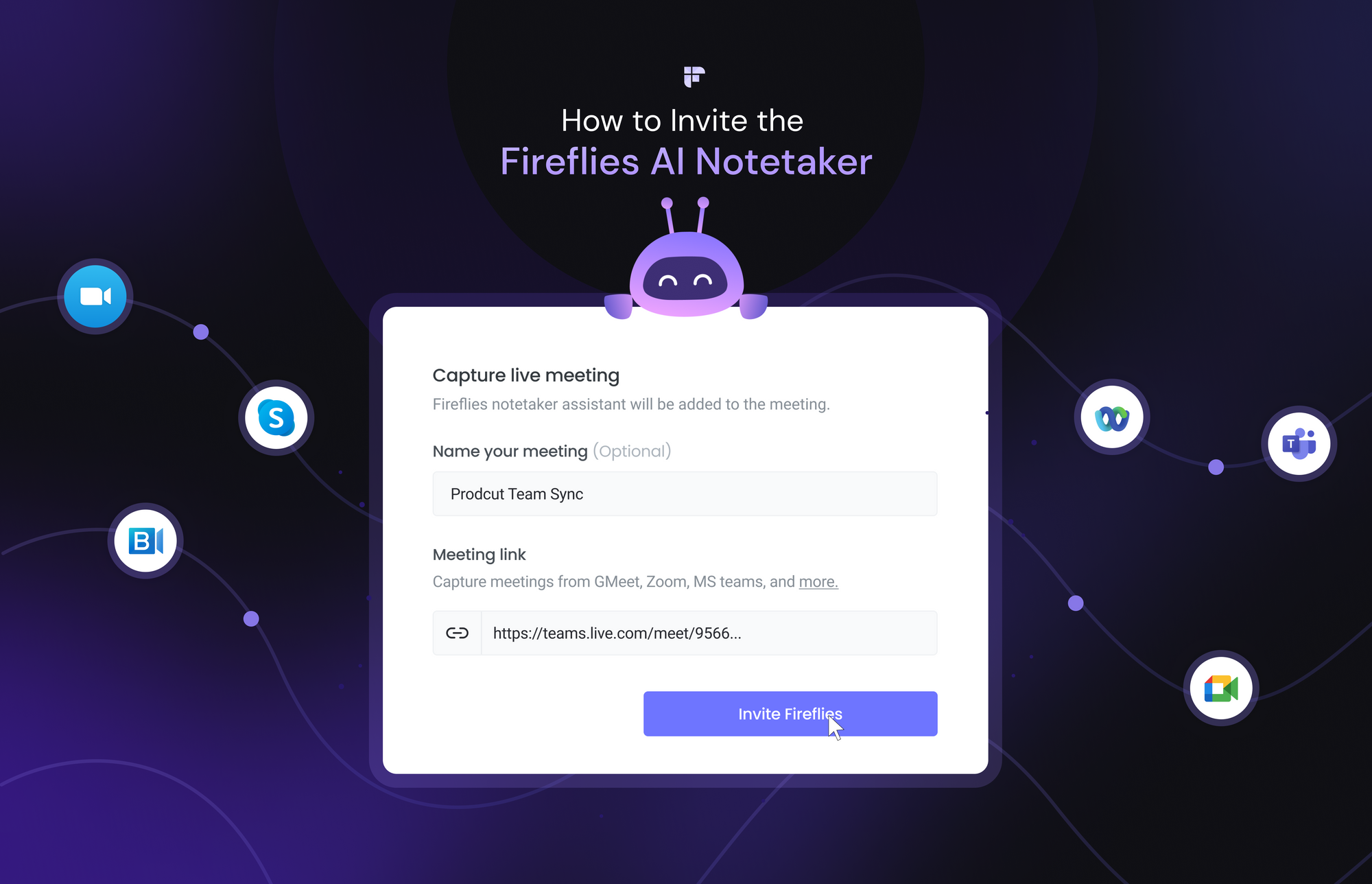 How do you transcribe a Zoom meeting?
You can invite Fireflies to Zoom or any of the video-conferencing platforms that Fireflies integrate with to record and transcribe your meetings.
For Zoom meetings, you have the option to install Fireflies Zoom native integration to transcribe your meetings seamlessly.
With this integration, you don't have to invite Fred to your Zoom meetings. Once activated, you can go straight to your Zoom meeting and click Record to the Cloud.
The recording Zoom meeting will automatically appear on your Fireflies Notebook.
Fireflies will ask for permission to join before entering the meeting, just like with any other meeting participants.
The host may click Admit to allow recording or Deny Entry to proceed without it. Fireflies join meetings as a participant with the name Fireflies.ai Notetaker.
Not too keen about the name? Customize yours. Pro and Business tier users have the option to change the name Fireflies.ai Notetaker. You can request to have it changed by filling out this Request Custom Bot Name form.
Some people are worried that Fireflies' Notetaker Bot will interrupt the flow of the meeting by making a sound.
Don't worry, it won't. Fred will remain mute until the set duration of the meeting passes.
How to remove Fireflies from a meeting?
If you want to remove Fred from your meeting, you can kick it out just like a regular meeting participant. Fred will not record anything after that.
Please do keep in mind that Fireflies will only process the transcription from the time Fred arrived in the meeting up to the time it left your meeting.
During Your Meetings

Fred will stay until the scheduled end-of-meeting time based on your calendar. Note that for Google Meet and Zoom users, Fred will stay longer if the meeting runs over the scheduled time.
The maximum duration that Fireflies can stay in a meeting is 120 minutes.
If you want to extend the time, use the Add To Live option in your Dashboard. Enter the meeting name, duration, and URL.

This tells Fred to join the meeting immediately, and the meeting host will receive a prompt to admit Fred into the meeting. The meeting host can accept the request to allow Fred to continue recording and transcribing the conversation.
How to get the best output from Fireflies?
The transcripts are 100% created by the AI system, and there is no human involvement in transcribing and reviewing the notes.
To get the best output, follow these easy tips:
Allow Fireflies to auto-join your meetings, so you don't have to invite manually.
Mention your industry in the Industry Settings option on the Settings page. This helps Fireflies to optimize the speech model according to the industry, ensuring precise transcriptions.
Ensure there is little to no background noise.
Use a good microphone for accuracy.
Try to minimize frequent interruptions from speakers.
After Your Meeting
How long will it take for Fireflies to process the transcript?

Fireflies will start processing the transcript only after the meeting has ended, or once Fred leaves the meeting.
It usually takes 15 to 20 minutes for Fireflies to generate searchable transcripts with over 90% accuracy. The processing time will also depend on the duration of your call.
After the 15-20 mins post-meeting ends, once the transcript is ready, you'll receive an email notification with a link to the transcript.
The transcript will automatically appear on your Fireflies Notebook. From there, you can view, edit, and collaborate with your teammates using your freshly-generated meeting transcript.
How to share your Fireflies transcript
Sharing the transcript with other teammates is very easy too. Here's how to do it:
Visit your Fireflies Notebook
Select the meeting you want to share. You can share your meeting by:
Copying the URL in the address bar
Clicking the Copy button on the top menu bar
Finally, click the Padlock icon and select the option Anyone with a link. This ensures other people with the link can view the transcript.
Fireflies Notebook

Fireflies Notebook is where all your meetings—and your team members' meetings— reside. It's also where you can seamlessly collaborate with your team.
You can easily search through all your past, current, and future meetings. You can filter your meetings via meeting host, date, and title.
You can click on an individual meeting to listen to the audio, view the transcripts, leave comments, and create Soundbites.
Fireflies Notebook's features make team collaboration a breeze. It keeps everyone in sync on what needs to be done. It also helps teams achieve the right decision by accessing valuable insights anytime.
Fireflies notebook is loaded with intuitive features so that you can find the crux of an hour-long meeting within minutes.
Here are the collaboration-friendly features you'll find in your Notebook:
Meeting Markers: Flag important moments from meetings that you or your teammates can refer back to.

Threads: Leave comments on specific parts of a meeting recording. Just type your comment and click the Submit button.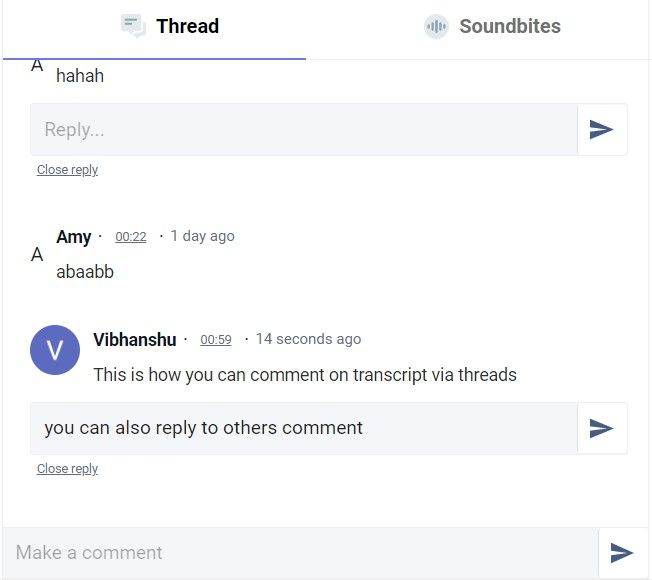 Soundbites: Create short audio clips from your meetings. You can share the soundbites with anyone.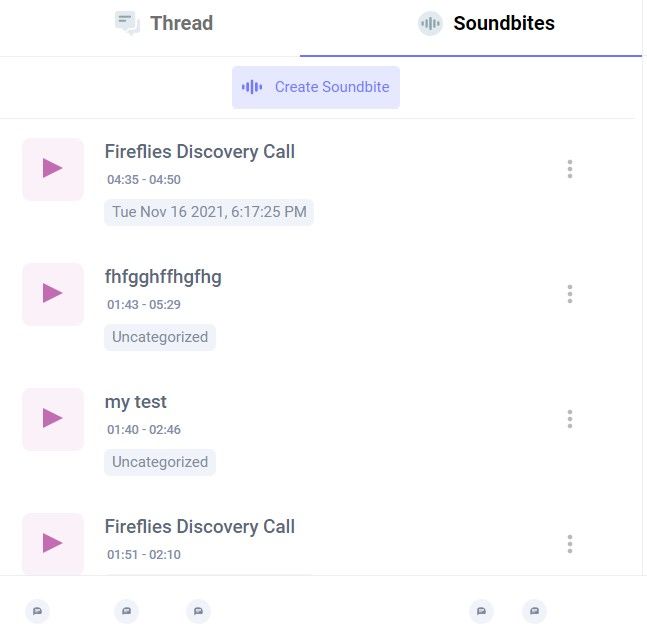 Smart Search: A powerful search feature that helps you skim through a one-hour meeting in under five minutes. You can search for action items, topics, and key meeting insights. You can even gauge how the meeting attendees feel about the call through sentiment analysis.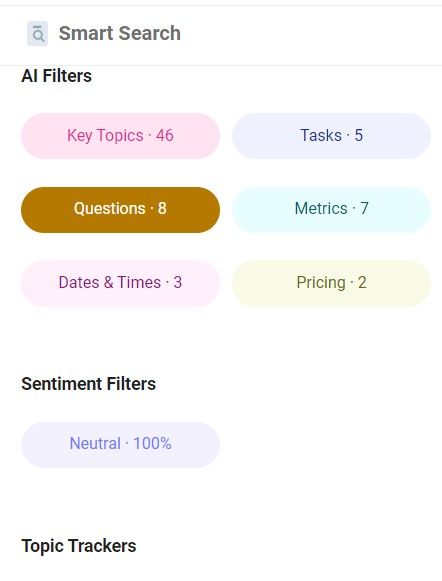 Transcript: The transcript section is where the entire meeting transcript lives. It contains rich automated notes of your meeting, unedited, and unfiltered. You can hover your mouse over specific texts, click it to listen to the audio version of that line. And yes, you can edit your transcripts, too.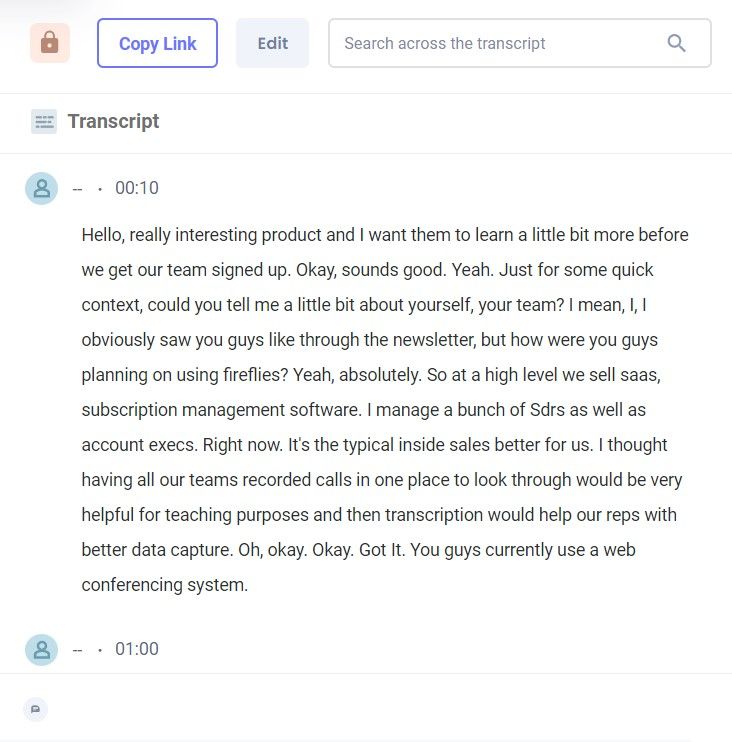 Custom Topic Trackers: Topic Trackers help you search and highlight relevant parts of your meetings quickly and easily. Just add your own customized topics or keywords.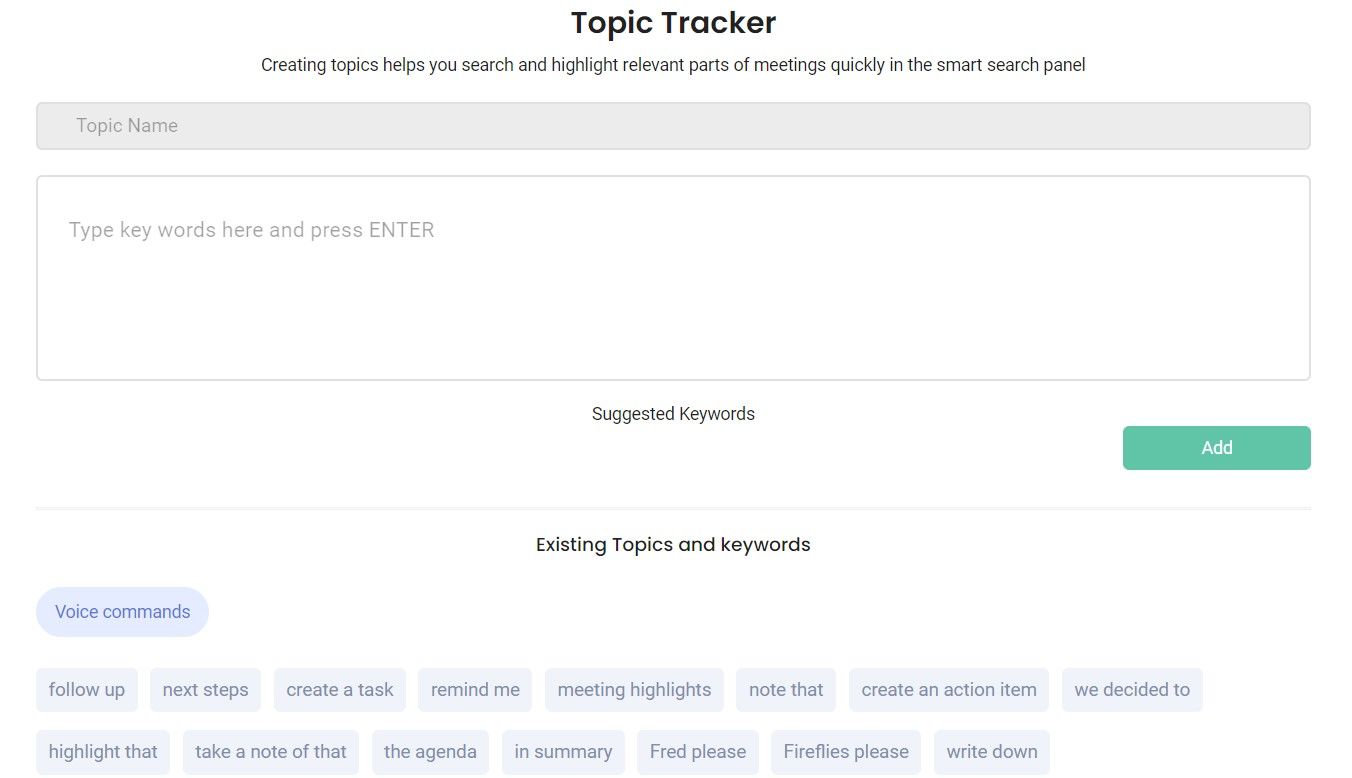 Fireflies.ai Integrations

Fireflies.ai integrates with the best apps in the market today so that you will not waste your time doing manual tasks. It will help you have more productive workflows as well.
Aside from recording and transcribing your meetings, Fireflies will automatically send the transcript to specific apps. And in the case of Salesforce, Fireflies can log calls, notes, and transcripts under the appropriate contact.
There are more than 30 integrations that Fireflies support as of this writing.
Here's a list of major integrations Fireflies supports:
Web-conference platform: Zoom, Microsoft Teams, Webex, Google Meet, UberConference, Go To Meeting, Free Conference Call, Bluejeans, Skype, Lifesize
Calendar: Google Calendar, Outlook Calendar, X.ai
Dialers: Outreach.io, Salesloft, Ringcentral
Sales & CRM: HubSpot, Copper, Pipedrive, Zoho, Freshsales, Zendesk Sell
Project Management: Asana, Trello
Storage: Dropbox, Onedrive, box
Collaboration: Slack, Workplace
Others: Fireflies API, Zapier
In addition to these integrations, Fireflies also integrates with Zapier to create a smooth workflow between your favorite apps.
These Fireflies Zapier workflows minimize switching between apps, thereby improving productivity by automating meeting workflows. You can do the following Zapier integration workflows:
Transcribe video files & video recordings using Fireflies + Zapier
Integrating telephony/dialers with Fireflies using Zapier seamlessly transcribe the calls with Fireflies (for Pro/Business Tier)
Transcribe calls from RingCentral dialer instantly with Fireflies AI + Zapier to transcribe every call made using RingCentral. You can then search, share, analyze, and review the key insights from your discussion with customers, prospects, and teammates.
Integrate your CRM with Fireflies. This will ensure all meeting notes & activities recorded using Fireflies will automatically be logged under the corresponding contact in your CRM.
Final Thoughts
Fireflies.ai is not your typical AI notetaker. It is, as what our customers refer to, a real game-changer.
It makes meetings more valuable to individuals and businesses alike by having a single source of important information that they can easily refer back to.
It helps teams solve problems, share opinions, clarify views, and make better decisions.
Most of all, Fireflies makes meetings more effective so that you can get a good return on the time you have invested in running and participating in meetings.
Thank you for using Fireflies and for taking the time to read this guide.