Small businesses often suffer from low budgets and limited resources when it comes to marketing. This restricts their brand exposure.
But, with so many marketing channels available today, promoting your business has become easier and cheaper than ever.
Nearly 97% of people research local businesses online before making a decision. However, promoting a small business online isn't simple. It requires proper research about the target audience, engaging with them, and creating a buzz that promotes word-of-mouth marketing.
If your business isn't showing up on search results, you're missing many potential leads. Thus, following result-driven marketing strategies for small businesses is the key to skyrocket growth.
With the right marketing strategy, you'll see how your business evolves into a popular brand and generates positive ROI.
Importance of Marketing Strategies for Small Business

Limited budgets are a  constraint in terms of marketing for small businesses as they struggle to gain visibility in a crowded market.
But with access to many advertising options nowadays, there can be no holding back. In fact, stats say 50% of small businesses don't build a marketing strategy. Thus, you can stand out from the competition with an effective marketing plan.
Small business marketing strategies:
Boost brand awareness, especially when you're just starting.
Target potential clients/customers that are interested in your product (inbound marketing).
Create a community of loyal fans of your brand.
Engage with customers online and understand their needs.
Build a pipeline of qualified leads.
Help you acquire more buyers in your local area.
Things to Keep in Mind: The Initial Drawing Board

To build a marketing strategy for small businesses, it's crucial to figure out inputs and ideal outcomes:
What's your Buyer's Persona? Understand and segment your target audience. Refine them until you find a group of people that fits with what you've to sell. Chalk out their problems and priorities so that you can tailor your product accordingly.

What's your Marketing Budget? Decide on a budget that you want to allocate to marketing. Not all marketing channels require a huge investment, though paid marketing and hiring specialists is expensive.

What are your Performance Goals (KPIs)? Decide KPIs to track your efforts and ROI on marketing to understand if you're meeting objectives. For instance, do you want to build an online community, or do you want to appear in SERPs to get direct clients? If you want a community, your KPI could be the number of signups, followers, etc. If you wish to rank higher in SERPs, KPIs could be page views, organic traffic, etc.

What's your Unique Selling Proposition (USP)? Refine your USP to differentiate from the crowd. There are already hundreds of small businesses out there; find out what will make you stand out. Collate the unique offerings you have and build a USP that clearly communicates the value being offered.
Strategies help in achieving your goals, but you must create specific and measurable goals first. The above questions can pinpoint the ideal outcomes that you want to achieve. Finalizing the founding questions will serve as a guide rail during marketing operations.
Marketing Strategies for Small Business to Boost Growth and Sales

There's no secret sauce for building perfect marketing strategies for your small business. Most marketing techniques require iterations to pay off in the end.
What might not work for others may suit your business well. In short, iterating on the marketing strategies, allocating budget, and tracking marketing ROI help increase brand awareness, reputation, and sales.
1. Content Marketing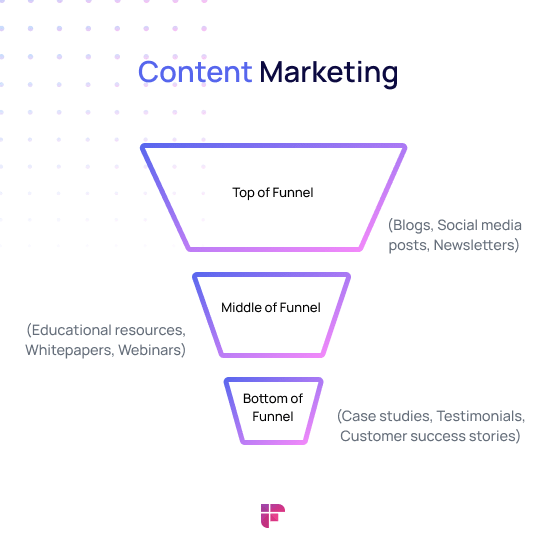 Content marketing should be at the center of marketing strategies for small businesses. It is one of the most effective inbound marketing tactics that give compounding results.
The primary aim of content marketing is to educate your audience and provide them with value through your content.
As per the SmartInsights report, 18% of marketers said content marketing had the biggest commercial impact on their business. Further, Hubspot reports 40% of marketers to agree content marketing is a core part of their overall marketing strategy.
Content marketing pays off in the long run, but it's not easy. To stand out, you've to create and distribute content consistently and effectively.
You can leverage content marketing for each stage of the customer journey:
Top of Funnel (ToFu): problems your persona faces and solutions. Use blogs, social media posts, newsletters, videos, etc.
Middle of Funnel (MoFu): about your solution, your brand, and your product. Use educational resources, whitepapers, webinars, etc.
Bottom of Funnel (BoFu): show exactly how your product can solve its problems. Use case studies, testimonials, customer success stories, etc.
Gain awareness > Develop trust > Offer solution.
Whatever content you create, ensure it checks these four boxes: quality, optimized for readers and SEO, relevant, smart distribution.
2. Search Engine Optimization (SEO)

Having a website isn't enough. You must fine-tune it to appear among the top results on Google. The number one result on Google SERP gets 31% CTR and has 10x higher CTR than #10 results (Backlinko, 2019).
What's more, ranking up one spot in the search results increases CTR by 30.8% (also depends upon your initial rank too). That's why SEO is critical. It's simply the process of optimizing your website, its content, and elements for search engines and end-users.
The higher you rank, the more people visit your landing page. In fact, about 35% of all traffic comes from local sources.
Thus, higher ranks will send more traffic to your website, and a majority of them might get converted into customers. Customers searching for a solution will consider your product/ service and likely be delighted.
You can implement SEO with the following marketing ideas for small businesses:
Create and optimize your Google My Business account
Request Google reviews from your customers
Optimize your website with targeted and local keywords
Create blog posts or videos that relate to your niche
Use location pages on your website
Focus on building relationships with other players and get high-quality backlinks
3. PPC Advertising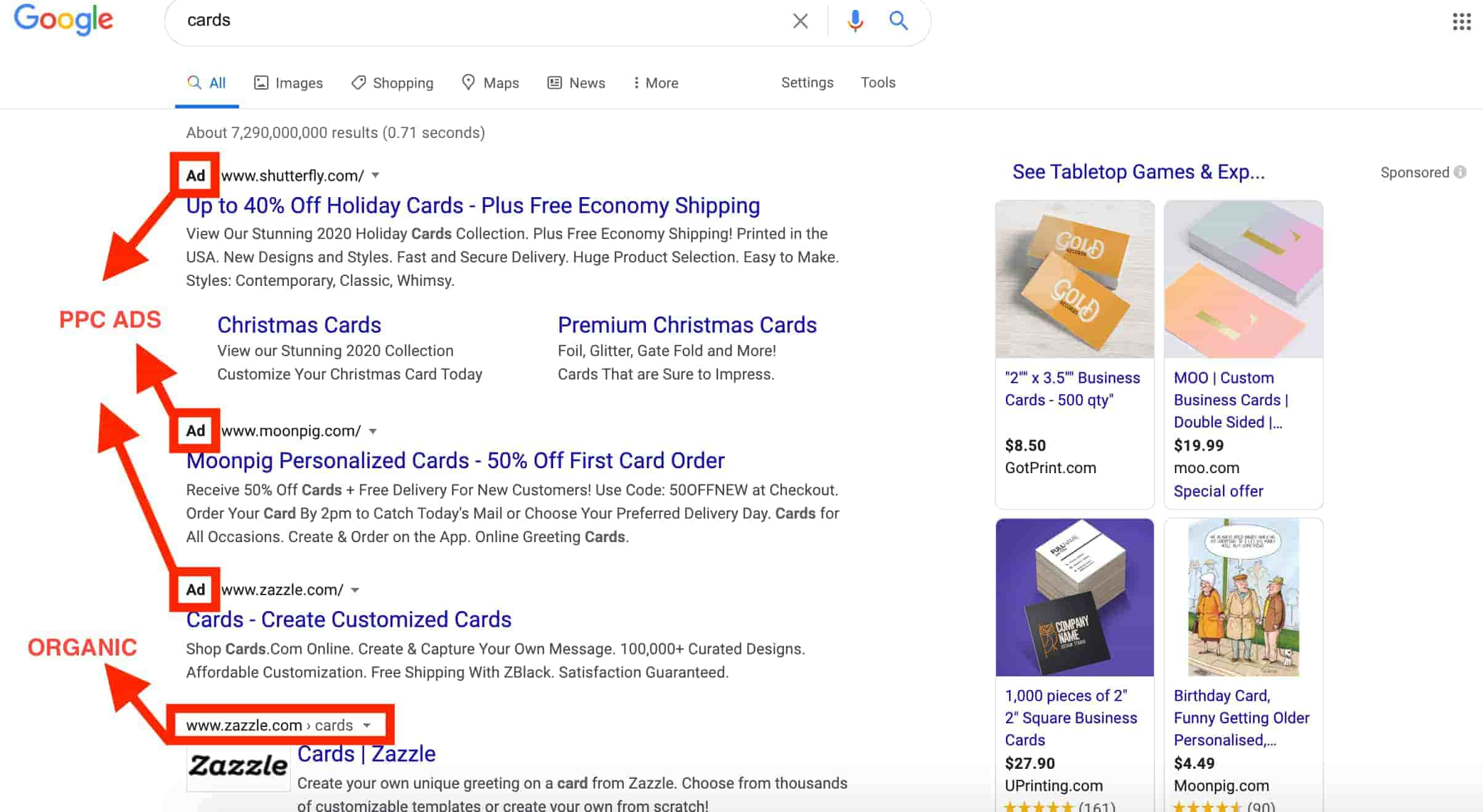 Pay-per-click (PPC) advertising helps small businesses display ads in search engines when people search a specific keyword. It's a type of paid marketing in which you (advertiser) have to pay a fee every time your ad is clicked.
PPC advertising might involve a tough bidding war when you're launching a campaign. But that's not the case with local keywords, as they are less competitive and underutilized.
PPC is one of the best marketing strategies for small businesses to track money spent and customers acquired. You can use the Google Ads platform to research keywords and use audience targeting to reach people that align with your buyer persona.
When you add an audience to a campaign or ad group, select from a wide range of categories—like fans of travel, people shopping for cars, or targeted people that have visited your website or app. Google Ads will show ads to people who likely fall in these categories.
4. Email Marketing

One advantage that email marketing has over other small business marketing strategies is personalization.
In email marketing, you own the email list of target buyers, unlike other platforms. Plus, you don't have to send a common message to the masses that results in a low conversion rate. Instead, you can tailor the message according to the customer and their stage in the buyer's journey.
A report by Emarsys reveals that 81% of small businesses leverage email marketing for customer acquisition, retention, and customer loyalty. Email marketing delights new customers while offering after-sales support to the existing buyers.
As a small business owner, you can kick off drip campaigns when a user completes an action like signing up or completing a purchase. You can then send them a series of email newsletters about your products and company updates.
To leverage email marketing strategy for small businesses, learn the following tactics:
Customer segmentation based on demographics or activity
Deploy a marketing automation software (e.g., Mailchimp) to send targeted emails
Or, use a CRM or EPS to automate sending emails to the right customer at the right time
5. Social Media Marketing

More than selling, businesses use social media to build strong relationships with customers.
Successful companies aim to build a community of fans and leverage social listening using social media. If you want to engage with your customers regularly, then SMM is a must-have marketing strategy for your small business.
With millions of users spending more than 3 hours a day on social media, it can be intimidating to use every social platform for marketing. But step back because narrowing down is the key here. Go back to the drawing board and figure out who's your target audience.
Find out, where are they spending the most time? What type of content do they love and talk about? How can you give value to them to make an impact?
Then, double down on the platforms they use the most. For instance, if you're a B2B company, your prospects most likely use LinkedIn and Twitter. Whereas, if you're a D2C brand for teens, Facebook or Instagram might be the channels for you.
Depending on your buyer's persona and their interests, consider the following strategy for social media marketing:
Facebook: Post status updates and customer success stories
Twitter: Share product news and quickly answer customer inquiries in real-time. Nike, Starbucks do it best.
Pinterest: Share inspiring ideas like blogs, infographics, e-books
YouTube: Create user-generated and branded video content
Instagram: Share images that showcase your product, services, happy customers stories, and behind the scenes.
6. Facebook Advertising
Facebook is an inexpensive way for small and mid-sized businesses to market products/services to virtually any customer segment. With over six million advertisers, Facebook is one of the largest marketing channels.
Facebook ads trump other channels because of advanced targeting options like demographics, interests, online behavior, connections and more to reach Core, Custom, or Lookalike audiences.
Here are the steps to advertise using Facebook Ads:
Create a Facebook account for your small business using Business Suite.
Create an ad creative (photo or video) with a compelling headline, CTA, and engaging visuals.
Use Facebook ads manager that offers every function you need to start ad campaigns, e.g., audience targeting, budget, run time, real-time statistics, and much more.
Evaluate how your ad is performing using A/B tests and double down on the effective one.
If your business relies on a strong visual factor, consider advertising on Instagram instead. As a subsidiary of Facebook, you'll get all the options to connect with the audience using visual sales.
7. Google My Business

If you're a small business, then Google My Business (GMB) is another effective marketing strategy to attract locals.
Your GMB rankings can significantly boost the visibility and sales of your business. For instance, if a person searches "home renovation company Cincinnati", this is what they'll get: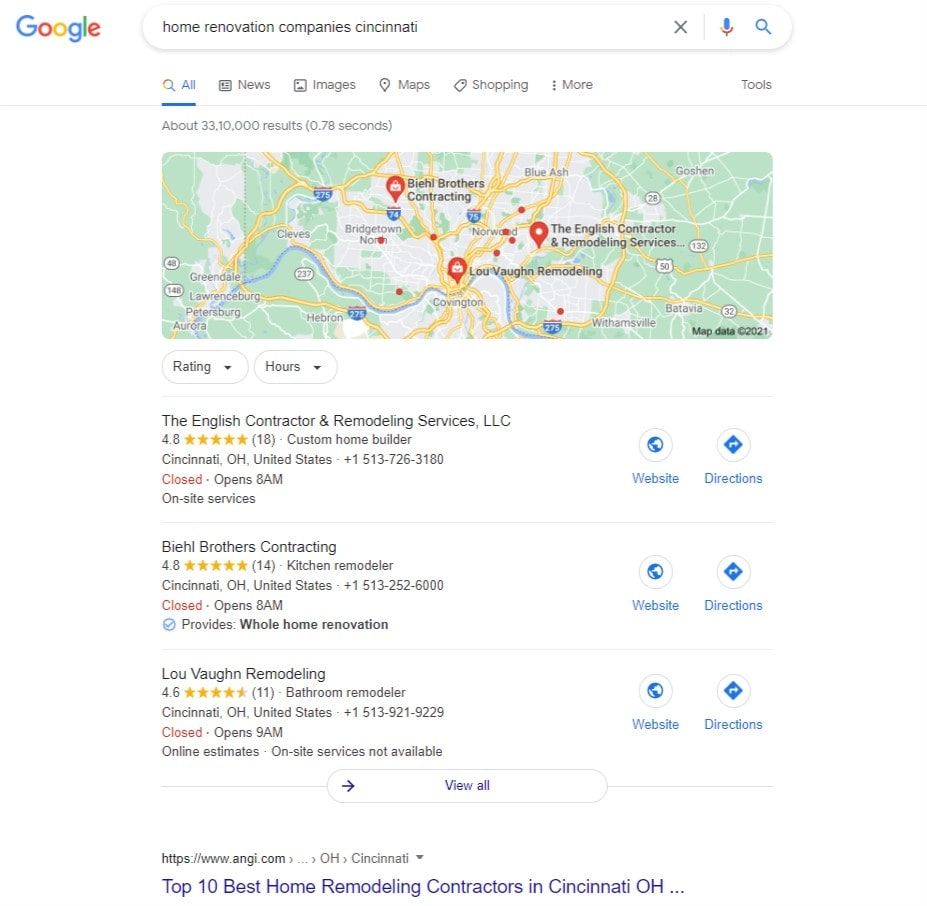 Notice how the three GMB are at the top of the SERP result. If you can rank in the top three of GMB results, you can attract many highly qualified leads without spending anything. Further, these leads are already in the consideration stage; you just need to pitch your offer when they contact you.
Google My Business combines your data from different public platforms (Google+, Google reviews, Play store, etc.) and displays it under GMB. Further, if you've got a unique brand name, you can get a big display when people search for that name. Thus, if you're a local business, GMB should be at the top of your marketing strategies.
8. Coupon Deal Sites

Coupon sites like Groupon are an excellent way to attract new customers to your business. If you're a business that offers discounts, leverage coupon deal sites to promote your business to interested buyers.
Coupon deal sites attract large chunks of customers based on location and allow regional, local, and national businesses to give limited-time offers to their members.
The prime benefit of this marketing technique is brand awareness and local advertising. Be aware that you'll incur costs in terms of revenue per sale. For instance, Groupon requires you to offer at least a 50% discount, and Groupon takes at least 50% of the revenue. It's basically a form of paid advertising.
Remember, the aim of this marketing strategy isn't sales—it's mass exposure and brand awareness. Once you get a flock of new customers, kickstart your customer success and retention strategies.
9. Offer Free Consultation

If you're an expert and an authority in your niche, offer free consultations. It's an effective way of generating new leads and igniting word-of-mouth advertising. Bonus--if you have excellent sales skills, you can close a large number of deals effortlessly.
Don't worry about giving free information to potential clients. Freeloaders will anyway grab it and run away. Those aren't your ideal clients.
Your prospects will pay for your premium services because of the value you offered in a 30-minute call. These are the ones that will be loyal and spread the word.
Display free consultation offers using offline media (pamphlets, newspapers, signs) or online (banners on your website, social media, etc.) This strategy isn't for everyone—it will suit professionals who provide expert service.
Rounding Up Marketing Ideas for Small Business

Here are the top marketing strategies for small businesses at a glance:
Content Marketing
Search Engine Optimization
PPC Advertising
Email Marketing
Social Media Marketing
Facebook Advertising
Google My Business
Coupon Deal Sites
Free Consultations
Limited resources for a small business shouldn't hinder marketing. In fact, turn it to your advantage as you'll have more opportunities to leverage all your resources creatively.
Moreover, small businesses have greater freedom to experiment with uncommon marketing strategies (aka growth hacking). In a nutshell, marketing is as crucial as building a product; if you can build it, you can market it.
---
Read Next:
Image illustrations by Storyset