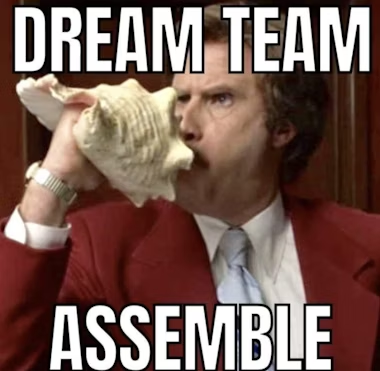 Picture this: a world where scheduling conflicts vanish, unproductive tangents are banished, and everyone is aligned and engaged. Sounds like a dream, right?
In this blog post, we'll introduce you to 10 of the best meeting management software tools to make this a reality.
From effortless scheduling to automated note-taking, these tools will make meetings less of a chore and more of a pleasure. Read on to discover the world of meeting management bliss!
What is meeting management software?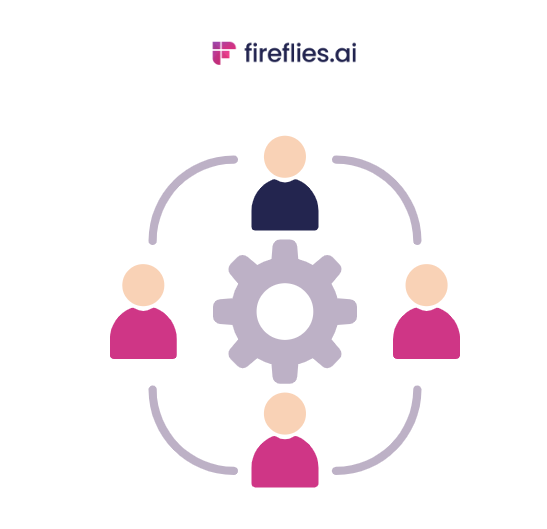 A meeting management software, also known as a meeting management tool or application, is a software solution designed to streamline and improve the process of organizing, scheduling, conducting, and documenting meetings.
Automating and centralizing all tasks helps save time, improve communication, and enhance overall meeting efficiency.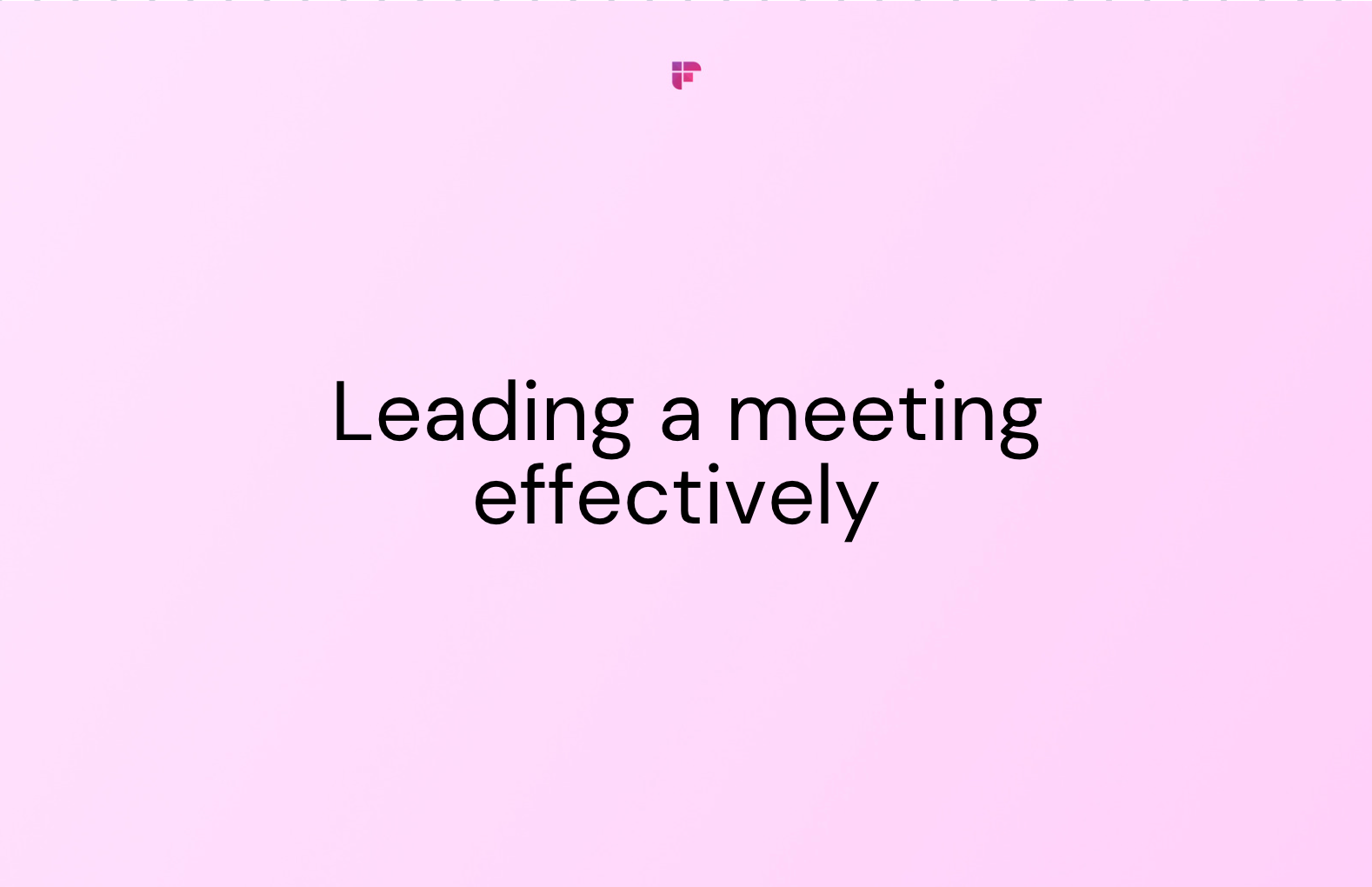 Top 10 meeting management software
According to Cross River Therapy, unproductive meetings have caused a loss of $37 billion to the US economy. They cited poor management as the core reason for this.
Here are 10 tools to help you manage your meetings more effectively:
Calendly
HubSpot
Fireflies.ai
MeetGeek
Beenote
Hypercontext
Google Meet
Microsoft Teams
ClickUp
TeamViewer
Let's divide these tools based on their best use cases for ease.
Meeting management software for effortless scheduling
Tired of playing the endless game of "When are you free?"
Break free from the scheduling chaos with these two meeting management tools: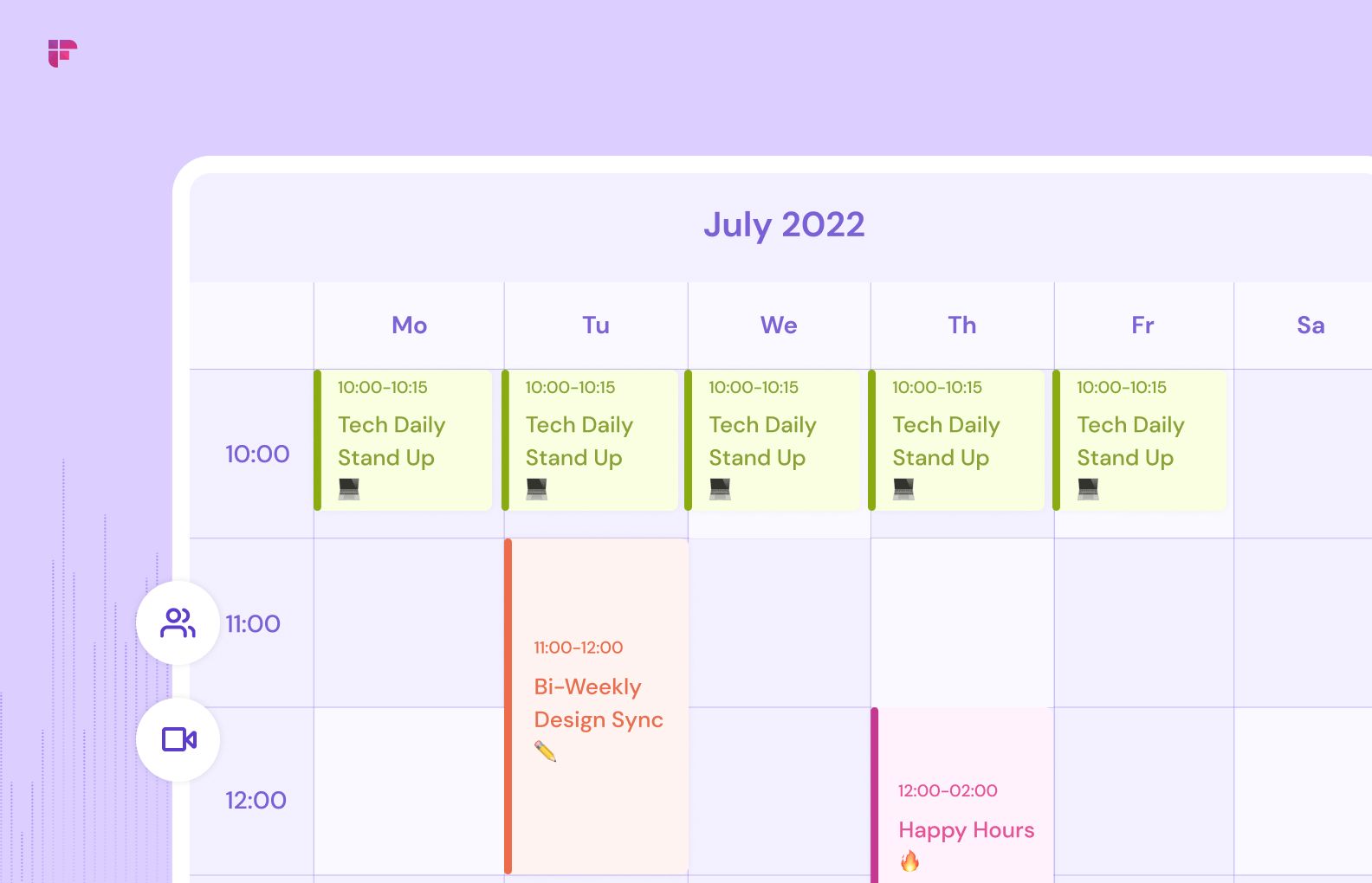 1. Calendly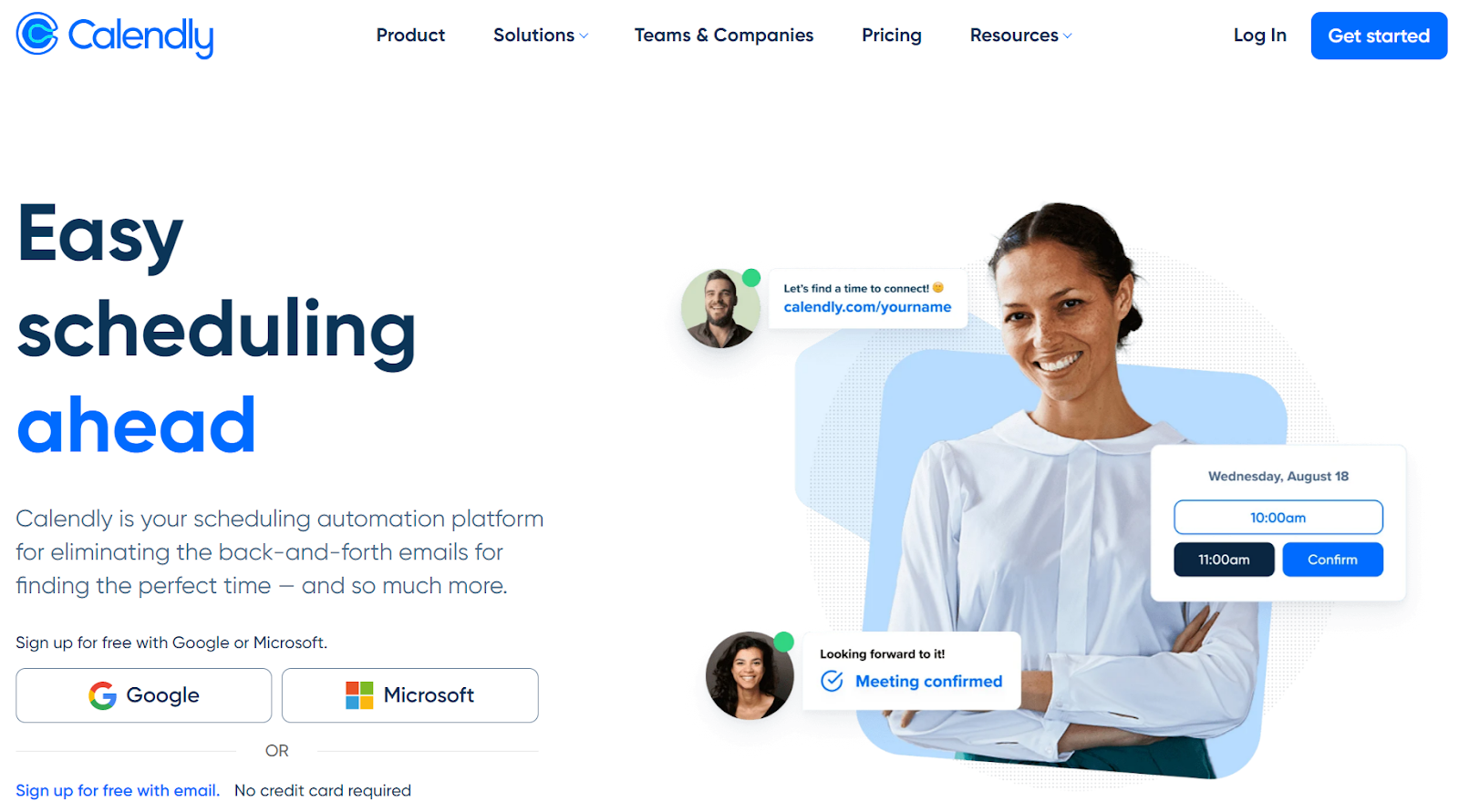 Calendly is a web-based calendar management and scheduling software that makes scheduling meetings easy.
Connect your calendar to Calendly. It retrieves your availability and creates customizable meeting slots.
You can then share your unique scheduling link with your team so that they can pick and select a suitable time slot from your available options. Calendly automatically books the chosen slot and sends confirmation details to all parties involved.
Pros
Customized schedule blocking
Integrates well with Google Calendar, Zoom, Google Meet, and more
Automatically sends meeting reminders and follow-ups
Ideal for both in-person and online meetings
Easy rescheduling and meeting cancellation
Cons
Does not work well with Outlook 2019 version
Limited personalization options
Does not allow you to integrate multiple calendars
Pricing
Calendly offers a free basic plan. The paid plan starts at $8/user/month.
2. HubSpot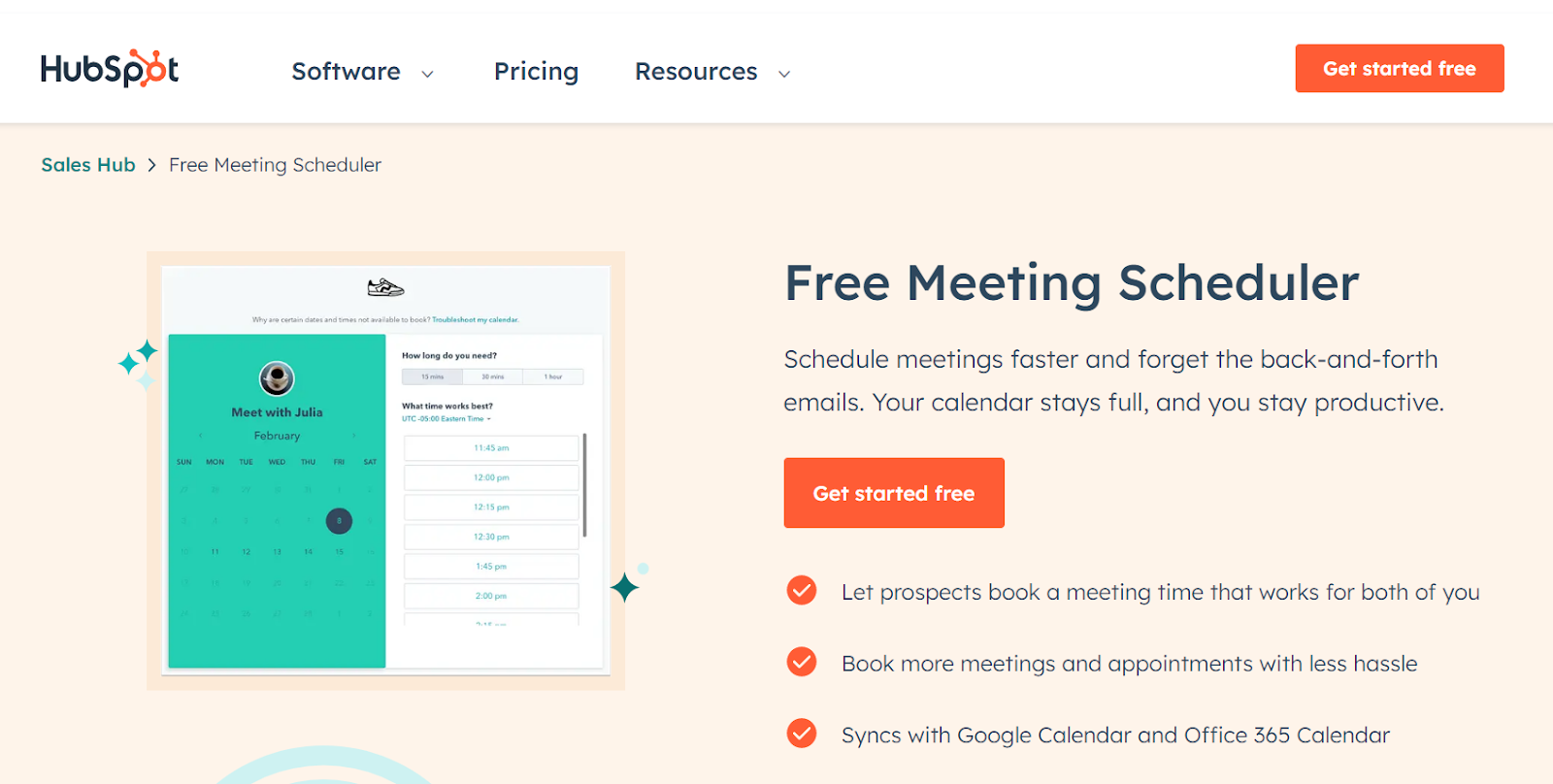 Besides its top-notch CRM solution, HubSpot offers a meeting scheduler that lets you create a personalized meeting booking link.
This link will contain details of your schedule so your teammates can pick and block a convenient time asynchronously. Once a meeting is booked, it will automatically sync with the CRM and appear on your calendar.
Pros
Integrates with Google, Outlook, and Office 365 calendars
Allows you to create group meeting links
Enables you to create and edit meeting links
Provides auto-scheduling facility
Automatically notification email when a meeting is scheduled
Cons
Limited to a single-use case—scheduling meetings
Does not send meeting reminders automatically
Pricing
HubSpot Meeting Scheduler is a free tool. If you need the premium features and integration with the CRM, get the paid plan that starts at $25/month.
Meeting management software for note-taking and more
Manually taking notes during a meeting can be challenging. You must listen carefully to the discussion, process the information, and quickly jot down the key points. Even then, you might miss important details.
Here are two meeting minutes software solutions to ease this for you: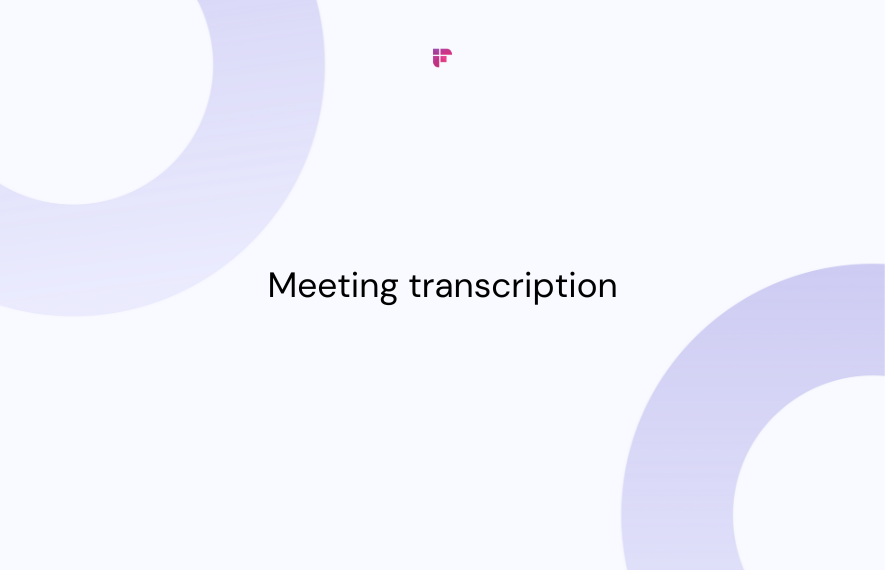 1. Fireflies.ai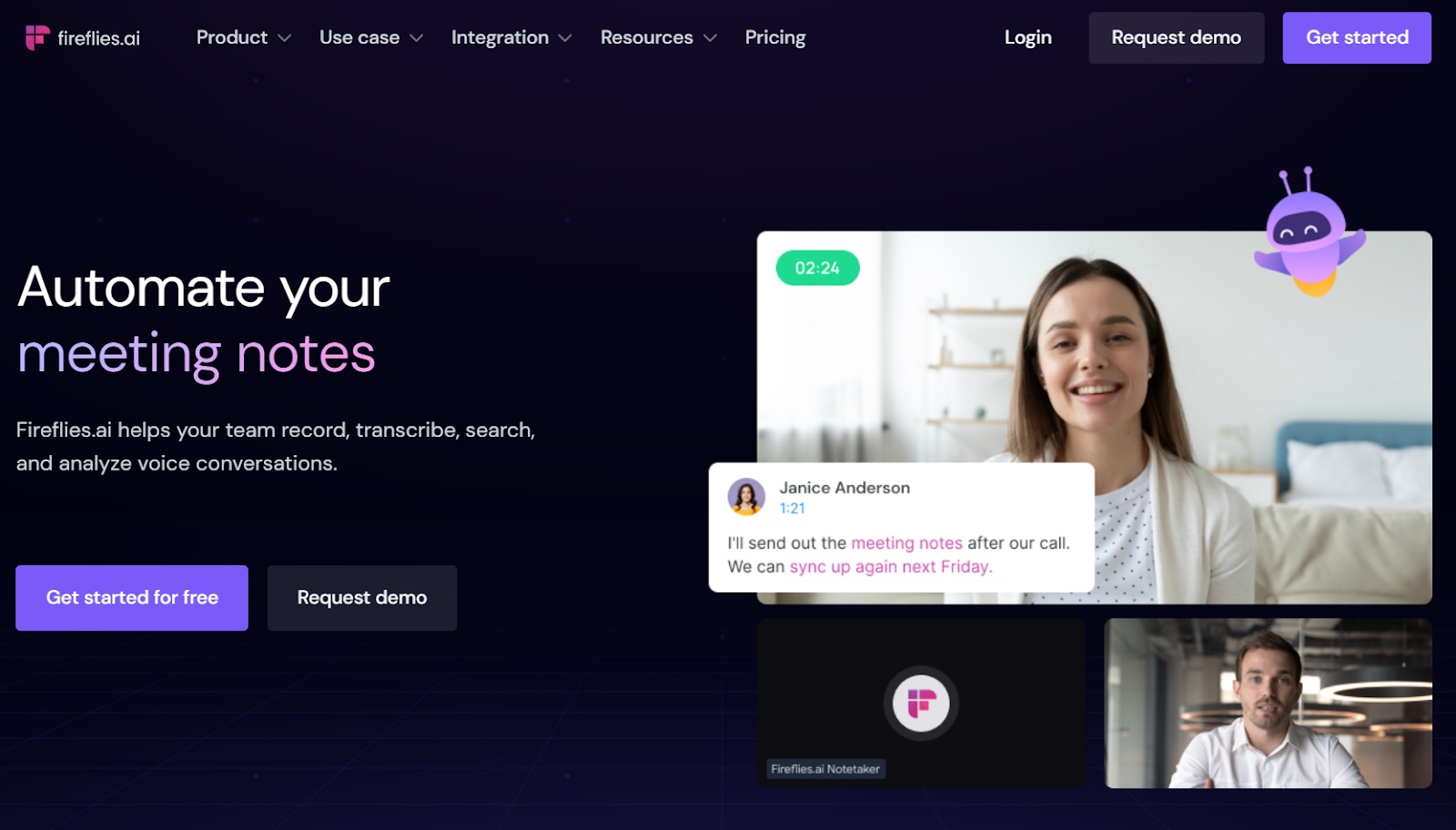 Fireflies is an AI notetaker that automates the note-taking process during a meeting. It automatically records, transcribes, summarizes, and analyzes your online meetings with 90% accuracy.
Simply invite fred@fireflies.ai to join your meetings as a silent attendee and take notes for you.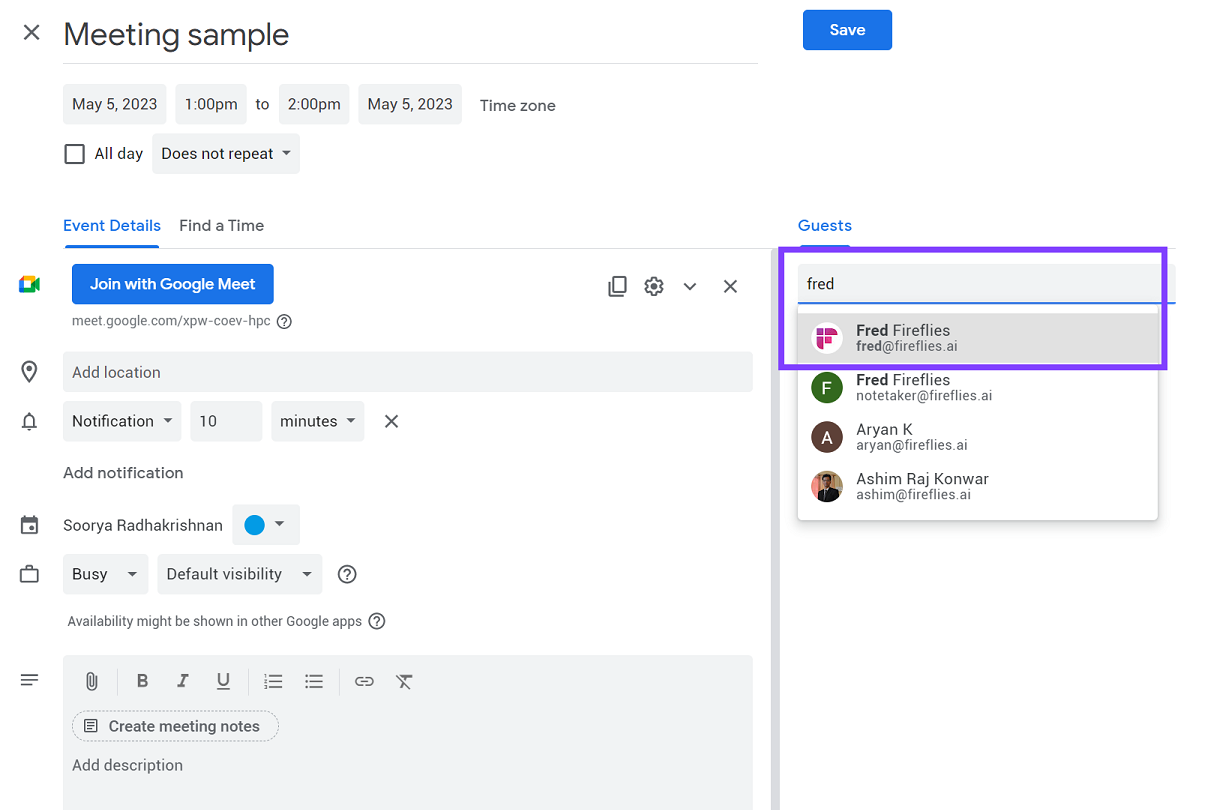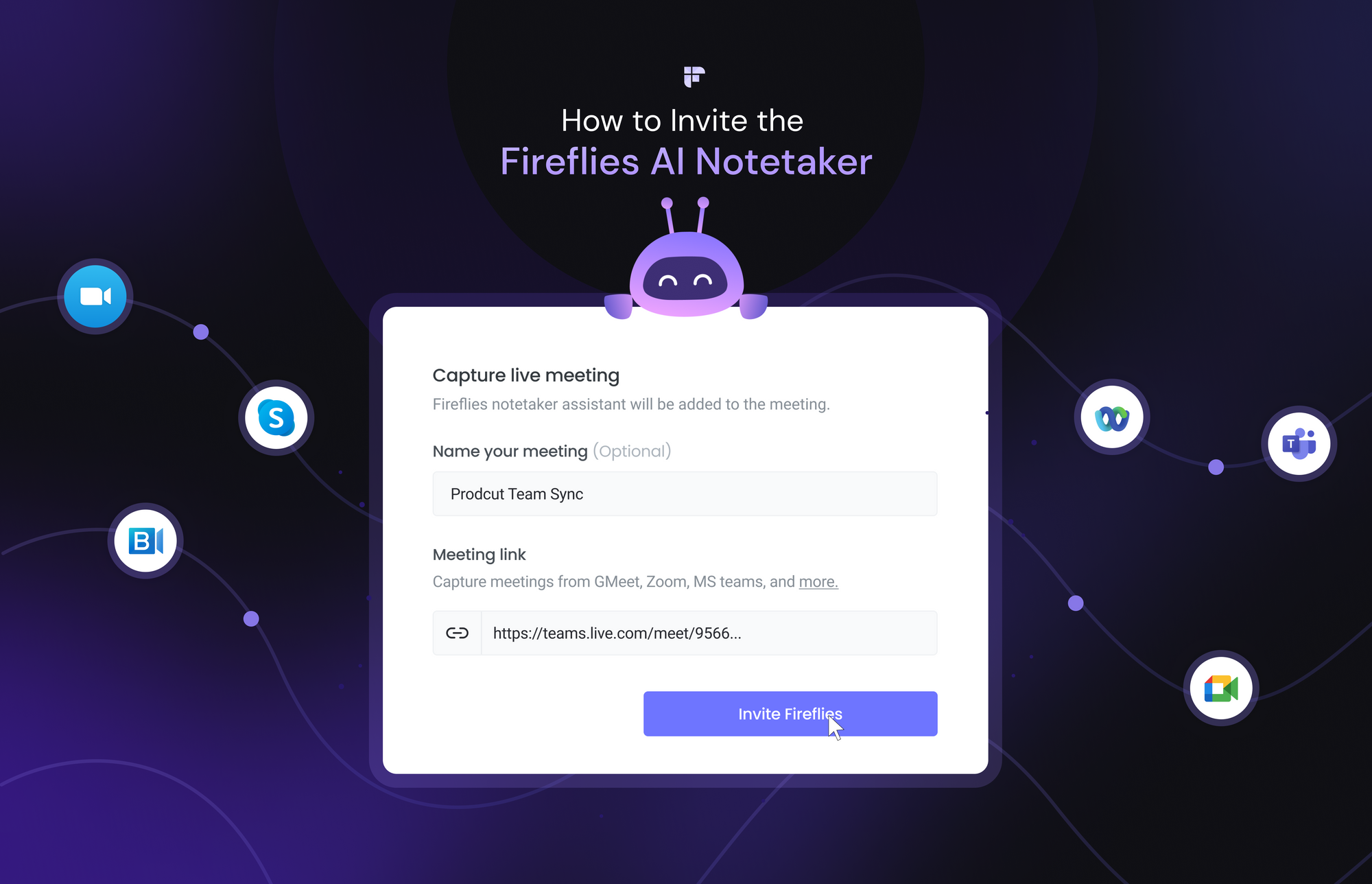 Once the meeting is over, it automatically shares these notes with other participants. This way, you can effortlessly document the meeting, keep everyone on track, and follow up on action items.
On top of everything, Fireflies helps you create a knowledge vault of all your meetings. It securely records and documents all your meetings in one place.
You can easily access any information from any conversation using the global search feature, find details within a meeting using advanced Smart Search features, and use other collaboration tools to review meetings in minutes.
Pros
Generates 90% accurate transcripts with timestamps and speaker labels in minutes.
Automatically shares meeting reminders and notes with other participants.
Provides a high-level super summary of the meeting that help you to review lengthy meetings in just minutes.
Offers analytics and deeper insights into your meetings with conversation intelligence. Get information like speaker analytics, total time spent in conversation, talk-to-listen ratio, call sentiment, average word spoken per minute, and so on.
Helps create and share sound clips of important meeting sections as Soundbites to bring everyone up to speed.
Allows participants to access and add comments or annotations to the transcript as Threads. This fosters teamwork and ensures that multiple perspectives and insights are captured within the meeting recording.
Offers a chatbot, AskFred, that brings the power of ChatGPT into meetings and answers any questions you have about the conversation. It can also automatically develop other forms of content, like social media posts, emails, blog posts, etc., from your conversations.
Offers a Playlist feature that enables you to create a collection of soundbites in a single space from multiple calls.
Integrates seamlessly with around 50 popular apps, including CRMs, dialers, and video conferencing tools.
You can download the transcript in 5 formats—PDF, DOCX, SRT, CSV, or JSON.
Multi-language transcription—30+ languages and 3 English accents.
Highest security standards. Your transcripts are end-to-end encrypted at rest and in transit. Fireflies is also SOC 2 Type 2 and GDPR compliant.
Cons
It does not work offline and requires a stable internet connection to perform at its best.
No in-built scheduling calendars and video conferencing tool.
Pricing
Fireflies offers a free plan with limited storage of 800 minutes and up to 3 transcription credits.  It also offers a 7-day free trial of its Business Plan, the highest subscription tier. You can sign up to access all the premium features free for 7 days.
For unlimited transcription credits, you can upgrade to the paid plan that starts from $10/seat/month.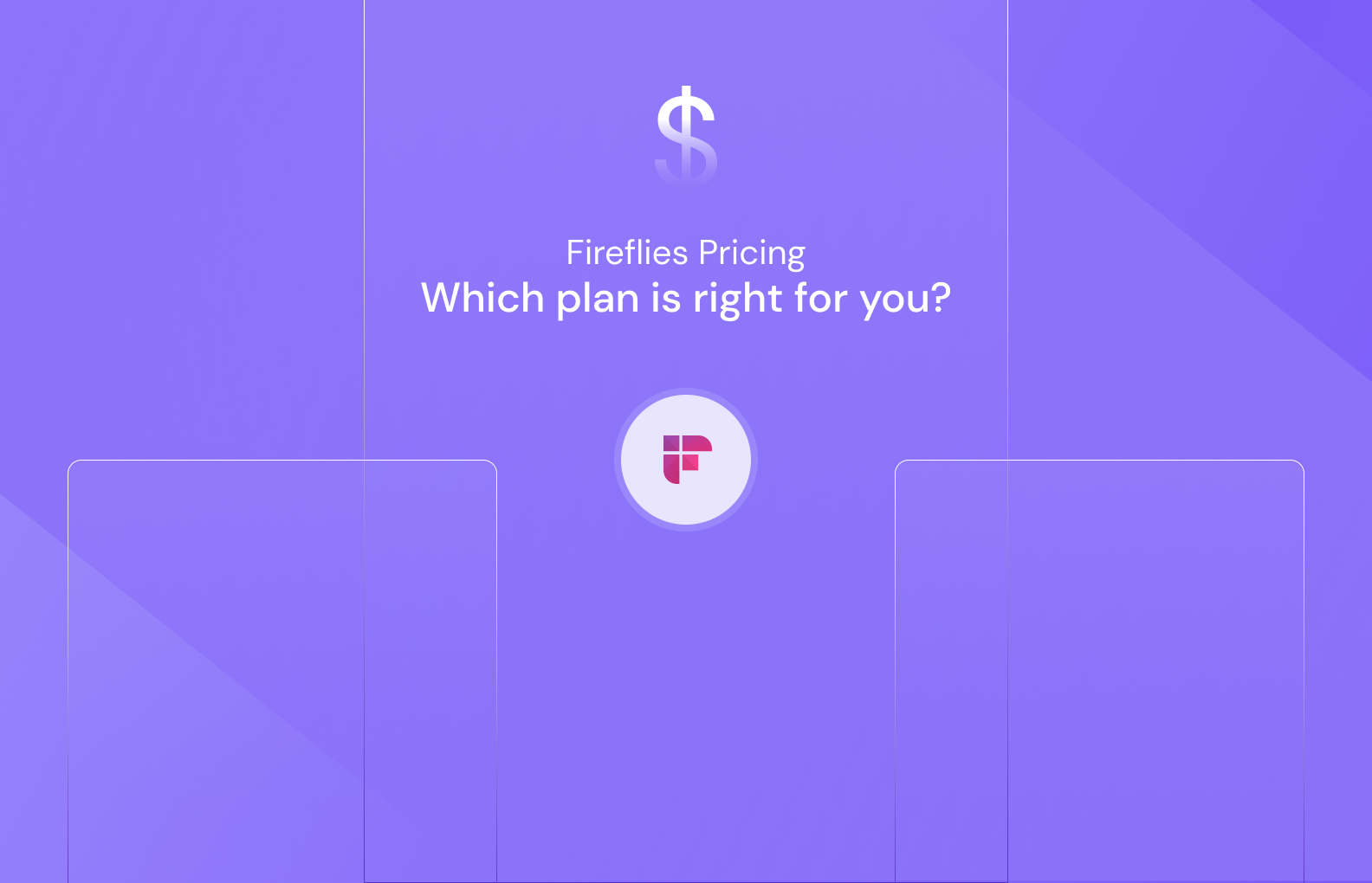 2. MeetGeek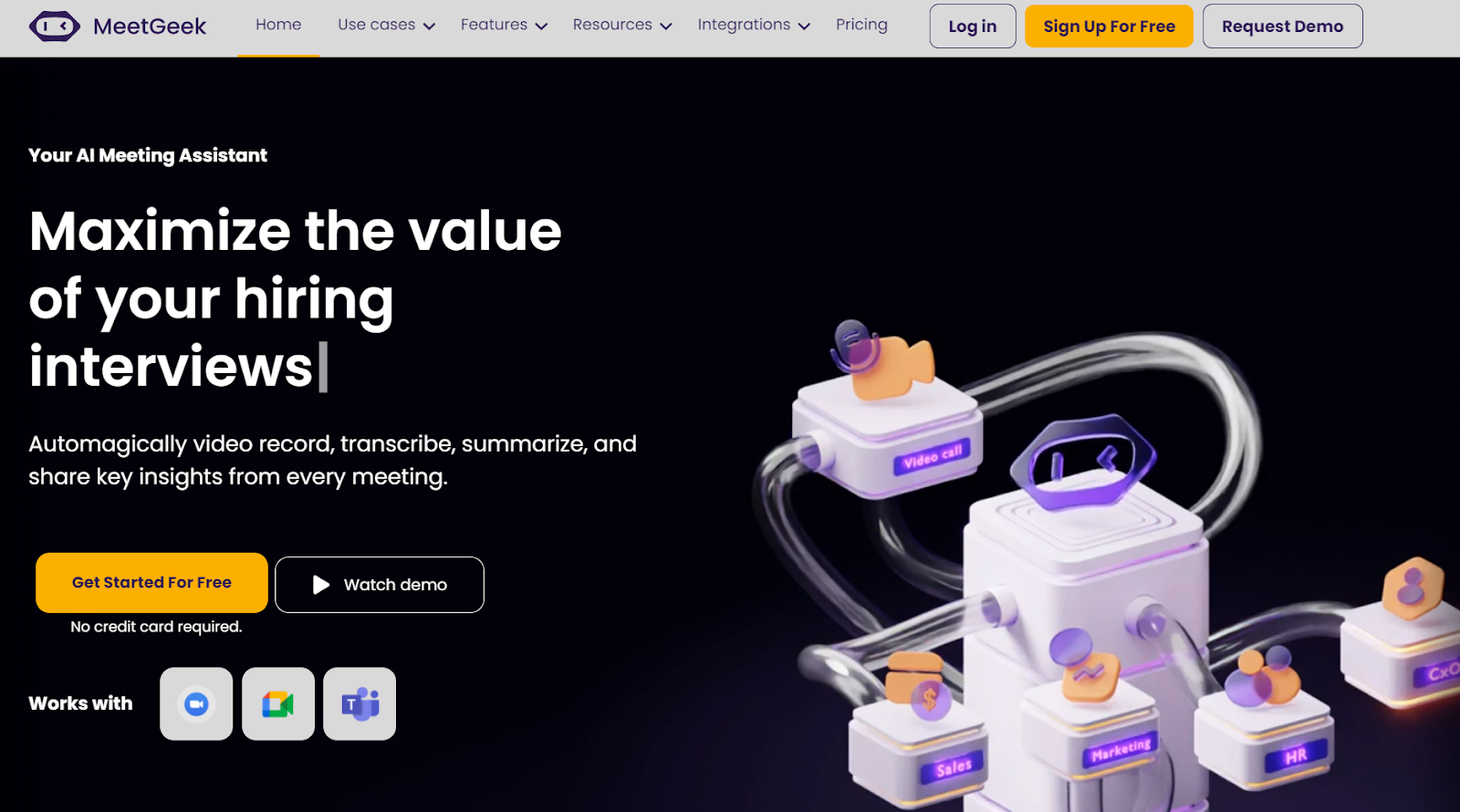 Like Fireflies, MeetGeek is another meeting management software that helps you record, transcribe, summarize, and get insights from your meetings.
Enable MeetGeek to auto-join your meetings to record, transcribe and create an AI-generated summary.
Pros
Generates transcripts with timestamps in minutes.
Provides AI-generated summary to quickly review meeting outcomes.
Integrates with major video conferencing platforms like Google Meet, Zoom, and Microsoft Teams.
Provides an easy keyword search that allows you to search and find details from past meeting transcripts.
Auto-tags action items, points of concern, and other important details.
Provides quantifiable insights on your meetings.
Supports voice commands to create tasks or trigger automation workflows during meetings.
Cons
Does not allow you to edit the transcripts
No in-built calendar and video-conferencing tools
Does not send meeting reminders
Pricing
MeetGeek offers a free trial for 14 days. Their paid plan starts at $19/seat/month.
Meeting management software for creating flawless agenda
A recent Cornerstone Dynamics report suggests that following an agenda can reduce meeting time by up to 80%.
While this may not hold for all cases, these software solutions can help create a clear roadmap for your meeting and help wrap it up on time: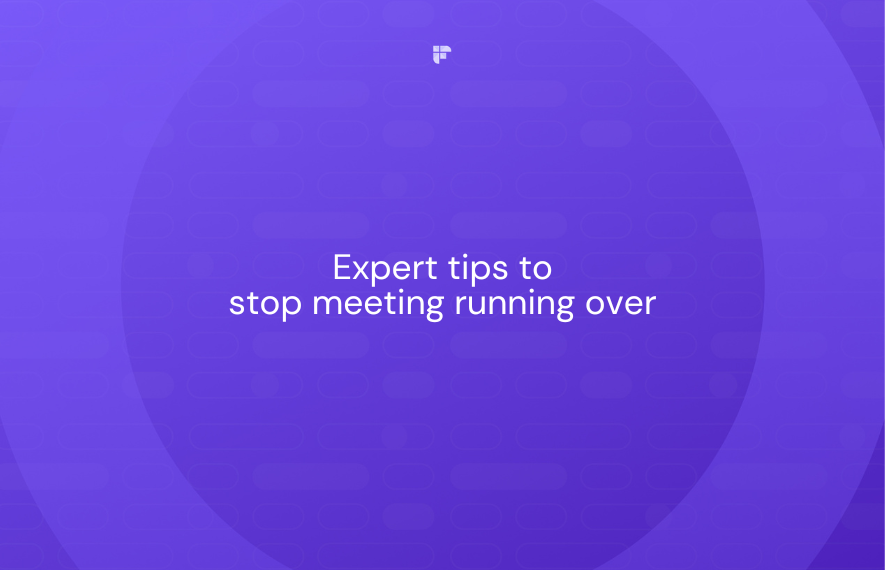 1. Beenote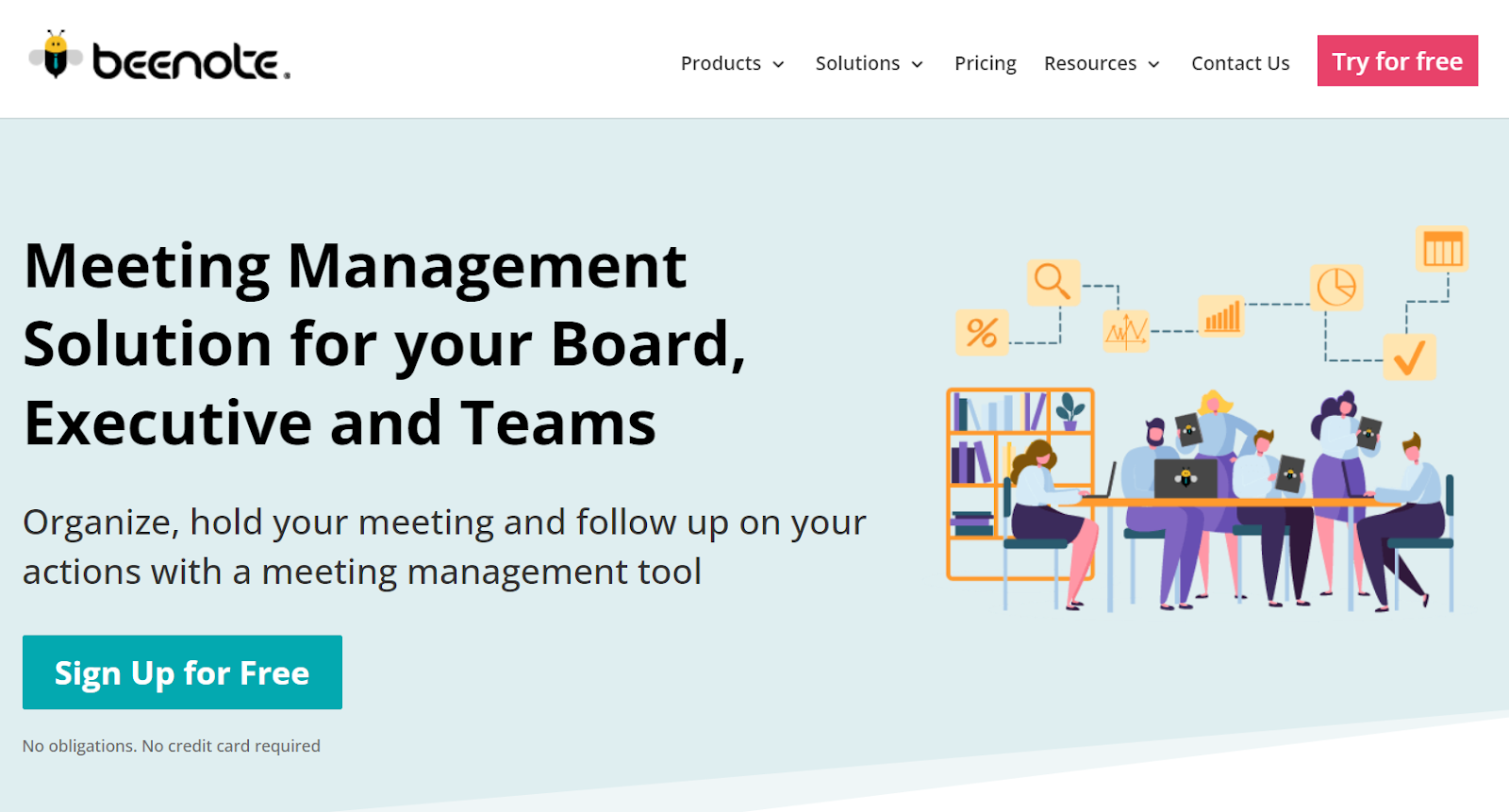 Beetnote is a meeting management software that helps streamline the agenda-to-minutes process of your meetings.
It contains pre-built meeting agenda templates that you can use to create agendas with all relevant information like meeting topic, objective, the person in charge, the role of participants, subject length, project folder, and more quickly.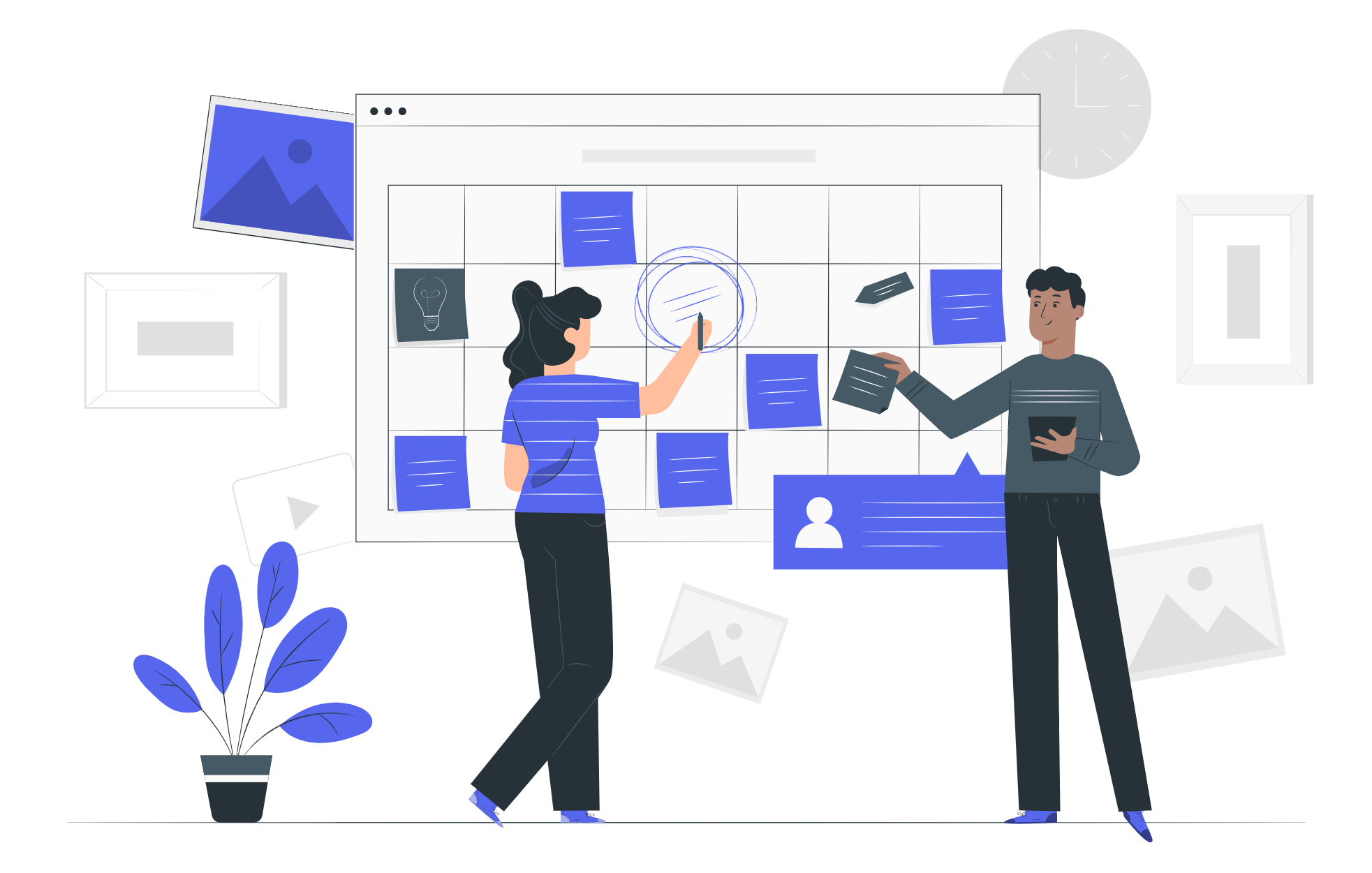 Pros
Easy-to-use 100+ pre-built agenda templates.
Share and collaborate with other participants while creating an agenda.
Facilitates easy documentation with auto-generated meeting minutes.
Automatically sends timely notifications to participants about the agenda and meeting minutes.
Integrates seamlessly with Microsoft 365, Teams, Outlook, Antidote, and Google Workspace.
Cons
Does not send meeting reminders
Use cases limited to creating agendas and meeting minutes
Lacks advanced meeting coordination features or integration with team communication tools like Slack
Pricing
Beenote paid plans start at $8.67/month for single users. It also offers group plans that charge $3.00/user/month for a team of up to 30 users.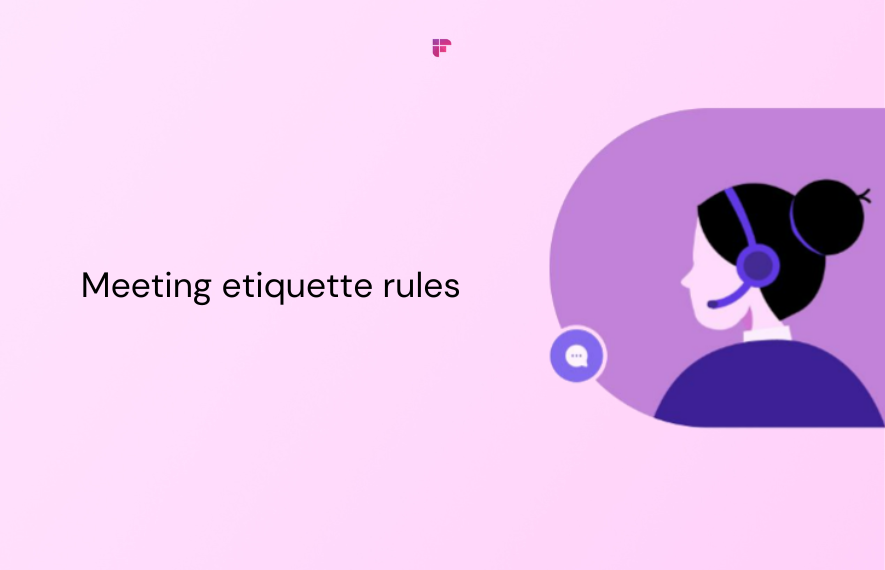 2. Hypercontext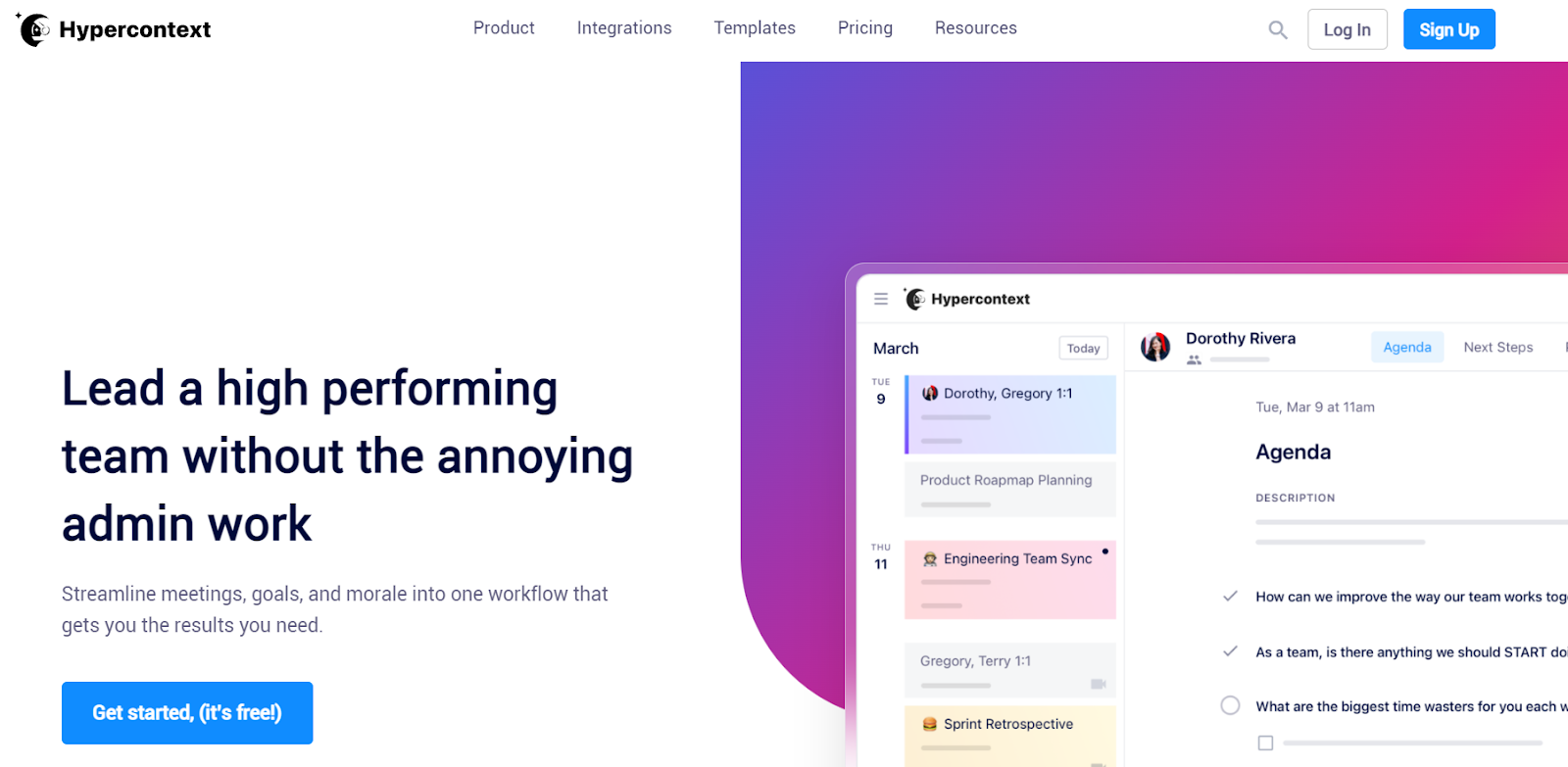 Hypercontext is a meeting management tool that lets you collaborate on shared agendas, take notes, share feedback, assign next steps, and more.
Hypercontext helps create flawless agendas that can give clear directions for your meetings. This way, you can stay organized, reduce administrative tasks and focus on more productive tasks.
Pros
You can take meeting notes and assign tasks within the agenda.
Automatically sends the meeting notes to all participants.
Pre-built customizable agenda templates for one-on-one, daily stand-up meetings, and other recurring meetings.
Allows you to collaborate on meeting agendas with other participants and refine talking points.
Offers conversational analytics that provides deeper insights on management blindspots based on your agenda items.
Integrates with Google Calendar, MS, Chrome, Slack, Zapier, Google Meet, and more.
Provides 100+ conversation starters.
Automatically sends post-meeting survey questions to participants.
Cons
Does not allow you to attach any files
No automated transcription or meeting notes
Pricing
Hypercontext offers a free forever plan. The paid plans start at $5/user/month for the first 5 users and $7/user/month for bigger teams.
Meeting management software for effortless hosting
Virtual meeting tools have made it possible to meet and collaborate with anyone and everyone from anywhere.
Here are two meeting management tools for seamless hosting:
Google Meet
Microsoft Teams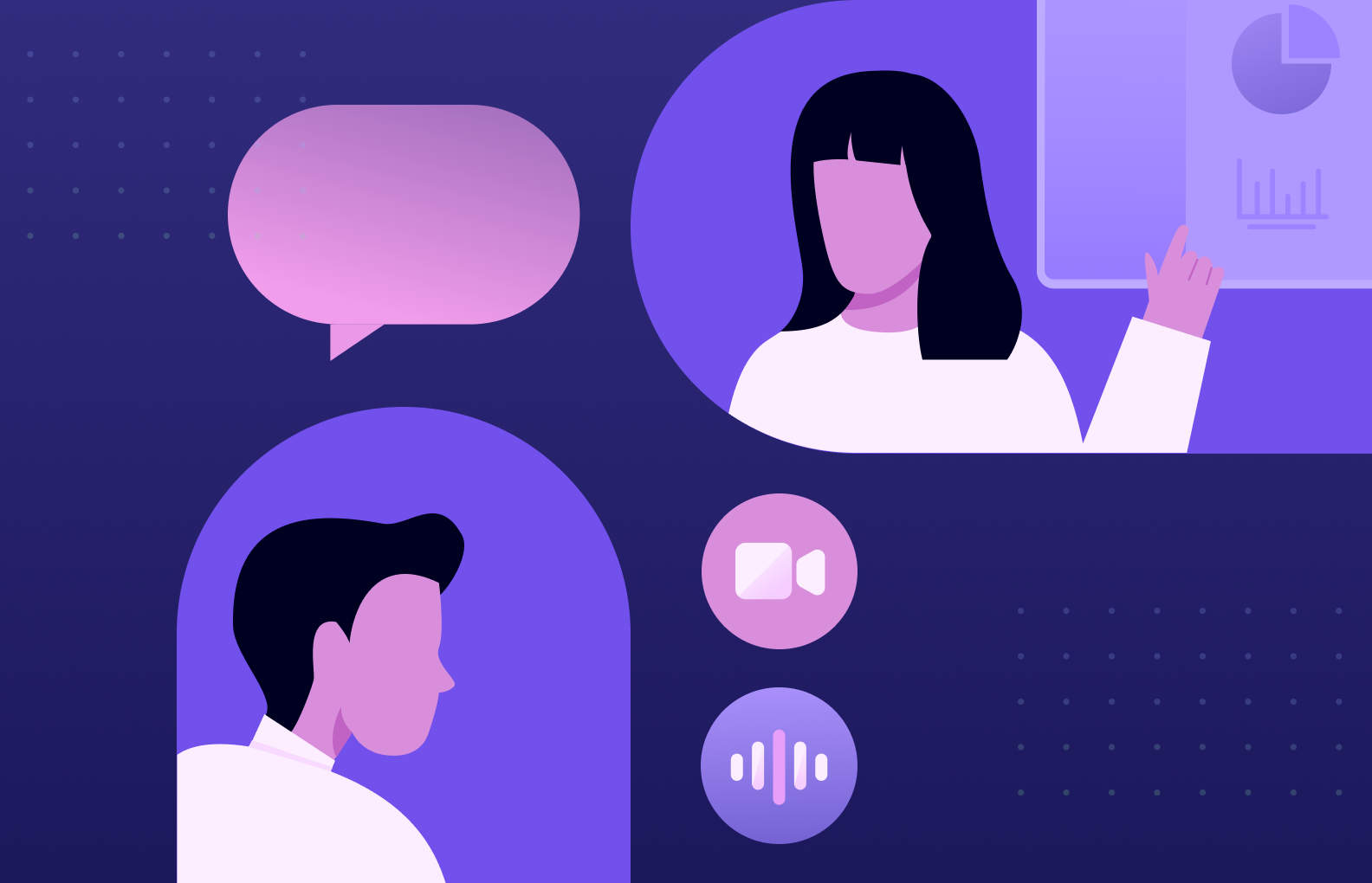 1. Google Meet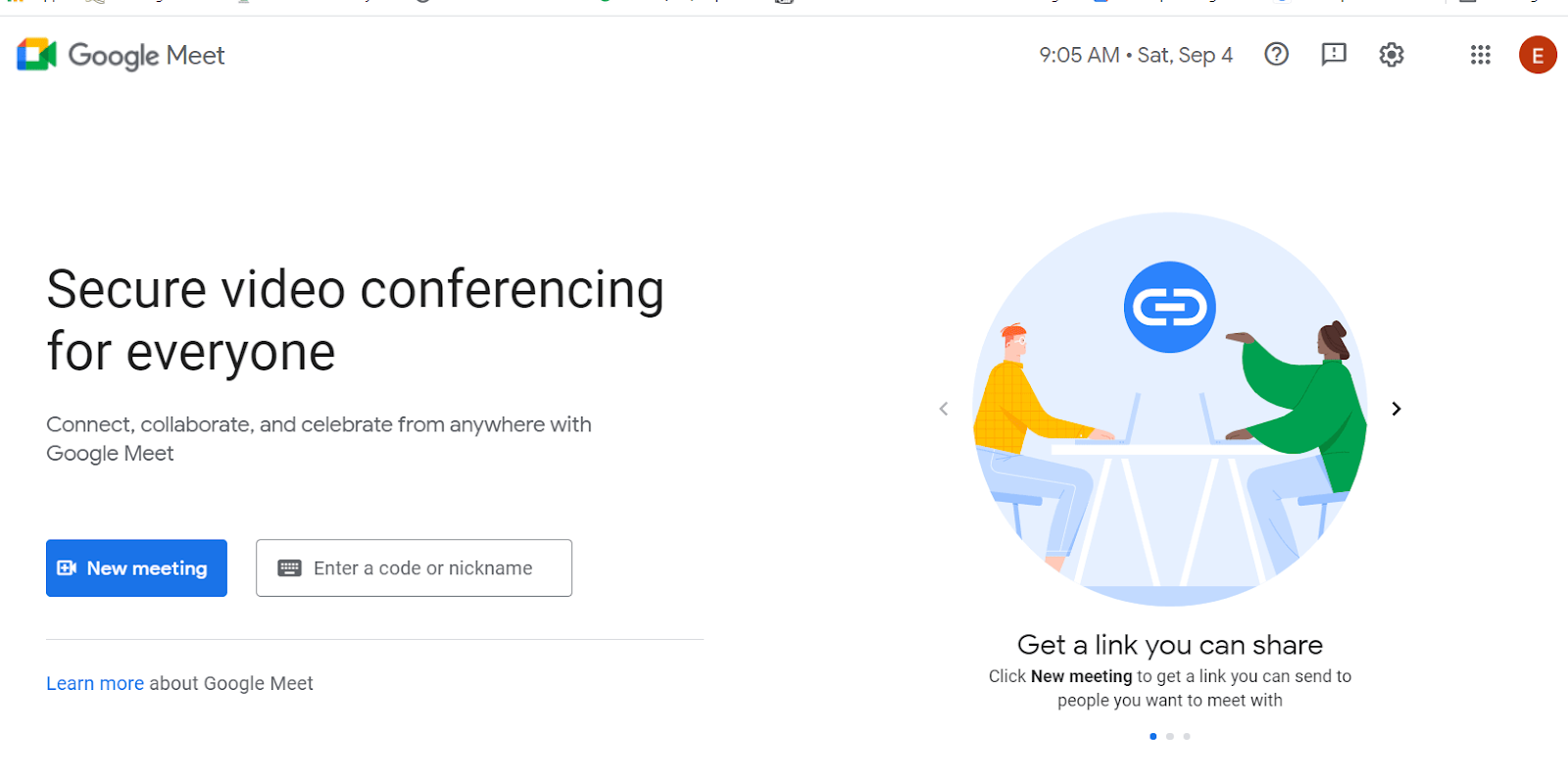 Google Meet is a meeting management solution used for hosting an online meeting with up to 250 participants.
Google Meet allows you to share videos, screens, and presentations during the meeting.
Pros
Supports up to 250 participants and 25 co-hosts in a meeting.
Facilitates collaboration with advanced features such as Polls, Breakout rooms, Q&A, etc.
Provides noise cancellation features.
Supports live streaming of the meeting.
Attendance tracking facilities.
Duration limits to 24 hours per meeting.
Cons
The accuracy of in-built Google Meet transcription or captioning isn't great.
No conversation analytics or insights from the meeting
Pricing
Google Meet is a free-to-use meeting hosting service.
However, subscribe to the Google Workspace individual package to access advanced features like polls, breakout rooms, and meeting recording, which starts at $7.99/month.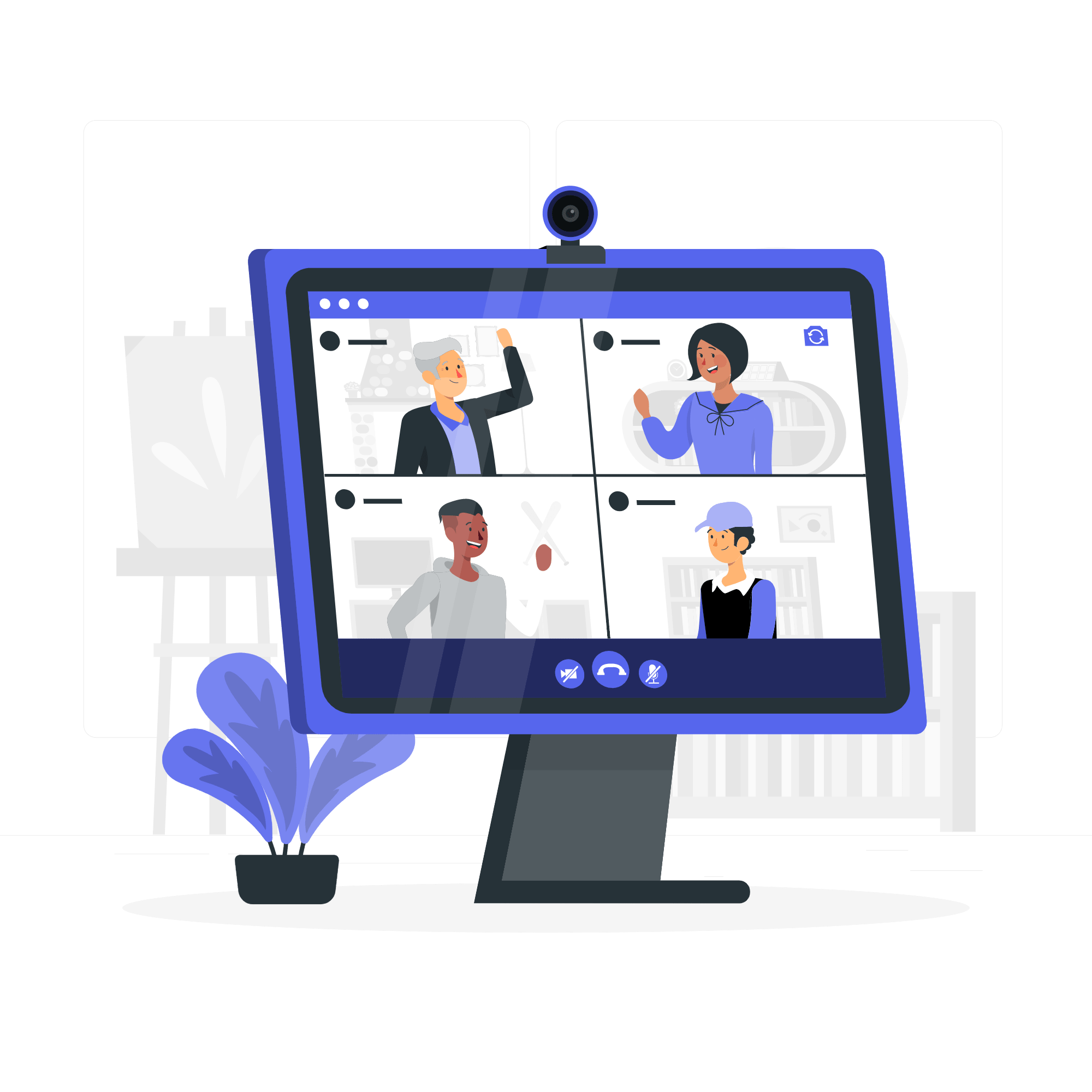 2. Microsoft Teams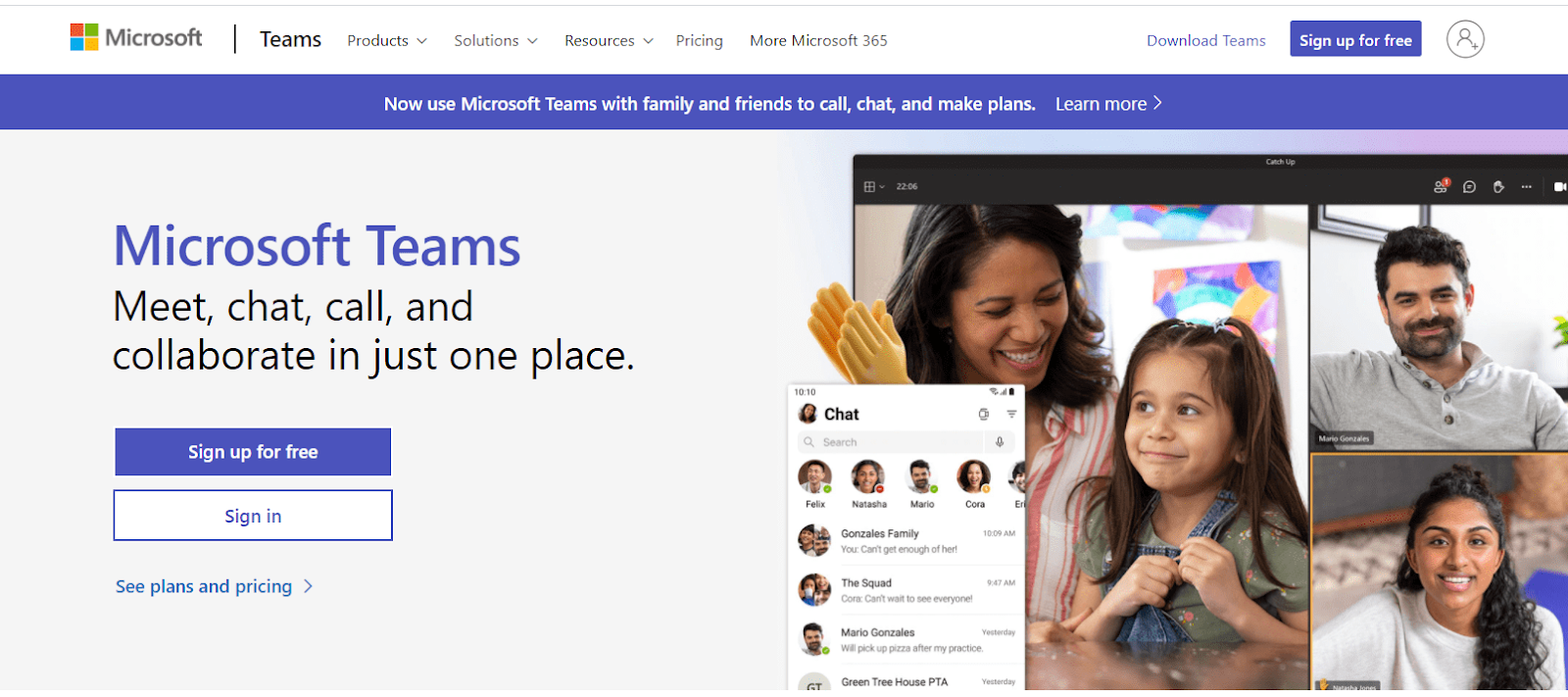 No list of meeting management software is complete without mentioning Microsoft Teams.
Microsoft Teams enables seamless collaboration by providing a shared workspace where you can conduct audio, video, and web conferences.
Pros
Supports up to 10,000 participants in a meeting
Provides whiteboards to collaborate on ideas
Supports live broadcasting of the meeting
Offers audio conferencing facility from the phone across 400+ cities through a dial-in number
Dedicated meeting rooms
Automatically generates meeting notes, recommended tasks, and personalized highlights from the meeting
Allows screen sharing and attachments during the meetings
Cons
No recurring meeting management features
Steep learning curve and confusing interface.
Pricing
Microsoft Teams comes free with the Microsoft 365 Suite. The pricing for Microsoft 365 starts at $5/user/month.
💡
True, the in-built transcription feature of these top-notch video servicing platforms isn't very great. But that doesn't mean the possibilities are limited. Fireflies seamlessly integrates with
Google Meet
and
Microsoft Teams
.
Let your meeting platform be any, Fireflies creates 90% accurate meeting transcripts, an AI-generated summary, insightful meeting data analytics, and much more within just minutes after your meetings.
Meeting management software for improved collaboration
Collaboration is the secret ingredient to supercharged meetings, where ideas flow freely and teamwork reaches new heights.
Here are two meeting management tools to enhance collaboration:
1. ClickUp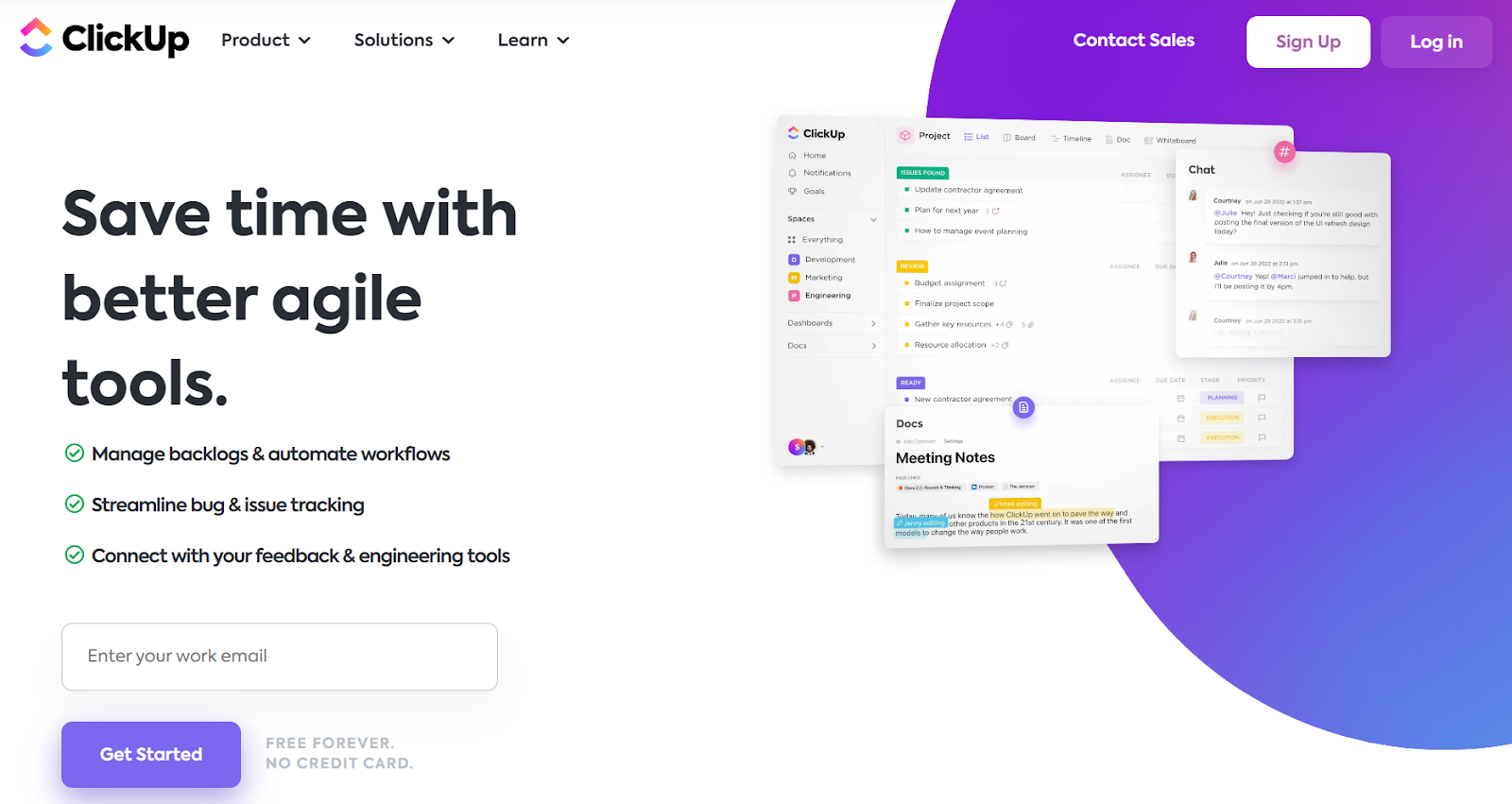 ClickUp is a meeting management software that facilitates effortless collaboration during meetings.
ClickUp is a hub where teams can plan, organize, and collaborate on work using tasks, Docs, Chat, Goals, and Whiteboard. It's customizable with just a few clicks, allowing teams of all sizes to boost productivity and deliver work more effectively.
ClickUp is the ultimate productivity tool that eliminates the need for multiple applications and streamlining workflows.
Pros
Offers collaboration features like real-time editing, live cursors, and link sharing
Facilitates rich editing features to modify headers, bold font, and more in the NotePad.
Supports Checklists to track personal and team to-dos with ease
Helps create quick tasks with assigned comments in the notes
In-built scheduling calendar
A collaborative dashboard that gives a high-level overview of a project to the meeting attendee
Integrates seamlessly with Zoom and Google Calendar
Cons
Does not take meeting notes automatically
Does not provide meeting analytics
💡
Integrate ClickUp with Fireflies
to overcome these cons and enhance your meeting experience.
Fireflies will automatically take 90% accurate meeting notes and create tasks in ClickUp from voice commands during meetings.
Pricing
ClickUp offers a Free Forever Plan with 1000MB storage, unlimited users, and tasks.
The paid plan starts at $5/user/month.
2. TeamViewer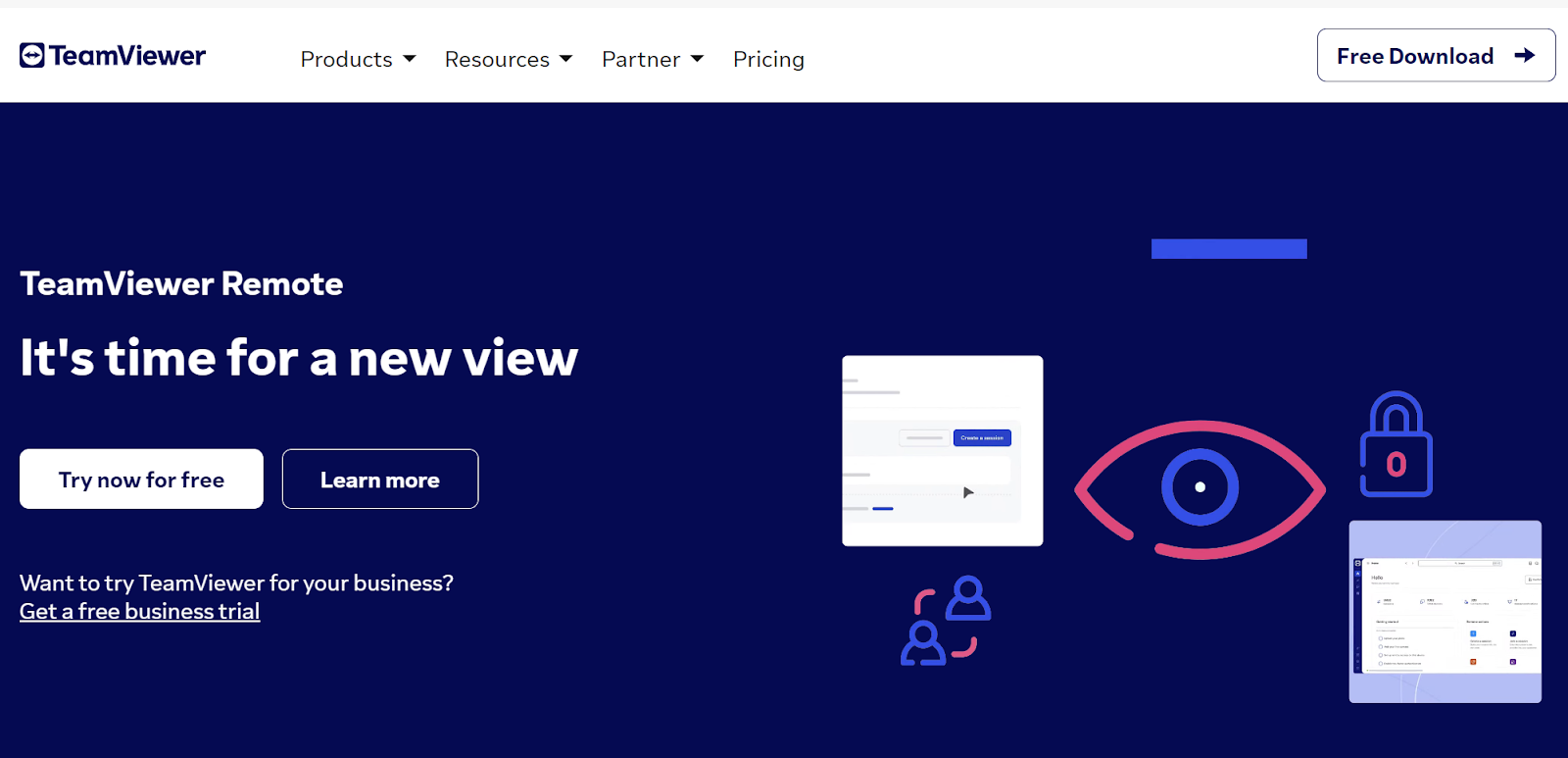 TeamViewer is another meeting management software that enhances collaboration. It primarily focuses on enabling remote teams to collaborate better on their projects via group chats, audio calls, video conferences, device sharing, and more.
Pros
Provides a virtual whiteboard to collaborate and brainstorm ideas.
Enables device sharing among remote teams.
Supports HD video and audio conferencing to communicate with teammates.
Highly secure with end-to-end encryption.
Supports conference calls with up to 300 participants.
Records meetings automatically.
Highly compatible with any device configuration and easy installation.
Cons
No meeting reminders
No scheduling
Pricing
TeamViewer charges $8.75/user/month.
Wrapping up,
There it is! The top 10 meeting management software tools to transform your meetings from groans to gains.
While Calendly and HubSpot make scheduling a breeze, Fireflies automatically take meeting notes, summarizes the conversation, and provides deeper insights from the meetings.
And if you feel directionless, use Beenote or Hypercontext to create a concise meeting agenda that can drive you to the desired outcomes within time.
So, try them out and see how they can take your meetings from meh to marvelous!
Read Next: