Meeting transcription software tools make capturing and retaining crucial information from conversations effortless—no more frantic note-taking or the risk of missing key details.
However, with too many options available today, finding the right software that fits your unique needs and budget is a task.
In this blog, we've done the heavy lifting and curated a list of 5 best meeting transcription software in 2023. Read on!
5 best meeting transcription software
Considering factors such as accuracy, integration capabilities, pricing, key features, and more, these are our top 5 meeting transcription software:
Fireflies.ai
Airgram
Sonix
Otter.ai
Tactiq
Here's a quick overview:
| Base factor | Fireflies | Airgram | Sonix | Otter | Tactiq |
| --- | --- | --- | --- | --- | --- |
| Accuracy | 90-98% | 90% | 97% | 83% | 92% |
| Security | End-to-end encryption, Private storage options, SOC 2 Type II, GDPR, HIPAA compliant and follows zero-data retention policy. | SOC 2 Type II and GDPR compliant. | End-to-end encryption. SOC 2 Type II compliant and offers 24/7 monitoring. | SOC 2 Type II, GDPR, CCPA, and VPAT compliant. | CTH and GDPR-compliant. |
| Free trial | 7-day free trial | Not available. | Not available. | 7-day free trial | Not available. |
| Pricing | Starts at $10/user/month. | Starts at $18/month. | Starts at $10/hour. | Starts at $10/user/month. | Starts at $8/user/month. |
| Integration | Integrates with 40+ popular apps, including CRMs, dialers, and video conferencing tools. Provides Custom API. | Integrates with HubSpot, Slack, Calendars, Google Meet, Zoom, and Microsoft Teams. | Integrates with 25+ popular video conferencing and productivity tools. | Integrates with Slack, Google Drive, Zoom, Google Meet, Microsoft Teams, and Salesforce. Provides Custom API. | Integrates seamlessly with 20+ tools, Google Meet, Zoom, Zoho, and PipeDrive. |
| Supported languages | 60+ languages | 8 languages. | 40+ languages. | English (US and UK). | 5 languages. |
| AI capabilities | Provides customizable AI-generated summaries, automated soundbites, and an AI-powered meeting chatbot. | Provides AI-generated meeting summaries. | Automated translation and subtitles. | Meeting chatbot and live summary. | ChatGPT Summary. |
Why do you need meeting transcription software?
Most video conferencing platforms, including Google Meet and Zoom, now have built-in transcription features. So why should you invest in dedicated meeting transcription software?
Here are some reasons why:
Built-in transcription features work only in that particular platform. In contrast, meeting transcription software offers flexibility and does not limit you to a single platform. Whether you're hopping between video conferencing platforms or uploading recorded meetings, these tools adapt to your needs.
Also, given that they use more advanced speech recognition technology and AI training processes, the accuracy of meeting transcription software is higher than most built-in features.
But the advantages don't stop at transcription.
Many meeting transcription software, including Fireflies, provide additional features that elevate your meeting experience. Take Fireflies' Conversation Intelligence  feature: it doesn't just transcribe—it dives deep into analytics, providing insights into speaker analytics, the total number of questions asked, average words spoken per minute, talk-to-listen ratio, call sentiment, and so on.
Also, Fireflies provides advanced collaboration tools such as:
Threads: Annotate transcripts with comments and reactions
Soundbites: Clip important parts of meetings into shareable audio snippets
Playlists: Create a collection of sound bites from multiple calls
To summarize, the benefits of dedicated meeting transcription software tools go beyond speech-to-text conversion. They hold the capabilities to enhance your workflow and help you maximize productivity while saving time.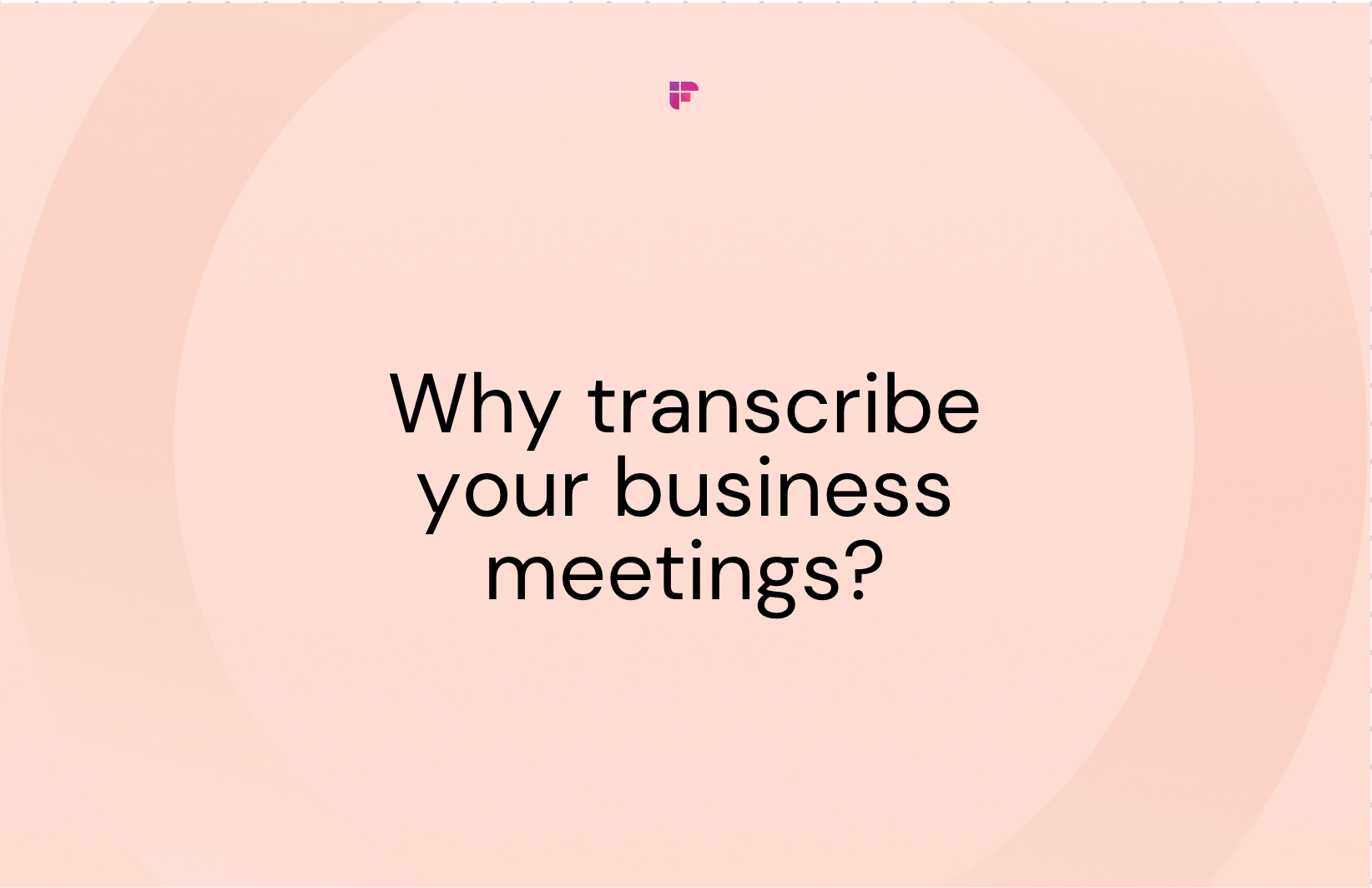 Top 5 meeting transcription software
Gartner foresees that by 2025, 10% of the global workforce will move to virtual spaces for sales, onboarding, and remote huddle meetings.
You'll need reliable meeting transcription software to document these conversations efficiently and ensure no vital information is lost during this shift. Here are the 5 options to consider:
1. Fireflies.ai
Fireflies is an AI-powered meeting transcription software that can automatically record, transcribe, summarize, and analyze your conversations with 90%+ accuracy within just a few minutes.
Fireflies creates a searchable knowledge base of all your conversations, irrespective of platforms and conference rooms. Apart from your meetings, you can also use Fireflies to record and document interviews, podcasts, voice memos, or any in-person conversations.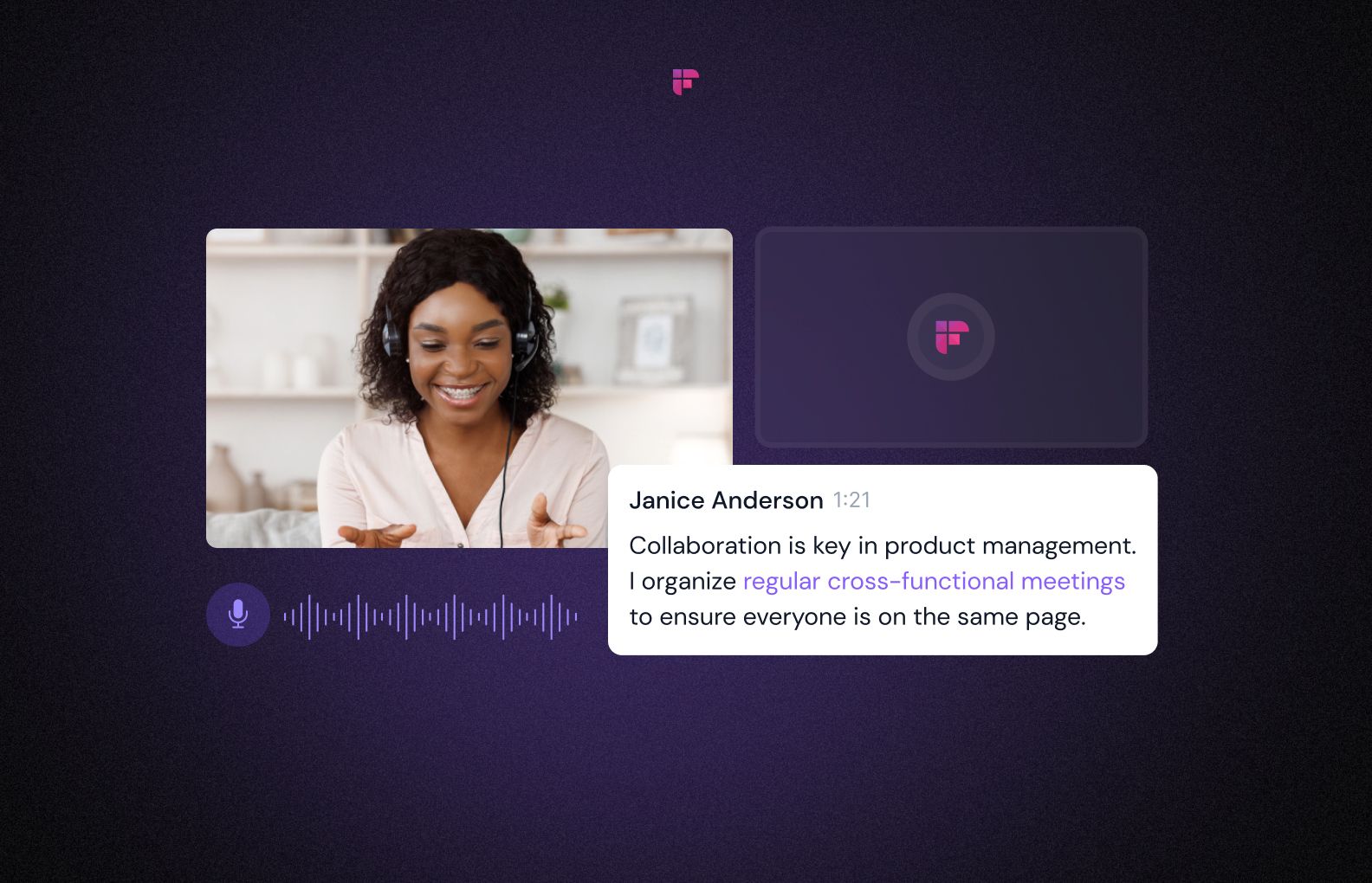 You can transcribe your online meetings with Fireflies in three ways:
Add fred@fireflies.ai to your Guest list. Fred, the Fireflies bot, will attend the meeting as a silent participant and transcribe it for you.
🤫
You can customize the bot's name from Fred to anything you prefer.
2. Allow Fireflies to auto-join your scheduled meetings to record and transcribe them into your Fireflies Notebook.
3. Upload a meeting recording into the Upload section and generate its transcript within minutes.
You can upload the file in any format: MP3, MP4, M4A, or WAV.
To transcribe an in-person conversation, use the Fireflies Mobile app.
Open the Fireflies Mobile App, click Transcribe, and select Record Audio to start recording. That's it!
You can find the final transcripts of your online, in-person meetings and uploaded files in the Fireflies Notebook.
Pros of Fireflies.ai
Generates 90%+ accurate meeting transcripts with timestamps and speaker labels in minutes.
Supports transcription in over 60 languages, including Portuguese, Spanish, French, Arabic, German, Dutch, and Italian.
You can download the transcript in 5 formats—PDF, DOCX, SRT, CSV, or JSON.
Offers an AI-generated super summary of the transcript highlighting the keywords discussed, action items, meeting notes, meeting outline, and meeting overview. You can customize this summary per your needs using the Super Summaries Apps or create summaries how you want.
Allows you to add custom vocabulary and dictionary definitions.
Integrates seamlessly with 40+ video conferencing, dialers, CRMs, and productivity apps, including Zoom, HubSpot, Slack, Aircall, Notion, Freshsales, and Pipedrive. Fireflies also provides custom API and Zapier integrations.
Offers advanced smart search capabilities to help you review the lengthy transcription in just minutes.
Allows you to maintain an organized record of meetings with Fireflies Channels.
Offers a Google Chrome extension to help you capture Google Meet sessions directly from your Chrome browser without inviting the bot or doing any extra steps. It also gives you an intelligent GPT-4 powered AI assistant, AskFred for Web. You can chat with it and quickly extract key information from any web source, such as Google Meet meetings, documents, case studies, wikis, emails, YouTube, Google Docs, research articles, and more.
Provides a meeting chatbot, AskFred, that brings the power of ChatGPT into your meetings. It can answer any questions about what went down during the meetings. All you need to do is ask, just like you chat with a colleague. You can also use AskFred to automatically develop other forms of content, such as social media posts, emails, blog posts, etc., from your conversations.
Offers Private storage options—get dedicated and isolated storage exclusively for your organization's data.
Follows the highest security standards. Fireflies is SOC 2 Type 2, HIPAA, and GDPR compliant. Also, all your data is encrypted at rest and in transit.
Fireflies has a 0-day data retention policy, ensuring that third parties do not store customer data. Also, Fireflies does not use user data to train its AI models by default.
Cons
Does not identify multiple languages in the same meeting.
Needs a stable internet connection to perform at its best.
Pricing of Fireflies
Fireflies offers a free transcription plan that gives you 800 minutes of storage and up to 3 transcription credits when you sign up with an official email address. You can also earn more free credits by referring Fireflies to your friends or colleagues. Each successful referral will add 3 credits to your free plan.
There is also a 7-day free trial for the Business Plan, Fireflies' highest subscription tier, which gives you access to all the premium features free for 7 days.
You can subscribe to the paid plan for unlimited transcription credits, starting at $10/user/month.
💁🏼‍♀️
Fireflies free tier is an ideal choice if you're looking for free meeting minutes transcription software.
2. Airgram
Airgram is another meeting transcription software that records, transcribes, and summarizes your meetings.
Sign up for Airgram and grant the AI assistant permission to auto-join your meetings. The bot will automatically join your meetings thereafter and transcribe them for you.
You can also generate transcripts by uploading your meeting recordings into Airgram.
Pros of Airgram
Generates 90% accurate transcripts with timestamps and speaker labels.
Provides a brief AI-generated summary of the meeting.
Offers a notepad on which participants can take notes and share comments simultaneously during the meeting.
Allows participants to edit, view, comment, and collaborate on the transcript in real time.
Cons of Airgram
Meeting summaries are available only for conversations in the English language.
Does not disclose any information on its encryption standards.
Limited transcription credits—Airgram gives only 10 credits in its $8.99/month starter pack. In contrast, tools like Fireflies offer unlimited transcription at just $10/month.
Pricing of Airgram
Airgram offers a free plan with transcripts for up to 5 monthly meetings. The paid plan starts at $8.99/month.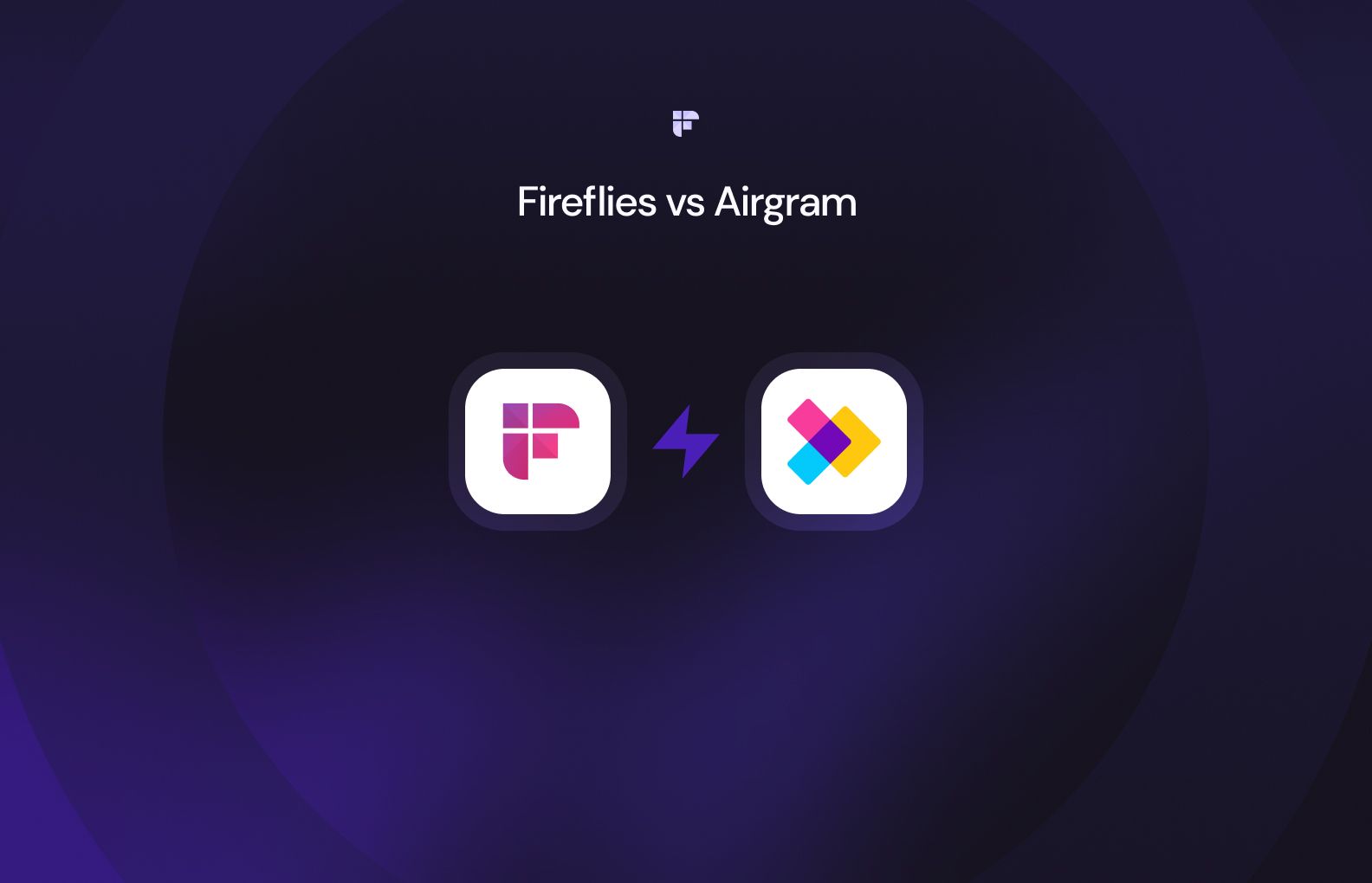 3. Sonix
Sonix is another AI-powered meeting transcription software that can generate good-quality meeting transcripts within just a few minutes.
Simply upload your podcast file to Sonix, edit the generated podcast transcript if needed, and download the finished transcript in any desired format.
Pros of Soni
User-friendly and intuitive.
Enterprise-grade security.
Supports transcription in 40+ languages with speaker labels and timestamps.
Provides translation services in 40+ languages.
Allows you to add custom dictionaries.
Provides an in-app text editor for easy editing and reviewing of transcripts.
Allows you to upload and combine multiple files into a single transcript.
Cons of Sonix
Does not support multiple accents.
No live meeting recording or real-time transcription.
Pricing of Sonix
Sonix provides a flexible pay-as-you-go plan starting at $10/hour. Its premium plan starts from $22/seat/month.
4. Otter.ai
Otter.ai is an AI-powered meeting transcription software that helps you record, transcribe, and summarize your online meetings.
Log into Otter.ai with your Google or Outlook calendar and set up the tool, allowing the Otter bot to join your scheduled meetings automatically. The next time you're in a meeting, the Otter bot will automatically join the meeting and transcribe it for you.
Pros of Otter.ai
Generates accurate transcripts with timestamps and speaker labels.
Allows you to transcribe recorded audio or video files in 15 formats.
Enables you to search your meeting notes by keyword, speaker, and date easily.
You can add images or highlight text in the transcript.
Provides collaboration features like comments and reactions.
Cons of Otter.ai
Supports only the English language.
Does not support exporting of transcripts in VTT format.
Limited integrations and only premium members of Otter.ai can benefit from its integrations.
Pricing of Otter.ai
Otter provides a free plan that allows you to transcribe up to 300 minutes/month for files under 30 minutes.
Paid plans start at $10/month with 1,200 included minutes and a 90-minute maximum per conversation.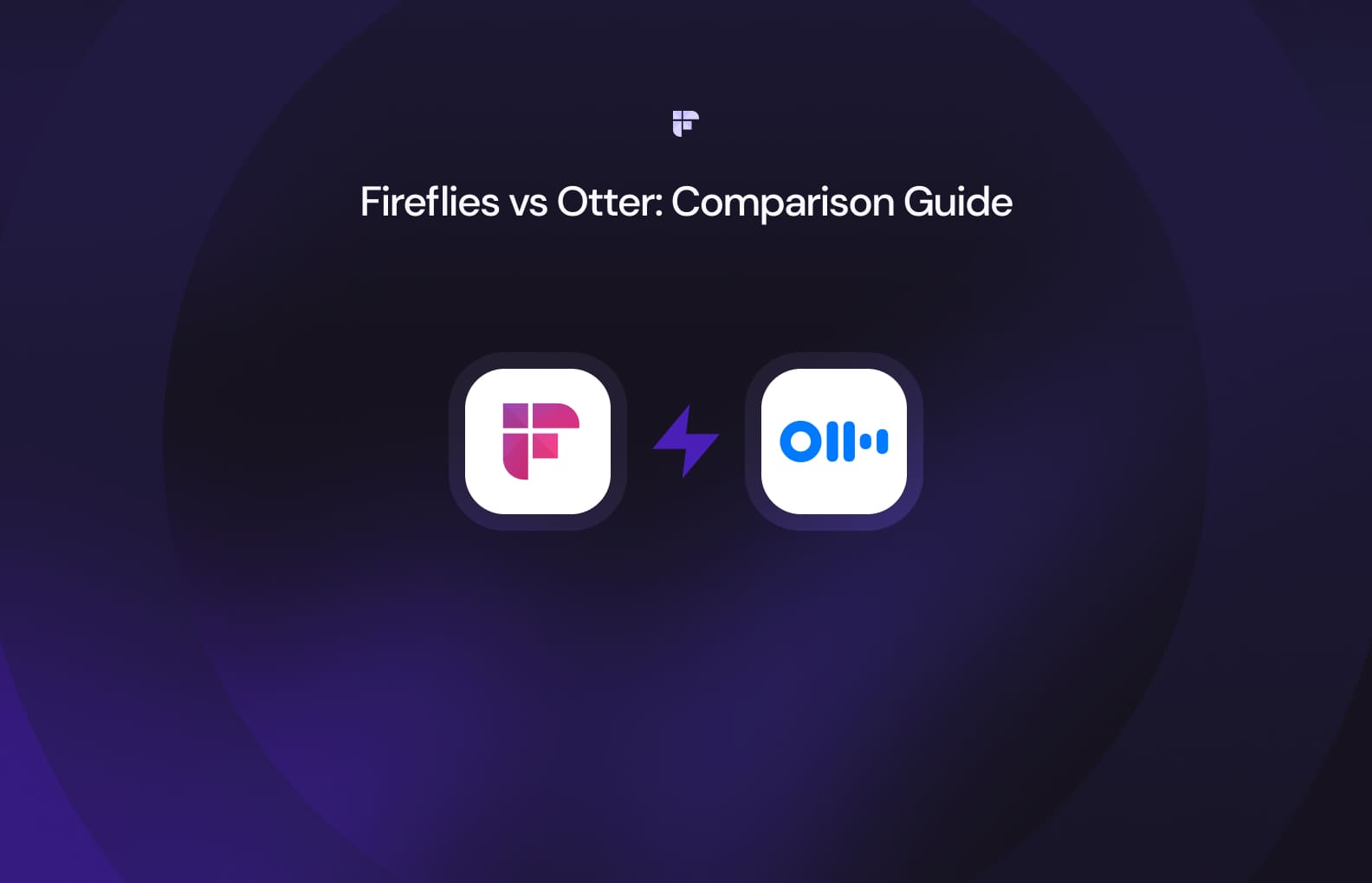 5. Tactiq
Last on our list of best meeting transcription software is Tactiq. You can use Tactiq to get real-time transcription of the meetings you attend in Google Meet, Zoom, MS Teams, and Webex.
Simply install the Tactiq Google Chrome extension. Next time you attend a meeting via your Chrome browser, Tactiq will automatically transcribe the conversation.
Pros of Tactiq
Easy to use, bot-free tool.
Provides engagement analytics.
Integrates seamlessly with Zoom, Google Meet, and Microsoft Teams.
Provides real-time meeting transcription and meeting notes with speaker labels and timestamps.
Automatically highlights key phrases as they appear in conversations.
Cons of Tactiq
Does not support API integrations.
Does not generate meeting summaries.
Pricing of Tactiq
If you're looking for free meeting transcription software, Tactiq gives free transcription for up to 10 meetings per month.
For higher credits, subscribe to the paid plan that starts at $12/user/month.
Wrapping up the 5 best meeting transcription software tools of 2023
On a budget? Go for the free tier of Fireflies, Tactiq, or Otter.
Want to get real-time transcription? Get Tactiq or Airgram.
Dealing with sensitive data and want to do more than just transcribe? Fireflies is for you.
It's end-to-end encrypted, compliant with GDPR, HIPAA, and SOC 2 Type II standards, offers private storage, and does not share or use user data to train its AI models. Fireflies also provides customizable meeting summaries, advanced collaboration tools, seamless integrations, multi-language support, and much more at a steal deal of just $10/month when billed annually.
While each tool has its merits, the choice ultimately depends on your needs and budget.