In search of alternatives to Descript for seamless transcription? You've come to the right place!
Whether you're a content creator, journalist, or business professional, we have meticulously curated a list of eight powerful Descript alternatives that will blow your mind. We've got options for all budgets, including some amazing free ones.
Keep on reading to discover the best Descript alternatives and unlock a world of efficient transcription.
Top Descript alternatives of 2023
Here are the best Descript alternatives you can use for transcription:
Fireflies is a compelling Descript alternative that offers a comprehensive feature set at a comparable price point. What sets Fireflies apart is its AI assistant, Fred, with an impressive 90% accuracy in transcribing and summarizing meetings in 60+ languages. From generating content ideas to crafting emails and reports based on your conversations, Fred is your ultimate productivity companion.

Features
Record, transcribe, summarize, and analyze live meetings
Upload audio/video files of any size in any format
Download transcripts in 5+ formats
Identify speakers and analyze speaker sentiments
Generate transcripts in 60+ languages
Integrate with 50+ productivity apps
API available for custom integrations
Change playback speed for comfort
AI-Powered Chat Feature for Web
Chrome extension available
Supports UK, Australian, and US English accents
Highly secure, SOC 2 TYPE 2 & GDPR compliant
End-to-end encrypted data
Easy-to-use UI
Pricing
Freemium plan, with limited features.
Pro Plan: $10 per seat/month, billed annually.
Business Plan: $19 per seat/month, billed annually.
Enterprise: Custom pricing based on the number of seats.
2. Otter.ai
Otter AI is a go-to choice for affordable transcription services catering to individuals and small businesses. It excels at transcribing clear voice conversations like Zoom meetings and one-on-one interviews. While its computer transcription may have occasional errors, you have the option to edit transcripts for accuracy.

Features
Real-time transcription
Easily accessible
Search and analysis feature
Pricing
Pro Plan: $8.33 per seat/month, billed annually.
Business Plan: $20 per seat/month, billed annually.
Enterprise: Custom pricing based on the number of seats.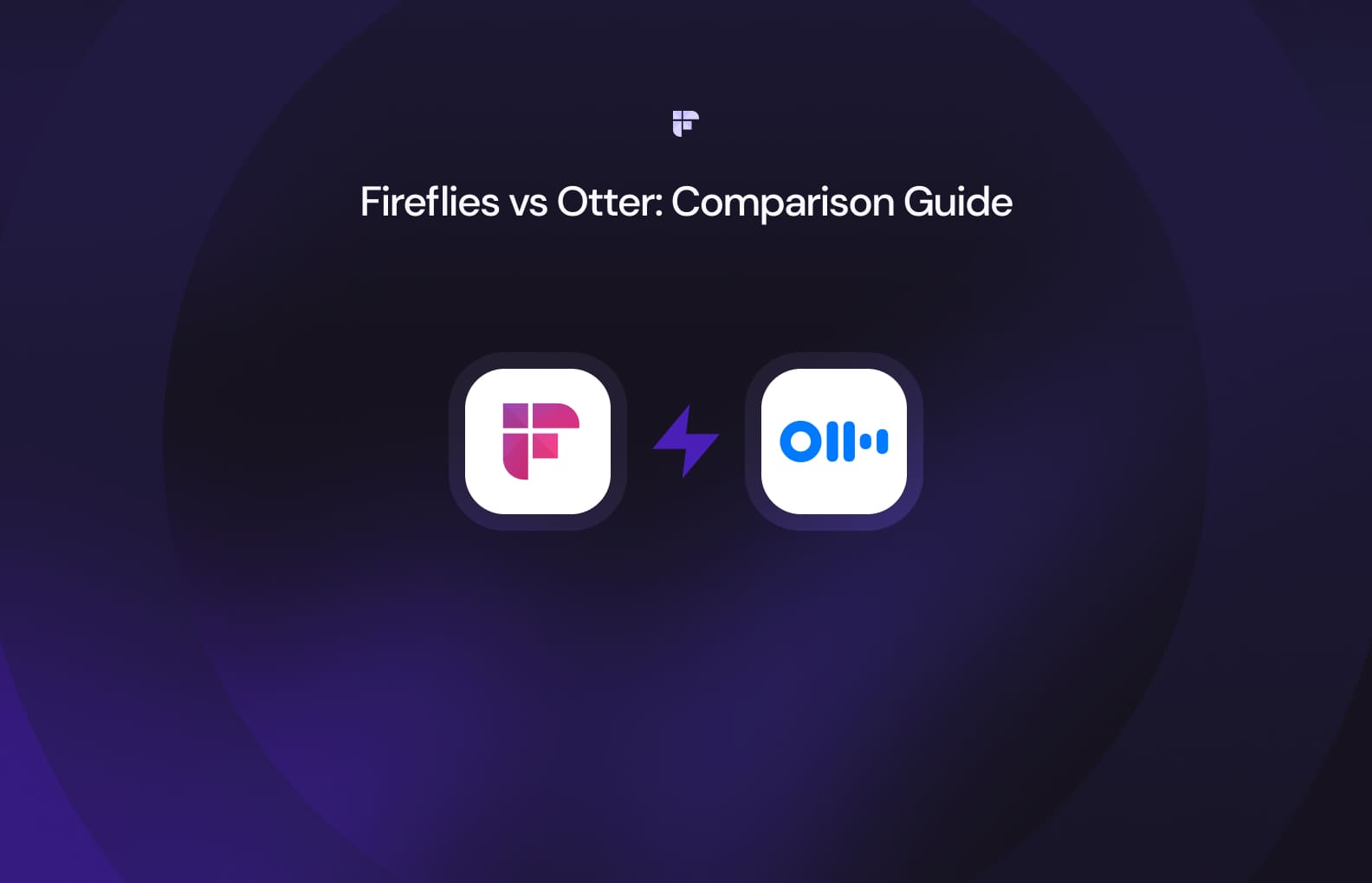 3. Fathom
Fathom is a GPT-powered meeting assistant that automatically creates comprehensive meeting summaries, complete with action items, to facilitate quicker decision-making. It's important to note that Fathom only currently supports Zoom, catering specifically to its video conferencing platform.

Features
Automated meeting summaries
Generation of call highlights for important moments
Simplified note-taking by syncing with research notes
PricingFree, with paid plans to launch soon.
4. Sonix
Sonix is a great option for those seeking transcription and translation services. With over 40 supported languages, Sonix ensures accurate and reliable transcriptions. Moreover, Sonix's platform provides additional capabilities, such as adding captions and subtitles to videos.

Features
Speaker labeling
Transcript editor
Word-by-word timestamps
Pricing
Standard: $10/hour
Premium: $5/hour + $22/month
Enterprise: Custom pricing
5. Speak AI
Consider exploring Speak as a reliable Descript alternative for automated transcription. It offers the convenience of analyzing and editing video and audio content directly in your browser. With Speak Ai, you can easily capture, analyze, and share content without the need for complex software installations.

Features
Transcribe without a separate app
Shareable library
Pricing
Pay-As-You-Go
Starter: $57/month/user
6. Trint
Trint is an excellent choice for users seeking a transcription solution that allows easy editing for publishable and shareable documents. While Trint exclusively provides computer transcription, its users can leverage their editor to refine and perfect the transcript, ensuring it meets their high standards.

Features
Custom vocabulary
Multi-language transcription
Closed captions available
Pricing
Starter: 7 transcriptions for $48/user/month
Advanced: Unlimited transcriptions for $60/user/month
Enterprise: Custom pricing
7. CastMagic
Castmagic is a tool tailored specifically for podcasters and marketers. It leverages AI technology to transform long-form audio into valuable evergreen content assets. With Castmagic, you can instantly generate transcriptions, show notes, summaries, video clip timestamps, guest quotes, blog posts, tweet threads, newsletters, Q&A, and more for each episode.

Features
Content extraction
Turn transcripts into social media copy
Auto-generate important quotes
Pricing
Hobby: $23 per seat/month, billed annually.
Starter: $59 per seat/month, billed annually.
Rising Star: $179 per seat/month, billed annually.
8. Reduct
Reduct is a super user-friendly video and audio transcription tool designed to simplify searching, editing, and sharing video content in a text format. This tool aims to enhance productivity by streamlining the process of working with video content, offering an efficient solution for managing and utilizing audiovisual material.

Features
AI and human-generated transcriptions
Easy editing of the transcript
Hashtags for categorization
Consider the all-in-one solution
We've given you many great alternatives to Descript that can help you transcribe with more accuracy and in less time, but the reality is they don't come without their limitations.

Luckily,  there's one standout solution that offers more–Fireflies.

Unlike typical transcription services, Fireflies offers advanced features and capabilities that go beyond basic transcription, like automatic note-taking, conversation intelligence to help track speaker talk time, sentiment analysis, and collaboration with co-workers, by adding comments, pins, and reactions to specific parts of conversations and much more!

Plus, it also seamlessly integrates with various communication platforms like Zoom and Google Meet.

With its AI-powered technology, Fireflies AI is the all-in-one time-saving transcription solution you never knew you need!