​Zoom recently unveiled their rebranded generative AI assistant - Zoom AI Companion.
This revamp of their previous Zoom IQ works across different Zoom products, including meetings, Team Chat, Mail, and Whiteboard.
However, when it comes to meeting assistance, many still prefer Fireflies over Zoom AI Companion as their go-to option. This guide tells you why.
🚩
The content of this article is based on information available up to the date of publication.
Overview: Zoom and Fireflies.ai
Zoom, essentially a video conferencing and online communication platform, allows you to conduct virtual meetings, webinars, and web conferences.
Fireflies, on the other hand, is an AI-powered meeting assistant that can record, transcribe, summarize, and analyze conversations on video conferencing platforms such as Zoom or Google Meet or in-person meetings.
Fireflies streamlines collaboration and meeting documentation processes, making it a valuable tool for any team.
When it comes to meeting assistance, here's how these two stack up:
Feature
Fireflies
Zoom
Transcription
Meeting transcription
✔️
✔️
Transcription accuracy
90-95%
70-80%
Multi-platform support
✔️

Platform agnostic. Supports all major dialers and video conferencing platforms, including G-Meet, Teams, Webex, Aircall, etc.

❌

Zoom only

Speaker identification
✔️
✔️
Multi-language support
✔️
60+ languages.
❌
English only.
Transcribe uploaded files
✔️
Transcribes MP3, MP4, M4A, and WAV files.
❌
Download transcripts
✔️
5 formats—PDF, DOCX, VTT, SRT, and JSON.
✔️

VTT only.

Edit transcripts
✔️
✔️
Share transcripts
✔️
✔️
Shareable only with audio recording.
Annotate transcripts with likes and comments
✔️
❌
Search within transcripts
✔️

Provides smart search capabilities—AI Filters, Sentiment Filters, and Topic Trackers.

✔️

Supports only basic keyword search.

Analytics and reporting
Meeting Analytics
✔️
provide actionable insights from conversations with

Conversation intelligence and Topic insights.

❌
Zoom Analytics only provides reports on the Zoom experience across your organization.
Analytics Filters
✔️
Meeting name, participants, meeting type, date, etc.
✔️
Meeting attendees and report type.
Application versions
Mobile app
✔️
✔️
Chrome extension
✔️

Record, transcribe, and analyze meetings directly from Google Chrome

✔️

Only to schedule Schedule Zoom meetings directly from Google Calendar

Web app
✔️
✔️
Desktop app
❌
✔️
Recording capabilities
Online meetings
✔️

Records meetings on any platform.

✔️

Zoom only.

In-person meetings
✔️
Records and transcribes offline meetings.
❌
Organize recorded meetings
Channels
✔️
❌
Meeting Summary
Meeting Summary
✔️
✔️
Summary customization capabilities
✔️
❌
Chatbot assistance
✔️
✔️
Privacy and security
End-to-end encryption
✔️
✔️
Private Storage
✔️

Available on request

❌
GDPR and SOC 2 Type 2 compliant
✔️
✔️
Does not train AI models on user data
✔️
✔️
HIPAA compliant
✔️
Available on request
✔️
Only for meeting summary
Zero-day data retention policy
✔️
❌
Pricing
Free tier
✔️

Up to 3 transcription credits and 800 minutes of storage.

❌
The free tier does not offer transcription features or cloud recording features.
Free trial
✔️

7-day free trial on its highest-tier Business plan.

❌
Price
Starts at $10/user/month.
Starts at $14.99/user/month.
Comparing key capabilities of AI Companion for Zoom Meetings and Fireflies.ai
Zoom AI Companion for Meetings attempts to enhance your Zoom meeting experience with the following features:
AI Companion Questions
Smart Recording
Meeting Summary
You can access these features free of cost if you have a paid Zoom Meetings subscription.
AI Companion Questions
It's tough catching up when you miss part of the conversation. Usually, you just jump in blind or ask a colleague to fill you in.
Both AI Companion and Fireflies.ai let you catch up on conversations instantly by asking questions to the bot without interrupting the meeting.
However, there are a few differences:
Feature
Zoom AI Companion
Fireflies.ai
Quick responses

✔️
✔️
Multiple languages supported
❌

English only

✔️

60+ languages

Can ask questions during live meetings
✔️
✔️
Accessible for recorded meetings
❌
✔️

With AskFred AI Meeting Assistant

Activated by default
❌

Host must activate

✔️
Participants can ask questions
❌

only if permitted by the host, who has a paid Zoom account

✔️
Repurpose content from conversations
❌
✔️

AskFred can create emails, social media posts, blogs, etc., from a conversation when prompted

Supported platforms
❌

Limited to Zoom Meetings

✔️

Works on all major video conferencing platforms

Participants can remove the bot or stop recording
❌

Only the host can activate or deactivate AI Companion

✔️

Any participant can remove Fred from the meeting for consent and compliance.
📌
NOTE: AskFred for live meetings is still in its beta version and does everything AI Companion questions do. More features will be added to AskFred in the future.
To experiment, we used the AI Companion and Fireflies Fred in the same meeting and asked the bot questions. Here's the response:
We noticed that Fireflies gave more context than the Zoom AI Companion while answering the questions.
💡
Conclusion

Fireflies.ai presents a more comprehensive solution for diverse and dynamic meeting environments. It boasts a broader range of features compared to Zoom AI Companion.

It offers extensive language support, caters to online live and offline meetings, and provides greater accessibility and control for all participants.

Additionally, its ability to repurpose meeting content and compatibility with multiple video conferencing platforms gives it a distinct edge.
💡

Meet AskFred for Web by Fireflies.

This intelligent bot can summarize any lengthy articles, YouTube videos, Wikis, Emails, and more. You can also chat with it and get answers to any questions you have about the webpage content open in your Chrome browser.

Click here and install AskFred for Web now!
Smart Recording
Both Zoom AI Companion and Fireflies allow you to easily review lengthy meetings using auto-generated highlights of a meeting recording.
Zoom AI Companion segregates meetings into –
Smart chapters - Automatically group a recording into different sections
Recording highlights - Highlights the most important parts of the Zoom session
Action items - Flags any action items discussed to follow up on
Fireflies offers a similar, more customizable, easy-to-use version of Zoom Smart Recording with its AI apps, especially Magic Soundbites, Meeting Outline, and Action Items.
Magic Soundbites automatically identifies and snips out relevant Meetings sections for you as easily shareable audio or video snippets with transcripts.
You can also configure Magic Soundbites to generate highlights only by focusing on the content that is relevant to you.
For instance, we prompted Magic Soundbites to create highlights that are only professionally relevant from a one-on-one meeting, and here's the result:
💡
You can collect the Soundbites from multiple calls into a single folder using Fireflies'
Playlist
feature. This way, you can effortlessly create easily accessible training materials such as Sales Playbook using just Soundbites.
Read:
5 Smart ways to use Fireflies playlists
Similarly, the Fireflies Meeting Outline app, by default, provides time-stamped notes of the meeting, divided into chapters.
Whereas the Action Items app highlights all the action items discussed during the meeting.
You can change the default prompts and customize the Meeting Outline and Action Items apps to produce outputs with only the details that matter to you in any preferred format.
Here are some key differences between Zoom Smart Recording and Fireflies AI apps:
Feature
Zoom AI Companion
Fireflies.ai
Automatically identifies meeting highlights

✔️
✔️
Editable highlights
✔️
✔️
Multiple languages supported
❌

English only

✔️

60+ languages

Accessible in all countries
❌
✔️
Accessible for all recorded meetings
❌

Only available for Cloud recorded meetings in English

✔️
Supported platforms
❌

Limited to Zoom Meetings

✔️

Works on all major video conferencing platforms
💡
Conclusion

Fireflies has greater flexibility if you need to review meetings from multiple platforms efficiently and require highly customized outputs.

Its AI Apps allow granular control over meeting summaries to showcase the most relevant insights. For simple automated highlights of Zoom recordings, Zoom Companion may suffice.

But for more refinements and broader platform support, Fireflies is the better choice.
Did you know?
Fireflies helps you keep an organized meeting record across platforms using Fireflies Notebook Channels.
Fireflies automatically categorizes your meetings into three default channels. You can create more public or private channels based on your Fireflies plan to make information retrieval easy.
Meeting Summary
Meeting Summary by AI Companion gives you a quick AI-generated overview of your Zoom sessions. The meeting host must manually start the meeting summary through the in-meeting controls. It is a stand-alone document; the generated summaries are in the Meeting Summary with AI Companion section.
The Summary is in a paragraph format, covering all key information discussed in the conversation.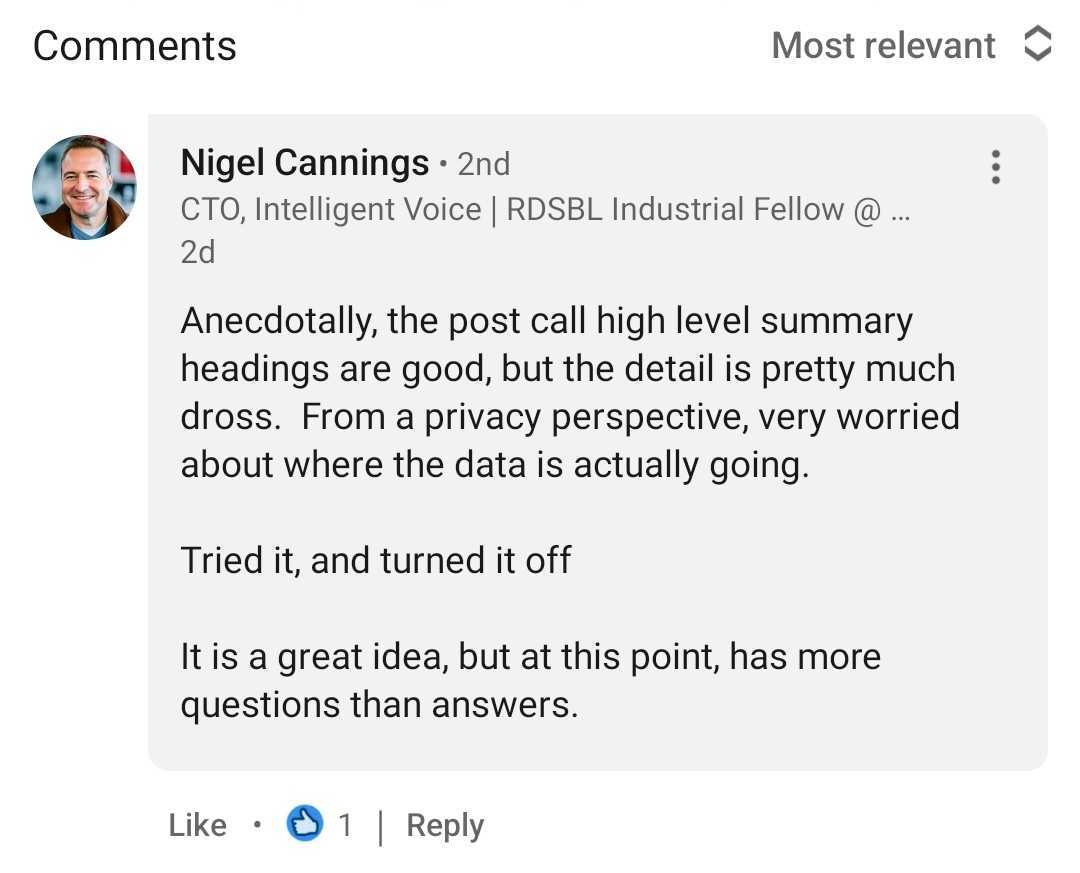 On the other hand, Fireflies provides a more structured overview of the conversation with its AI Super Summaries. It has 5 main parts:
Keywords - Auto-identifies important keywords discussed
Meeting Overview - Short gist of the entire meeting
Meeting Outline - Meeting outline with timestamp links
Bullet notes - Condensed, actionable bullet points
Action items - Summary of assigned tasks and owners
You can further tweak the output of Fireflies Super Summaries to highlight only the details you want by customizing the prompts.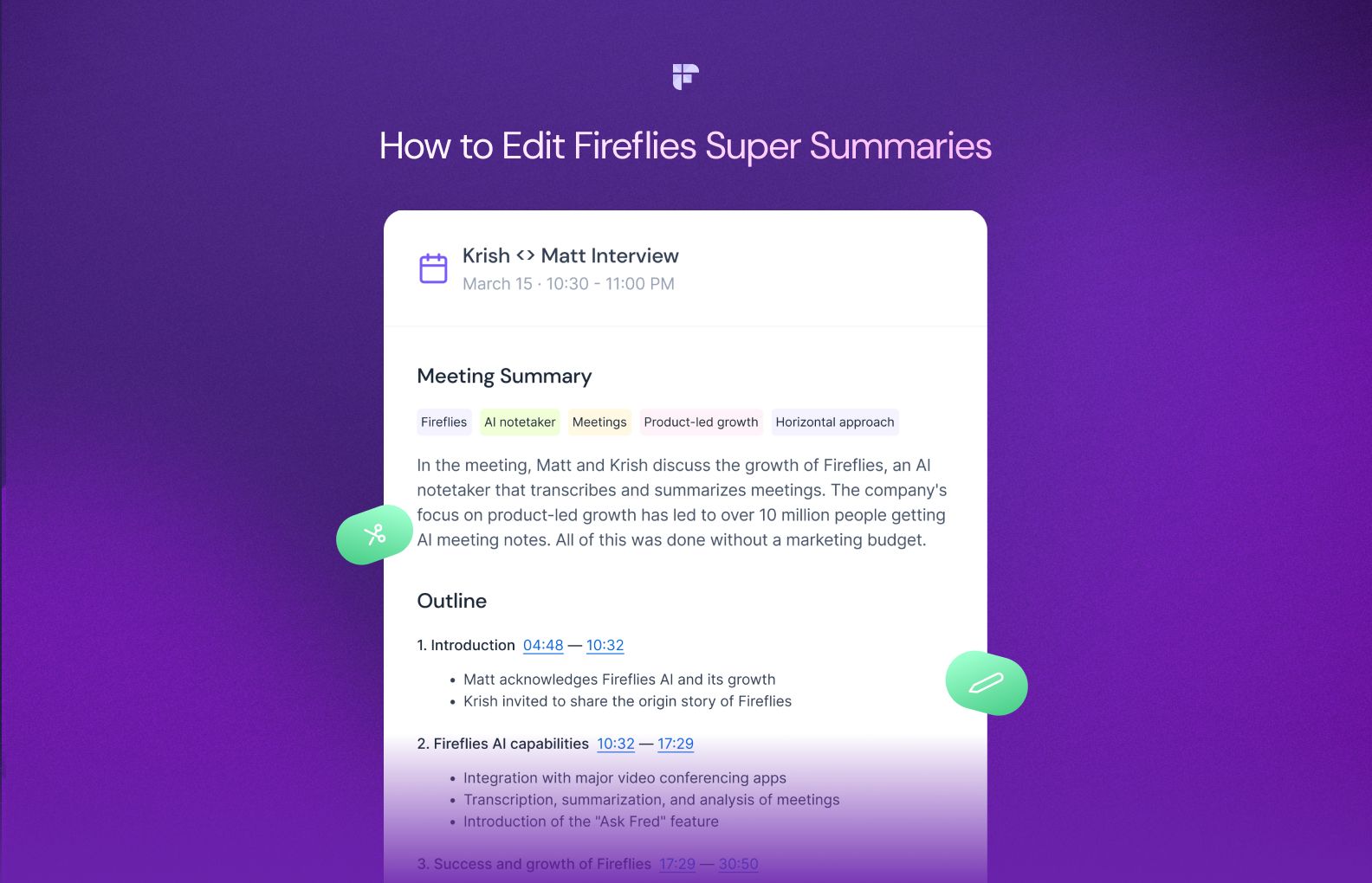 Here are some major differences between meeting summaries by Fireflies and Zoom AI Companion:
Feature
Zoom AI Companion
Fireflies.ai
Auto-generates meeting summary

❌

Requires host to start/stop summary generation

✔️
Summary format
Paragraph
Fully customizable
Customization
❌
✔️
Edit summary
✔️
✔️
Share summary
Via Email only.
Via Email, Slack, Notion or other preferred channels
Multiple languages supported
❌

English only

✔️

60+ languages

Automatically share meeting summary with participants
✔️
✔️
Download meeting summaries
❌
✔️
Here's a summary of a meeting generated by both tools:
The summaries generated by both tools are fairly good. However, Fireflies' summary stands out for its scannability, thanks to its bullet-pointed, 5-part structure. In contrast, the Zoom AI Companion summary provides only a high-level overview of the discussion, leaving out some major details.
For instance, the Zoom summary failed to mention Sam's absence from social events and focused solely on the leadership training program. Fireflies' more comprehensive summary covered the full breadth of the conversation in an easy-to-digest narrative format. It touched upon every significant point raised, from Sam's lack of participation to the pros and cons of the training initiative.
💡
Conclusion

Fireflies' summaries are well-structured and more detailed than Zoom AI Companion, which only provides a high-level overview.
Don't want a one-solution-fits-all summary?
Fireflies lets you customize the AI super summaries to produce results with only the key details you want. You can update the existing Super Summaries apps with relevant prompts or add new AI apps to your Summaries.
Here's an example:
Other features that make Fireflies stand out
Transcription accuracy
Smart search capabilities
Conversation intelligence and meeting analytics
Integrations
1. Transcription accuracy
Fireflies uses the most advanced speech recognition technology, and its transcripts are over 90%+ accurate. It supports over 3 English accents and 60+ languages, including Portuguese, Spanish, French, Arabic, German, Dutch, and Italian.
Fireflies is also very fast; you can access your transcripts just a few minutes after your meetings or after uploading your recording.
2. Smart Search capabilities
Along with the basic keyword search, Fireflies also offers advanced Smart Search capabilities that allow you to filter through your transcripts and find relevant information faster and easily.
These AI-generated filters let you review the transcript based on sentiments, speakers, topics, questions, tasks, etc.
3. Conversation intelligence and meeting analytics
Fireflies Conversation Intelligence feature analyzes transcripts, quantifies conversations, and extracts actionable insights to help you make better, more informed decisions.
It spots trends in topics discussed, talk patterns, sentiments, etc., such as total meetings, duration, number of filler words used, talk-to-listen ratios, monologues, silence periods, sentiments, questions asked, and more.
The metrics quantify conversations so you can see what's really going on.
Fireflies also lets you filter the results of this analytics data based on meeting type, participants, host, name, date, duration, etc.
Additionally, you can create and track topics, phrases, or keywords across your meetings using Fireflies' Conversation Intelligence feature.
For instance, you want to monitor key subjects like pricing, objection handling, competitors, or product features.
Add these topics to the Topic Tracker, and Fireflies Topic Insights will give you an overview of how often these topics were mentioned across how many meetings.
Click on the topic to jump to those meetings and view the full transcript to gain more context.
So, if you create a topic for "AI transcription" Fireflies will pinpoint every discussion about AI transcription across all your meetings.
In contrast, Zoom offers a conversation intelligence add-on for Zoom Meetings and Zoom Phone with Zoom Revenue Accelerator. It analyzes calls and meetings to provide meaningful metrics that can improve customer experience and sales team performance.
Here's a quick comparison:
Feature
Zoom
Fireflies.ai
Topic insights

❌
✔️

Analytics filters
✔️
✔️
Talk-to-listen ratio
✔️
✔️
Longest monologue
✔️
✔️
Talking speed
✔️
✔️
Number of filler words
✔️
✔️
Sentiments
✔️
✔️
Number of questions
✔️
✔️
Average number of conversations per teammate
✔️
✔️
Total silence duration
✔️
✔️
Next steps
✔️
✔️
Highlighted after each meeting in the meeting summary
Supported platforms
❌

Limited to Zoom Meetings and Zoom Phone

✔️

Works on all major dialers and video conferencing platforms

Top use case
Focuses on Sales team
Ideal for Sales, HR, and Marketing teams.
4. Seamless integrations
Integrating with over 40+ business apps like Zoom, Google Meet, Tello, Slack, Asana, etc., Fireflies helps make your existing tech stack and workflow more efficient. For instance,
Fireflies-Slack integration lets you automatically send meeting notes, transcripts, and recordings to any Slack Channels.
Fireflies-Trello integration enables you to create Trello tasks with simple voice commands during meetings.
Fireflies-HubSpot integration allows you to automatically log meeting notes, calls, and customer details directly into your HubSpot CRM.
Zoom offers over 1000+ integrations. However, Zoom being a video conferencing tool at its core, these integrations mainly focus on easily scheduling and conducting meetings.
For instance, Zoom-Slack integration lets you start an instant meeting or join a scheduled meeting through slash commands in your channels. However, it does not send any post-meeting notes or follow-ups once the meeting ends, which Fireflies does automatically.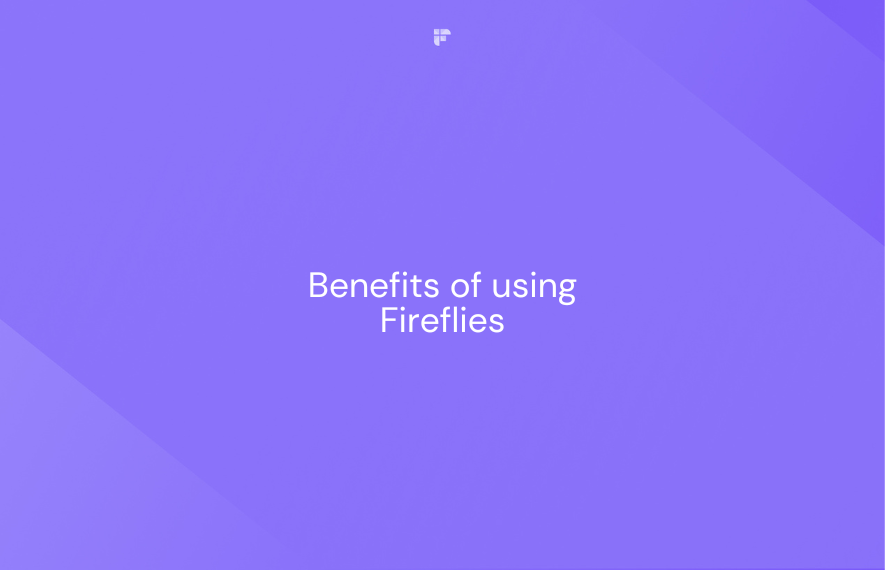 Concluding the debate: Fireflies or Zoom AI Companion, which fits you best?
Apple products are great. Sophisticated, sleek designs and performs perfectly. But for the best experience, you must stick to the iOS universe—iPhones, MacBooks, Airpods, etc.
You can't have a Windows laptop and expect it to sync flawlessly as a MacBook will with your iPhone, even with the best-supporting software tools.
The same way, if you're a Zoom fanatic, use every Zoom product and no other, and have no conversations outside the Zoom-verse, then the Zoom AI Companion can do wonders and be your best colleague.
But if you need an AI assistant that works for you anywhere you want, gives the most accurate outputs, doesn't pause any limitations, and is highly secure, Fireflies it is.
Read Next: