Are you struggling to close deals during your sales calls? You're not alone. According to a recent study, 35% of salespeople find closing deals to be the most difficult part of the sales process.
This is why a conversation intelligence platform like Gong has been one of the go-to platforms for many businesses because of its deal intelligence and sales coaching.
However, the conversation intelligence market has grown exponentially since the pandemic, with almost all businesses using video conferencing tools like Zoom, G-meet & Teams.
With that, we have much smarter solutions and powerful tools available today that are cost-effective and loaded with features. Here are some of the best Gong alternatives you need to explore.
8 Best Gong alternatives of 2023
Here's a compilation of the best Gong alternatives that sales teams and remote workers can explore to boost productivity and automate manual note-taking.
1. Fireflies.ai
Fireflies.ai is an AI-powered meeting assistant that automates many of the tedious tasks that sales teams face, freeing up time to focus on closing deals and growing their business.
From scheduling meetings and tracking action items to recording and transcribing sales calls, Fireflies.ai streamlines your sales process.
With this Gong alternative, sales managers can get important conversational analytics metrics that make it easy to provide feedback and spot areas of improvement within the team.
It also integrates with popular CRMs and provides valuable insights into engagement levels, talk time, and other metrics, allowing sales teams to fine-tune their strategy and improve their performance.
Overall, Fireflies.ai is a great tool for sales calls because it saves time, increases efficiency, and helps teams maximize their sales opportunities.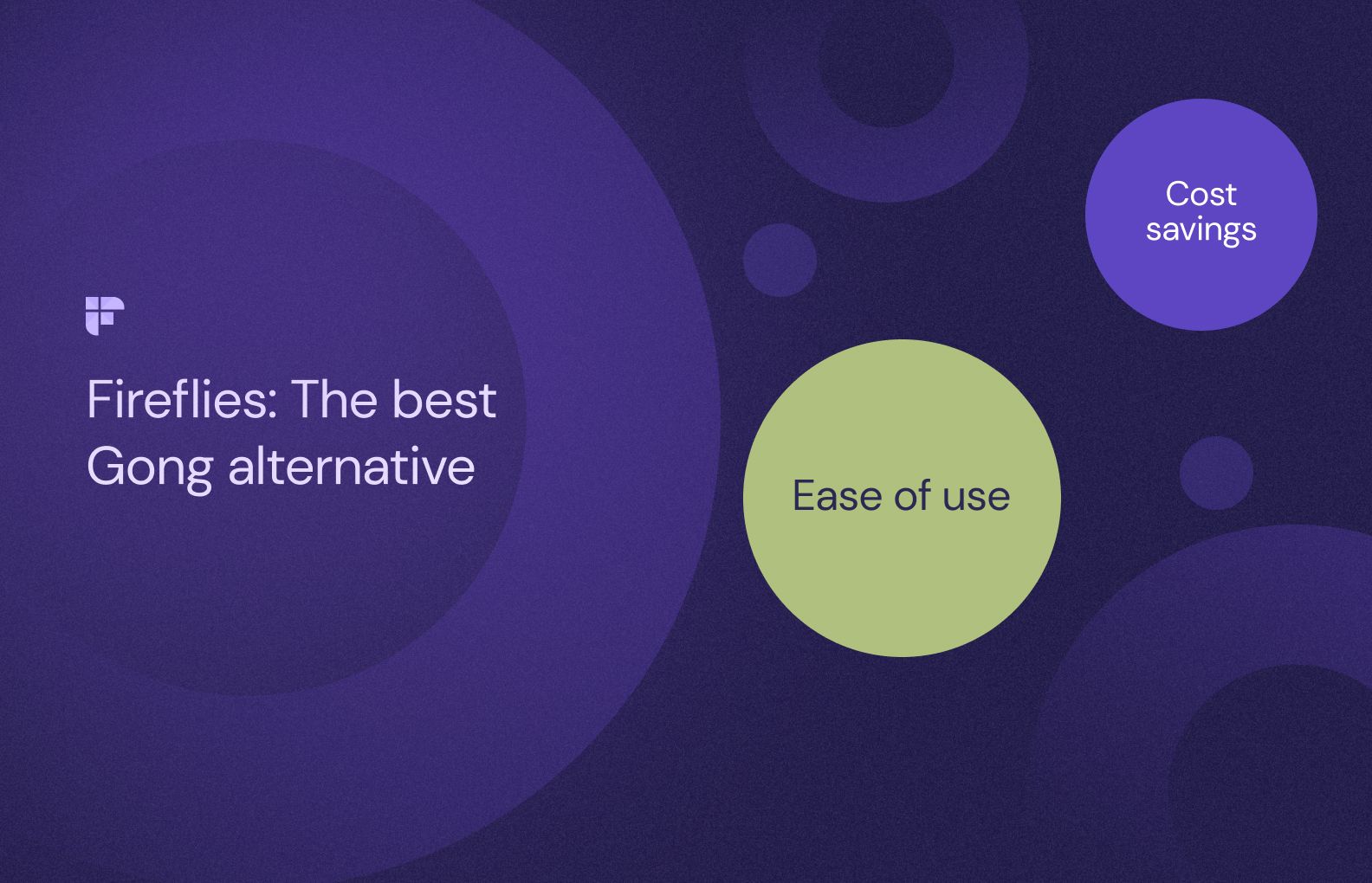 Pros:
Captures audio & video and generates transcripts in minutes.
Streamlines the sales onboarding process
Generates detailed meeting notes and AI-powered summaries
Identifies action items discussed during sales meetings and assigns them
Allows you to upload and transcribe existing audio recordings of sales calls
Integrates with around 50 productivity apps, video conferencing, and dialers
Provides data-driven insights from sales calls and meetings like engagement levels, sentiment analysis, and talk time
Enables easy sales coaching through its timestamped commenting feature
Transcribes in over 30 languages
Uses Smart Search for keywords, themes, and topic searches
Offers Soundbites for easy sharing and reference
Uses Playlists to build a repository of Soundbites from multiple calls for on-demand learning and faster onboarding.
Creates a repository or a knowledge base of all of your team's conversations and calls
Cons:
Doesn't provide a deal intelligence feature.
Doesn't offer a coaching dashboard to monitor coaching efforts or feedback.
💡
Fireflies has a Free Forever, Pro, Business, and Enterprise plan. The Pro plan is priced at $10/user, billed annually, while the Business plan is $19/user. A seven-day free trial is available for the paid plans.
Log meeting notes, transcripts, and recordings in your CRM and collaboration apps like Salesforce, Hubspot, Slack, Zapier, and soo much more.
2. Chorus.ai
Chorus helps sales teams transcribe and analyze customer calls, meetings, and emails to create visibility and increase their chances of closing deals.
With this tool, you can analyze customers' voices, gain competitive insights, and make better strategic decisions across the customer base and overall market.
Pros:
Tracks and compares your sales performance against metrics like talk-to-listen ratios
Allows you to share full call recordings or important call snippets with your team for feedback
Uses market intelligence to reveal sales and customer trends
Cons:
Doesn't have transparent pricing
Expensive for smaller companies compared to other alternatives
Complex user interface
Doesn't provide summaries of calls
Call recordings may not be available until after several days
Limited integrations
Related: 17 Best Cold Call Opening Lines and Why They Work
3. MeetRecord
MeetRecord is another Gong alternative that offers call recording and analysis for sales teams. It integrates with existing meeting tools, calendars, and CRMs to track, analyze, and improve customer conversations.
With features like call insights, coaching opportunities, and customized coaching initiatives, MeetRecord is sure to help boost your sales strategy.
Pros:
Records and analyzes sales conversations
Tracks keywords
Creates playlists of calls for easy reference
Cons:
Lacks deal intelligence features
Transcription accuracy is low
Old recordings may not be organized chronologically
Conversation Metrics need improvement and are not accurate
💡
Meetrecord has a Starter, Growth, and Custom plan. The Starter plan is $39 monthly, while the Growth plan is $59 monthly. A free trial is available.
Related: Meeting Takeaways: 7 Points Every Attendee Should Leave With
4. Avoma
Avoma is a tool that assists you throughout your entire meeting lifecycle, from before the meeting to after.
It offers features such as scheduling and agenda templates, automatic recording and transcription, collaborative note-taking, AI-generated notes and topics, conversation and revenue intelligence, and snippets and playlists.
Avoma also integrates with CRM, calendar, and conferencing tools.
Pros:
Allows live bookmarking during calls
Automated call summaries
Offers AI-powered insights from customer conversations
Provides real-time sales coaching
Cons:
Inaccuracy in transcripts & mislabeling speakers(especially in fast-paced calls), resulting in more time spent hearing audio recordings to validate the information
Limitation in creating short audio snippets from call recordings to share
Transcribes meetings only in the English language & finds it difficult to catch stronger accents
No smart search feature to find call recordings using keywords or date
Lack of native integration with popular video conferencing tools (except Google Meet), the note-taker bot drops out of meetings, leading to a loss of vital information.
💡
Avoma has a Basic, Starter, Plus, and Business plan. The Starter plan is priced at $17/month, the Plus plan at $39/month, and the Business plan at $59/month. A fourteen-day free trial is available.
5. SalesLoft
SalesLoft isn't your average Gong alternative, as it focuses more on sales engagement rather than conversational or revenue intelligence.
Still, this tool has what you need to boost your sales calls and win deals quickly. It offers smarter prospecting, detailed opportunity insights, call tracking and coaching, and analytics and reporting.
SalesLoft's conversation intelligence feature provides insights into customer interactions, with the ability to transcribe and analyze sales calls, meetings, and emails.
Pros:
Provides sales pipeline and forecasting management
Offers multi-channel messaging
Automates prospects engagement
Allows sales rep coaching and insights
Cons:
Lacks flexibility in cadence management, as rescheduling a step is not straightforward, and users can only skip or remove from a cadence.
The activities recorded in SalesLoft are not always accurately registered in Salesforce, which could impact data analysis and reporting.
Weak integration with Salesforce, as it's difficult to import specific leads from the tool into SalesLoft.
Offers limited call analytics that may not completely highlight key sales team performances.
Poor Integration with Outlook, making it hard to manage emails
Pricing isn't transparent.
Has a complex user interface, as it takes too many clicks to navigate.
💡
You'll need to request a demo to start using SalesLoft. A trial offer is available for its conversation intelligence features.
6. Wingman
Wingman allows sales teams to record and analyze customer calls, simplify sales coaching, and collaborate on sales revenue.
With its "on-call battlecards" feature, sales reps can easily navigate tricky call situations and say the right thing at the right time. It provides fresh insights into customer interactions and enables more predictable sales forecasting.
Pros:
Supports transcription in 14 languages
Offers sales coaching features
Provides deal and pipeline intelligence
Cons:
No free plan to test-drive the features
Provides restrictive cross-functional collaboration among teams.
Transcription accuracy in languages other than English is low.
The UI may not be immediately intuitive and may require some learning.
💡
Wingman has three plans: the Growth, Accelerator, and Enterprise plans. The Growth plan is priced at $60/month/rep, the Accelerator at $90/month/rep, and the Enterprise plan starts at $110/month/rep.
Related: 6 Best AI Note-taking Apps for Busy Sales Reps (2023)
7. ExecVision
Next on the list is ExecVision, a tool that transcribes and uncovers valuable insights from all customer conversations to help you make informed sales decisions.
It offers features like smart alerts, performance dashboards, keyword detection, voice ID, and a robust search engine that allows you to find specific conversations and explore trends.
Pros:
Offers post-call analytics
Provides a sales coaching success kit
Has customizable scorecards
Cons:
The platform may not be easy to use and requires a learning curve for new users
Calls may be slow to upload, reducing the ability to flag them while fresh in mind, which may reduce the platform's usefulness for some users, such as SDRs.
Slow upload time, especially with longer Zoom videos & recordings
Pricing is not transparent, and a free trial is only available upon contacting customer care.
Inconsistent dashboard layouts across different licenses lead to communication and collaboration challenges.
8. Revenue.io
With Revenue, you can accurately forecast revenue, analyze opportunities, and receive real-time guidance during calls and meetings.This tool auto-captures video meetings for analysis and coaching, monitors performance metrics, and curates searchable best practice libraries.
Pros:
Generates recording, transcriptions, and analysis of conversations
Provides performance analytics
Recommends next best actions
Gives AI-powered insights
Cons:
Calls have poor sound quality.
Lacks transparent pricing.
Occasionally drops calls, which could cause losing sales leads.
Doesn't let you make any calls until you've logged your previous call.
Integrations with tools like RingDNA aren't very functional.
No AI-powered call summary feature.
The dialer does not predictively auto-populate contacts based on what has been typed so far, which may slow down the process of searching for contacts.
💡
Revenue.io has four plans: Elite, Core, Professional, and Pro Plus. You'll need to fill out a form for any tool to get custom pricing.
Related: Five Effective Ways To Master Your Follow-Up Sales Call
Did you Find Your Preferred Gong Alternative?
Just like every sales team is unique, so is yours.
While all the tools on our list offer great features, your choice will ultimately depend on your business's specific needs.
Gong is a great option, but Avoma is better if you want to get up and running quickly. Avoma offers an AI-powered meeting lifecycle assistant that assists with pre-call, during-call, and post-call activities. On the other hand, if you need an enterprise-level solution, Chorus is the way to go.
However, if you're looking for an all-rounder solution that's collaborative, fast, and budget-friendly, Fireflies.ai is the best option for you. It helps your team transcribe meetings, automates manual tasks, derives quick, actionable points, coach sales reps, integrate with popular CRM platforms, and gets rich insights to keep perfecting your sales strategy.