Meeting notes software solutions are here to revolutionize how we document and organize online discussions.
But with too many options in the market, finding the right tool is challenging. In this blog, we'll list the 15 best meeting notes software solutions, their pros and cons, and pricing.
Discover the meeting note software that fits your needs and budget; read on!
15 Best meeting notes software
Studies by Cross River Therapy suggest employees spend at least 33% of their workweek attending meetings. Documenting these meetings with randomly scribbled notes is a challenge.
Instead, here are 15 meeting notes software you can use to streamline the note-taking process. But first, let's divide the list into two broad categories:
Meeting notes software for automated note-taking
Tired of taking meeting notes manually? These automated note-taking software systems are for you:
Fireflies.ai
MeetGeek
Otter.ai
Airgram
Avoma
Tactiq
Grain
Magic Minutes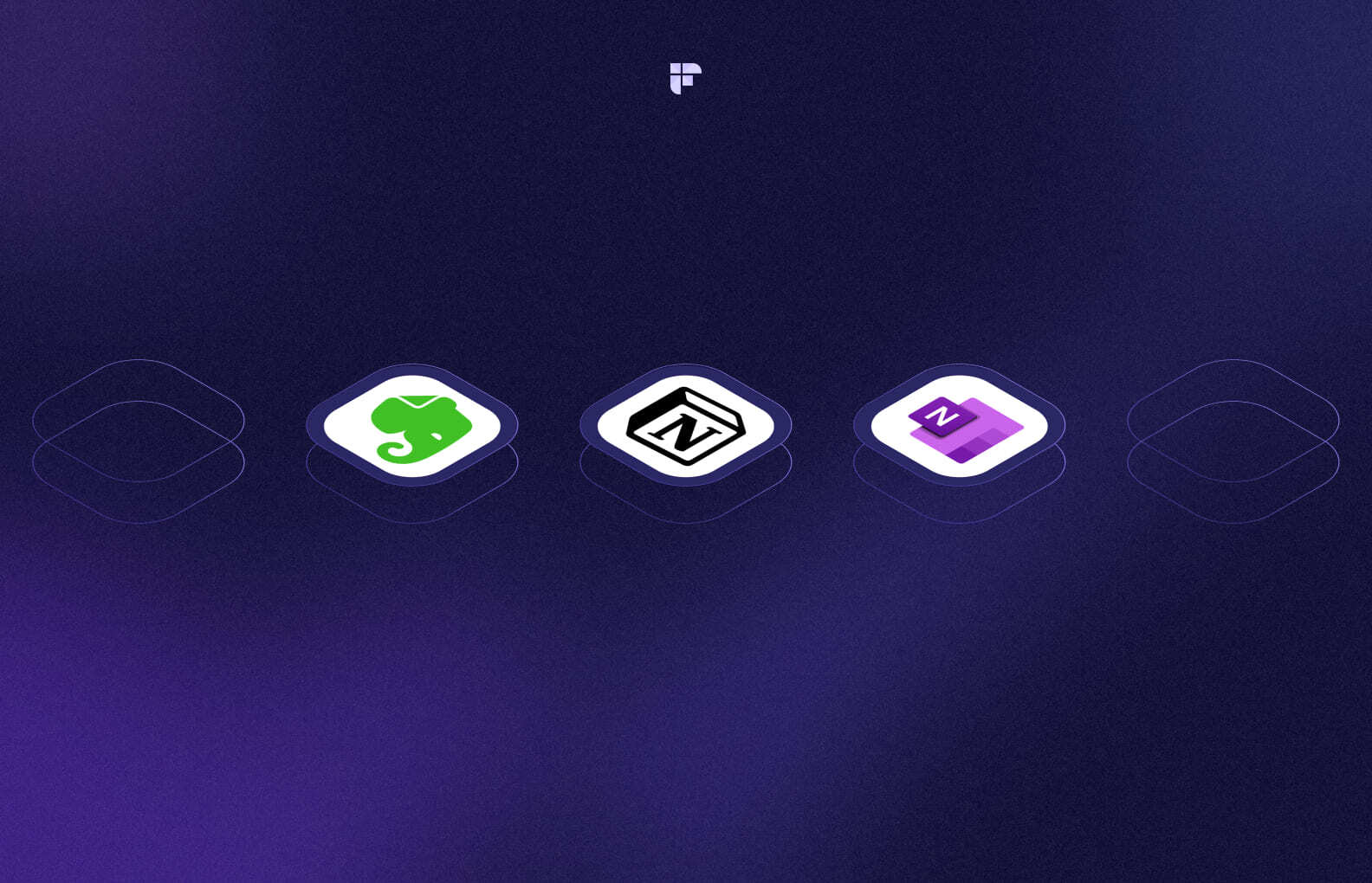 1. Fireflies.ai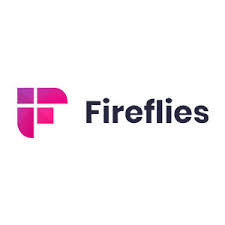 Fireflies is an AI notetaker that automatically records, transcribes, summarizes, and analyzes your online meetings with 90%+ accuracy.
🖊️
NOTE:
Always take consent before recording any online meeting to comply with state and federal laws. Read more about
call recording laws.
Fireflies joins your meeting as a silent attendee and takes meeting notes for you. There are several ways to invite the bot to your meeting, including inviting  fred@fireflies.ai as a participant.
Learn more about inviting Fireflies to your meetings: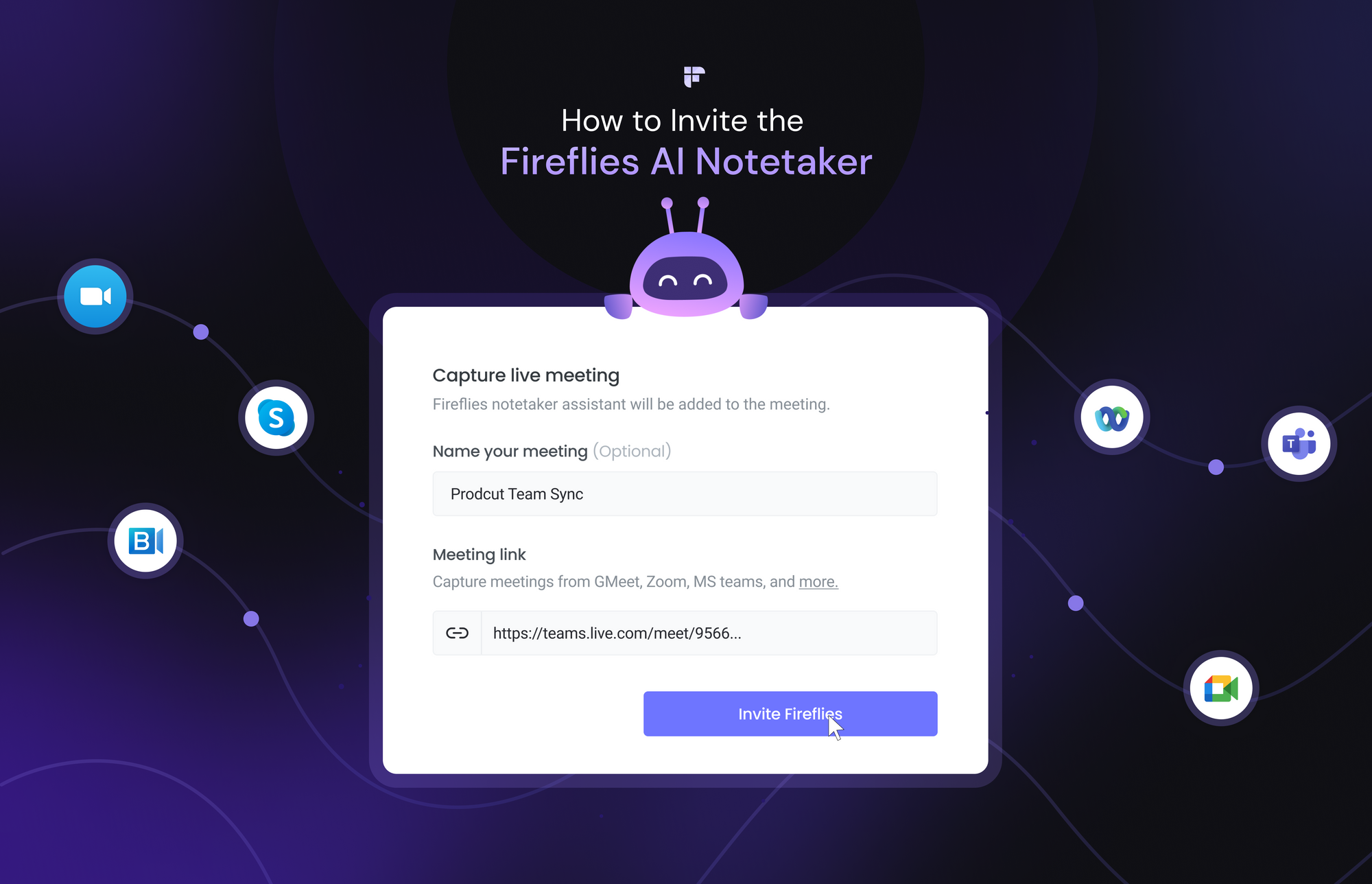 Once the meeting is over, Fireflies automatically shares these notes with other participants based on your meeting recap settings.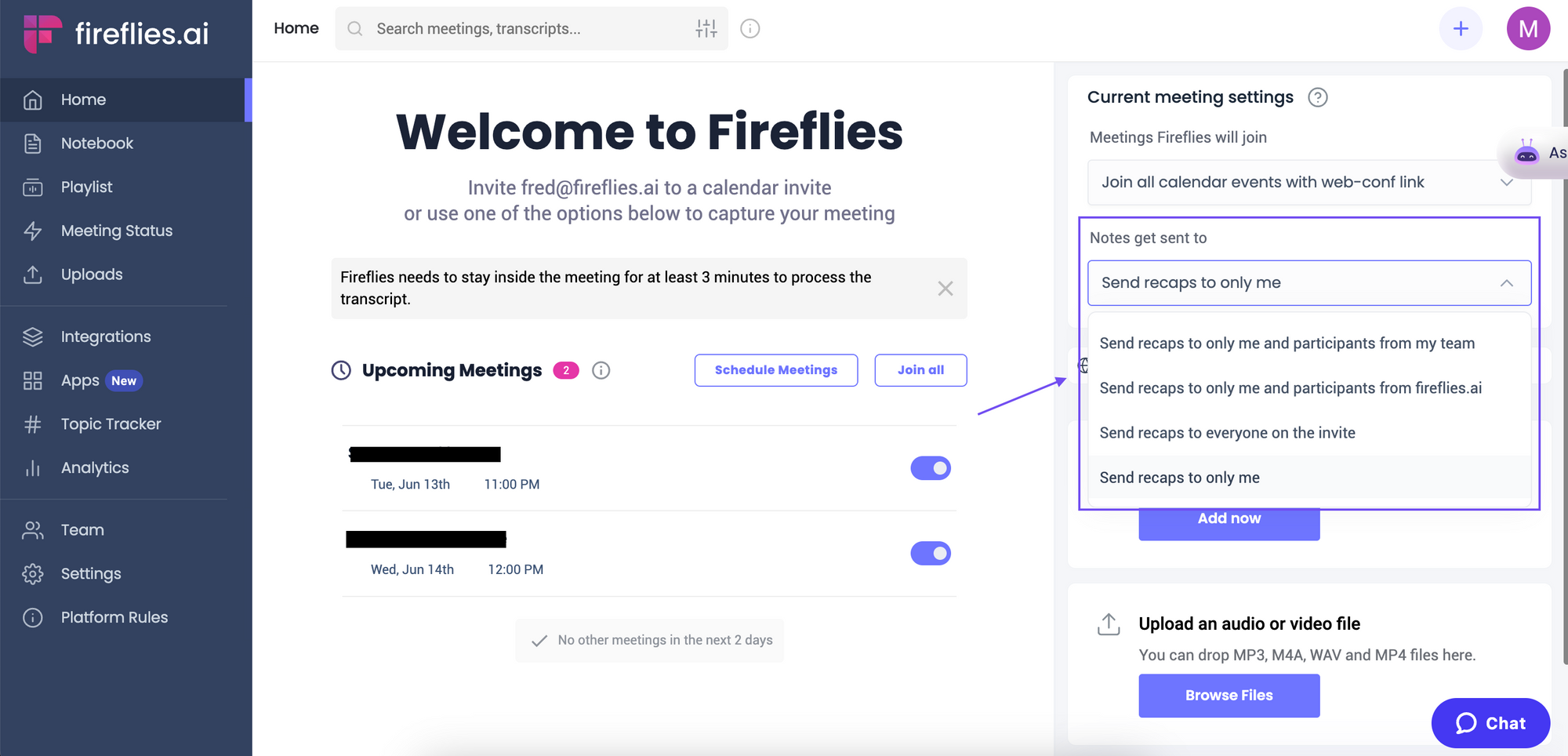 This way, you can accurately document the meeting, keep everyone in the loop, and follow up on action items.
Here's the transcript and meeting summary from Fireflies.ai
On top of everything, Fireflies helps you create a knowledge vault of all your meetings. It securely records and documents all your conversations in one place.
You can easily access any information from any conversation using the global search feature, find details within a meeting using advanced Smart Search features, and use other collaboration tools to review lengthy meetings in minutes.
Pros
Fireflies automatically generates 90%+ accurate transcripts with timestamps and speaker labels in minutes.
Sends meeting reminders and notes to other participants automatically.
Offers a high-level, five-part super summary of the meeting, enabling you to review lengthy meetings in just minutes.
Offers analytics and deeper insights into your meetings, like speaker analytics, total time spent in conversation, talk-to-listen ratio, call sentiment, and average word spoken per minute, with conversation intelligence.
Helps create and share sound clips of important meeting sections as Soundbites to bring everyone up to speed.
Allows participants to access and add comments to the transcript as Threads. This facilitates teamwork and ensures that multiple perspectives and insights are captured within the meeting recording.
Offers chatbot assistance with AskFred, which brings the power of ChatGPT into meetings. It answers any questions you have about the conversation. You can also use it to automatically develop other forms of content, like social media posts, emails, blog posts, etc., from your conversations.
Offers a Playlist feature that enables you to create a collection of soundbites in a single space from multiple calls.
Offers a Google Chrome extension to automatically record and transcribe Google Meet meetings you attend via the Chrome browser. With the extension, you also get a chatbot, AskFred for Web. It can summarize and extract information from any web source like research articles, wikis, YouTube, and blogs within seconds; all you have to do is ask.
Integrates seamlessly with around 50 popular apps, including CRMs, dialers, video conferencing, and productivity tools like RingCentral, Salesforce, Notion, Slack, Zoom, Webex, ClickUp, and HubSpot.
Generates downloadable transcripts in 5 formats—PDF, DOCX, SRT, CSV, or JSON.
Offers multi-language transcription—30+ languages and 3 English accents.
Highest security standards. Your transcripts are end-to-end encrypted at rest and in transit. Fireflies is also SOC 2 Type 2 and GDPR compliant.

Cons
It does not work offline and requires a stable internet connection to perform at its best.
No in-built scheduling calendars and video conferencing tool.
💰
Pricing
Fireflies offers a free plan with limited storage of 800 minutes and up to 3 transcription credits.
It also offers a
7-day free trial
of its Business Plan, the highest subscription tier. Just sign up to access all the premium features for free.
For unlimited transcription credits, you can upgrade to the paid plan that starts from $10/seat/month.
2. MeetGeek
Like Fireflies, MeetGeek is another meeting minutes tool that helps you record, transcribe, summarize, and get insights from your meetings.
Enable MeetGeek to auto-join your meetings to record, transcribe, and create an AI-generated summary.
Pros
Provides auto-generated transcripts with timestamps within minutes after the meeting.
Provides AI-generated summary to review meeting outcomes quickly.
Integrates with major video conferencing platforms like Google Meet, Zoom, and Microsoft Teams.
Provides an easy keyword search that allows you to search and find details from past meeting transcripts.
Auto-tags action items, points of concern, and other important information.
Provides quantifiable insights on your meetings.
Supports voice commands to create tasks or trigger automation workflows during meetings.
Cons
Does not allow you to edit the transcripts.
No in-built calendar and video-conferencing tools.
Does not send meeting reminders.
Pricing
MeetGeek offers a free trial for 14 days. Their paid plan starts at $19/seat/month.
3. Otter.ai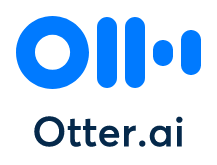 Otter.ai is a meeting minutes tool that primarily helps you record, transcribe, and summarize live conversations.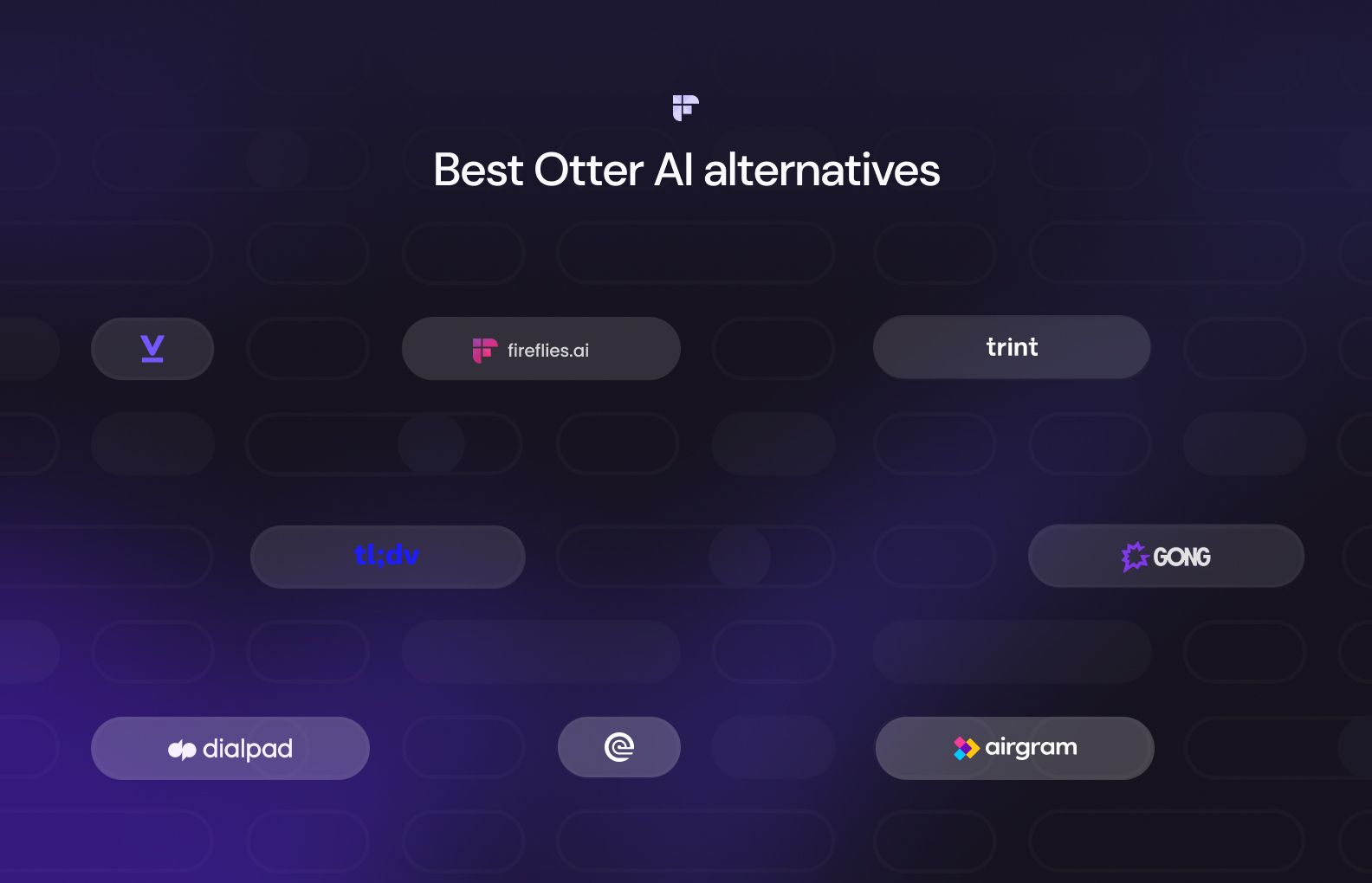 Integrate the Otter AI transcription tool with your Google or Outlook calendar and set it up to join meetings automatically. From your next meeting, Otter Assistant will automatically enter the meeting and take notes for you.
Pros
Generates transcripts of live meetings with speaker labels and time stamps.
A secure tool with two-factor authentication and encryption of data.
Supports transcription of recorded audio or video files in 15 formats.
Enables you to search notes by keyword, speaker, and date easily.
Allows you to add images or highlight text in the transcript.
Offer collaboration features like comments and likes.
Cons
Doesn't support multi-language transcription.
Doesn't allow you to export transcripts in VTT format.
Limited integrations. Also, you need to be a premium user to integrate Otter.ai with these integrations.
💰
Pricing

Otter offers free transcription for 300 minutes per month. The files should not exceed 30 minutes. The paid plan starts at $16.99/seat/month with limited transcription credits of 1,200 minutes and 90 minutes per conversation.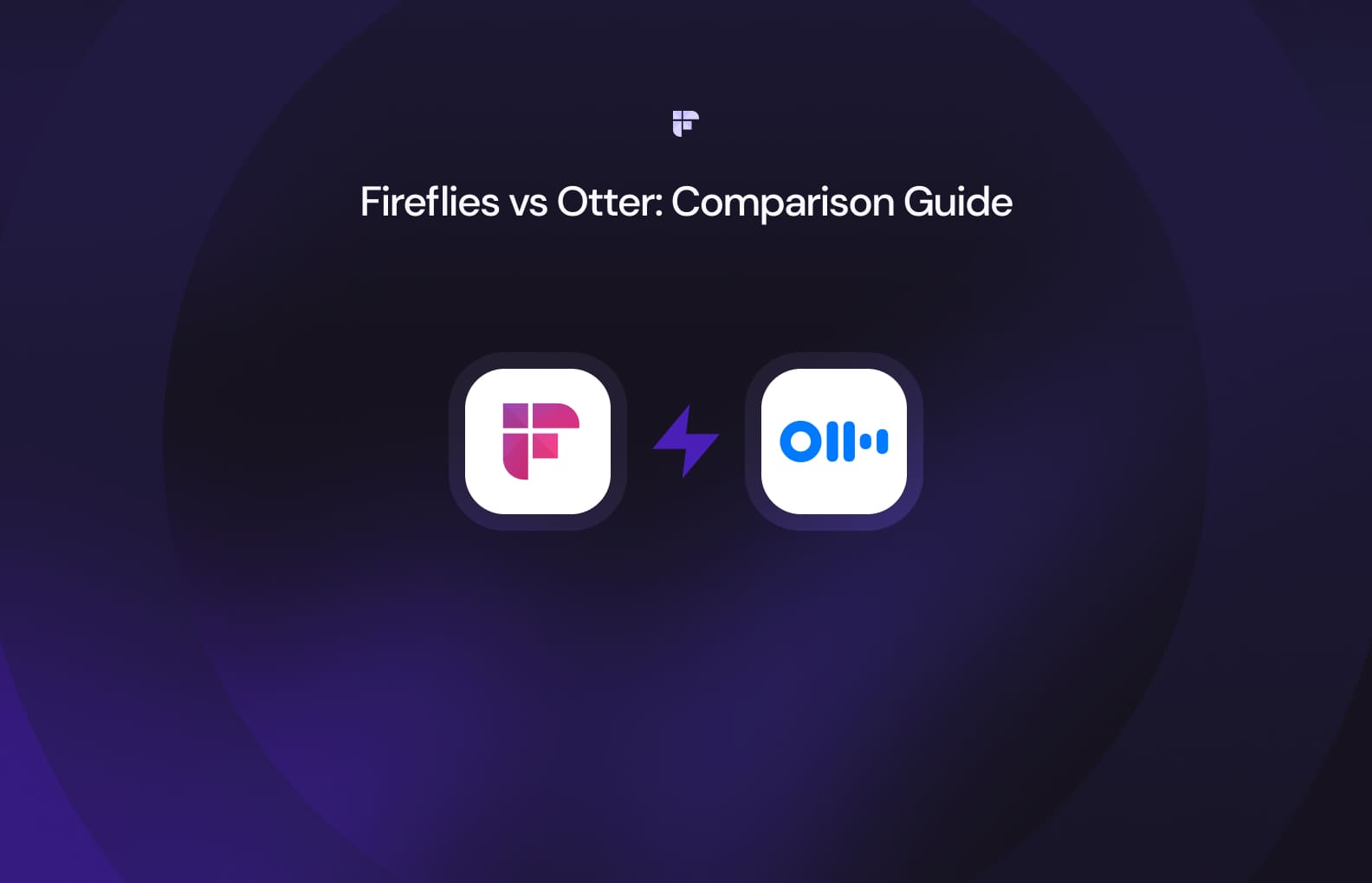 4. Airgram
Airgram allows you to record, transcribe, summarize, and share meeting conversations.
Sign up for Airgram and enable its AI assistant to auto-join your meetings and take your meeting notes. You can also upload your meeting recordings to Airgram and generate their transcription and notes within minutes.
Pros
Provides automatic transcription services.
Allows you to search, edit and export the transcripts and notes easily.
Provides AI-generated summary.
Provides an integrated notepad that allows all meeting participants to take notes simultaneously and share a comment.
Participants can edit, view, comment, and collaborate on meeting notes in real-time.
Cons
Does not create meeting summaries for non-English transcripts.
Does not offer any meeting analytics or insights from the meeting data.
Limited transcription credits—Airgram gives only 10 transcription credits in its $8.99/month starter pack. In contrast, tools like Fireflies offers unlimited transcription at just $10/month.
Does not provide any integration with other productivity apps.
💰
Pricing

Airgram offers a free plan that allows you to generate notes for up to 5 monthly meetings. The paid plan starts at $8.99/month.
5. Avoma
Avoma transforms your conversation into one-page bullet point notes and automatically syncs them to your CRM.
Simply sign into Avoma and set your preferences for transcription, and the meeting assistant will join your meetings and take notes.
Pros
Delivers auto-generated meeting notes within minutes after the meeting.
Automatically syncs meeting notes with CRM.
Integrates with popular video conferencing, calendar management, and productivity tools.
Automatically organizes meeting notes under smart categories such as Business Need, Pain Points, etc. You can also create custom categories as needed.
Allows you to bookmark important parts of the meeting in real-time.
Cons
Requires a stable internet connection.
Generates notes in only one format—bullet points list.
Specifically designed for sales teams and provides limited integrations—integrates with dialers, video conferencing, and CRM only.
💰
Pricing

The paid plan starts at $24/user/month.
6. Tactiq
Tactiq is a real-time meeting note software that can transcribe your meetings in Google Meet, Zoom, MS Teams, and Webex.
Install the Google Chrome extension of Tactiq. The next time you're in a meeting, Tactiq will pop up and transcribe it. Copy and paste the transcription to OpenAI ChatGPT to generate the meeting summary and share it with your fellow participants.
Pros
Real-time transcription and notes.
Speaker identification and timestamps.
Highlights key phrases or sentences as they appear.
Easy-to-use Chrome extension.
Integrates with popular video conferencing apps like Zoom, Google Meet, and Microsoft Teams.
Bot-free.
Offers engagement analytics.
Cons
Doesn't include customizable meeting notes templates.
Does not support API integrations.
No in-built summarizer tool. Instead, generates meeting summaries using OpenAI ChatGPT.
💰
Pricing

Tactiq gives free transcription for up to 10 meetings/month. For higher credits, subscribe to the paid plan that starts at $12/user/month.
7. Grain

Grain is another AI-powered meeting minutes tool that automates note-taking, record-keeping, and insight capture from online conversations.
Grain offers both desktop and browser-based apps. Sign in to Grain to create and save your meeting recordings, notes, AI-generated summary, and other relevant meeting details in a shared workspace with your team.
Pros
Automated note-taking.
Provides an AI-generated summary of meetings that enables you to recall, clip, and share key moments easily.
Supports 20+ languages.
Allows you to compile and create a video summary of meeting highlights.
Facilitates collaboration by offering a shared workspace and enabling you to clip and share key meeting moments.
Cons
Does not offer API integrations.
Does not allow you to annotate meeting notes with comments or reactions.
No playback controls.
Has only five integrations—Slack, Zapier, HubSpot, ProductBoard, and Salesforce
💰
Pricing

You can record up to 10 video meetings for free using Grain Free Plan. Subscribe to the paid plan that starts at $19/user/month for unlimited transcription and recording credits.
8. Magic Minutes
Magic Minutes meeting notes software allows you to manage all your meetings and actions in one place.
You can set Magic Minutes to automatically create and share the meeting minutes with your fellow team members as soon as the meeting ends. Alternatively, you can review the auto-generated minutes once before sharing them with your team.
Pros
AI-generated meeting notes.
Automatically send progress reminders to get updates on actions.
Provides reminders to schedule follow-up meetings once you send the meeting minutes.
Enables you to control which meeting attendee receives what information.
Integrates with Zoom, Google Meet, and Microsoft Teams.
Offers a Chrome extension.
Cons
Does not provide meeting recordings.
No transcription services.
Limited integrations
💰
Pricing

Offers a 30-day free trial that gives you access to all its premium features. The paid plan starts at $7.54/user/month.
Need more options? Read: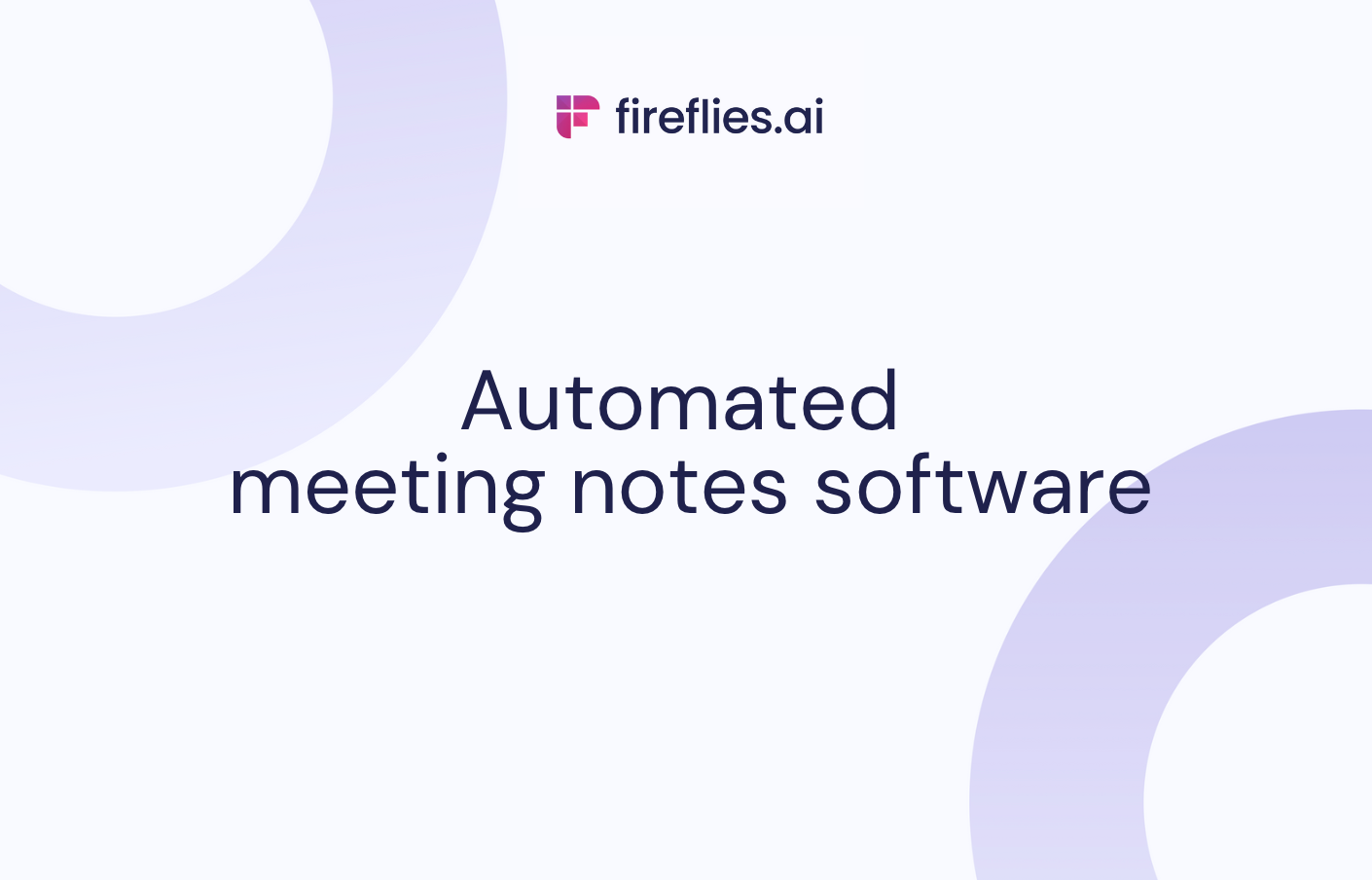 Meeting notes software for manual note-taking
Use these tools to ease the manual meeting note-taking process:
ClickUp
Beenote
nTask
Fellow.app
Evernote
MeetingBooster
Google Docs
1. ClickUp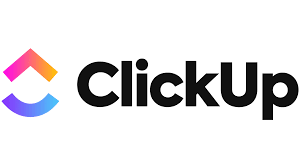 ClickUp is a meeting notes software often used as an all-in-one productivity tool. It streamlines workflows and collaboration between teams in real-time.
Use ClickUp Whiteboards, Notepad, and dynamic ClickUp Docs to record meeting minutes during the discussion. Review, finalize, and share your notes with fellow participants and relevant stakeholders over email or other communication channels once the meeting ends.
Pros
Offers collaboration features like real-time editing, live cursors, and link sharing.
Facilitates rich editing features to modify headers, bold font, and more in the NotePad.
Supports Checklists to track personal and team to-dos with ease.
Helps create quick tasks with assigned comments in the notes.
In-built scheduling calendar.
Offers a collaborative dashboard to help the meeting attendees get a high-level project overview.
Integrates seamlessly with Zoom and Google Calendar.
Cons
Does not provide meeting analytics
💰
Pricing

Offers a Free Forever plan with limited access to its features. The paid plan starts at $5/user/month.
🤼‍♀️
Integrate ClickUp with Fireflies
to overcome these cons and enhance your meeting experience. Fireflies automatically creates tasks in ClickUp with just the voice commands you use during meetings.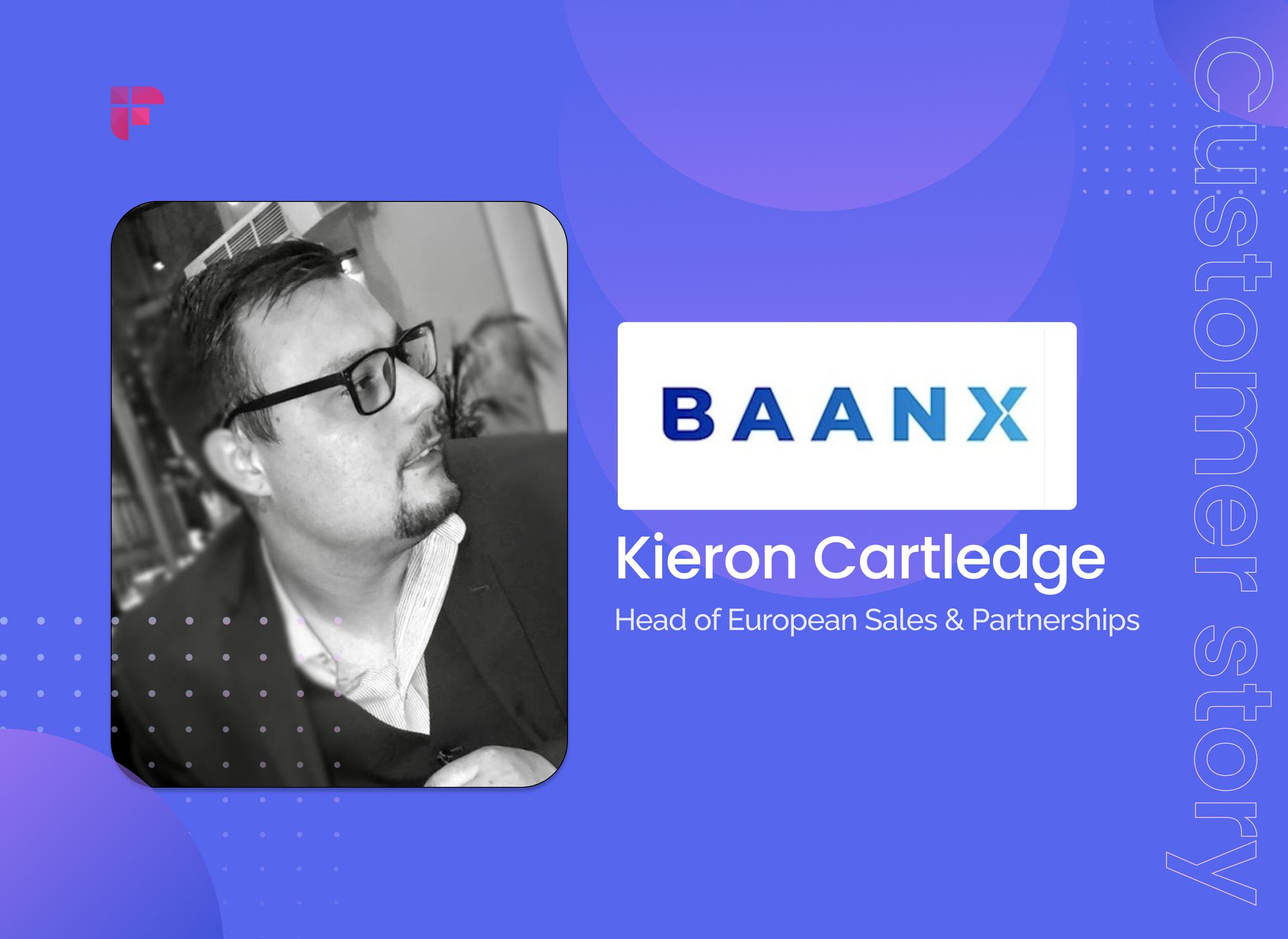 2. Beenote
Beenote is an all-in-one software that allows you to plan, organize, document, and follow up on your team meetings.
When the meeting starts, select Personal Notes from the main menu to quickly take notes during the meeting. Once it ends, organize your notes and share them with your colleagues.
Alternatively, create a custom meeting minutes template on Beenote Docs and share it with your fellow participants. During the discussion, simultaneously fill the meeting minutes with all key points.
Pros
Allows real-time collaboration with team members on the meeting minutes.
Easily searchable and editable minutes document.
Highly secure.
In-built meeting agendas.
Centralize your documents in a shared space
Integrates with Microsoft 365 or Google tools.
Cons
Limited integrations. Does not integrate with popular communication tools like Slack.
Complicated user interface.

💰
Pricing

Pricing starts from $1.86/user/month.
3. nTask


nTask offers a meeting management module that allows you to create manual meeting minutes in a structured format and share them with your peers.
nTask gives you a minute template with pre-filled meeting information like date, time, venue, participants, agenda items, etc. During the meeting, fill the template with key points, action items, follow-up tasks, etc., and fine-tune the notes afterward.
Pros
Auto-fills all basic details of the meeting.
Simple, ready-to-use templates where you can fill meeting notes in real time.
Allows you to collaborate with team members on the meeting notes in real time.
Enables you to assign and track tasks directly from meeting minutes.
Integrates seamlessly with popular video conferencing apps and calendar management tools.
Cons
No automated note-taking.
Limited format options in meeting minutes template.
💰
Pricing

nTask has a free Basic plan that offers unlimited workspace and meeting access for a team of up to 5 members. For bigger teams, the paid plan starts at $4/month.
4. Fellow.app
Fellow is an all-in-one meeting management platform that eases the process of note-taking and minutes sharing.
Pick the meeting notes template from the multiple options they provide, and as the meeting progresses, fill in the template with relevant points. You can collaborate with your teammates in real time on your meeting notes.
Pros
Offers multiple meeting notes templates to help create format-fitting meeting minutes.
Allows you to annotate meeting notes with comments and reactions.
Allows you to Track and update the progress action items within the meeting notes.
Offers customizable agenda templates.
Auto-cancels meetings without agenda, saving time and energy lost on directionless meetings.
Enables you to gather feedback on your meetings easily.
Cons
No real-time audio recording or summary.
No automated meeting notes or summaries.
💰
Pricing

Fellow offers a free plan for teams of up to 10 members. For bigger teams, the paid plan starts at $6/user/month.
5. Evernote
Evernote is another meeting minutes software that allows you easily collect and organize all your ideas as notes in one space, shared across devices.
Along with text data, you can also add photos, to-do lists, and audio clips to the minutes.
Pros
Offers customizable meeting minutes template
Provides audio recording and playback facilities within the notes.
Offers powerful search features with keyword tags.
Sync seamlessly with multiple devices.
Works offline.
Allows you to save and annotate web pages, images, and PDFs.
Integrates with Google Drive, Slack, Outlook, MS Teams, Zapier, and Gmail.
Cons
Does not transcribe audio recordings.
No auto-save feature.
💰
Pricing

Evernote offers a free version with limited features—sync with up to 2 devices, and the size of notes is capped at 25MB. For more space, integrations, and devices, subscribe to the paid plan that starts at $7.99/month.
6. MeetingBooster
MeetingBooster enables you to simplify the note-taking process and turn your discussions into documented action plans effortlessly.
Log into MeetingBooster and open the notecard to jot down important points during the meeting. MeetingBooster automatically converts these points into your meeting minutes.
Once the meeting concludes, proof, finalize, and share the notes with your peers.
Pros
Allows you to capture key meeting highlights without switching tabs.
An easy-to-use interface that lets you rearrange notecards and organize your notes by simple drag-and-drop action.
Offers multiple meeting minutes templates
Allows you to send meeting minutes in PDF format, with supporting documents embedded.
Allows you to park discussion topics for follow-up meetings.
Associate files with topics, allowing you to organize and digitally save your meeting notes in a shared space.
Built-in search features.
Customizable and highly secure storage.
Cons
Lengthy sign-up process.
Meeting minutes approval is only available for premium users.
No transcription or meeting audio recording.
7. Google Docs

Google Docs is an excellent meeting notes software that allows you to create and collaborate on meeting minutes anytime from any device.
You can simply use your meeting agenda as your minutes' template and note down points as the meeting progresses. Once the meeting wraps up, share the document with your team to fine-tune and finalize the document.
It can also recognize voices and create live transcriptions of the meeting.
Pros
Allows you to create and collaborate on meeting minutes in real time and from any device.
Enables you to share your meeting notes in just one click.
Download notes in multiple formats, including PDF and DOCX.
Allows you to use comments, suggestions, and action items to keep things moving.
Supports @-mentions to pull relevant people, files, and events into your document.
Built-in intelligence that enables you to write faster with smart suggestions, grammar checks, etc.
Works offline
Cons
Does not allow you to store and save audio recordings as other meeting minutes software platforms.
Limited to no auto-formatting options
End note,
There it is, the list of 15 best meeting notes software in the market today.
If you need someone to take the load of note-taking completely off you, go for AI-powered tools like Fireflies, Avoma, or Magic Minutes. And if you're on a budget and don't mind typing occasionally during a meeting, Google Docs and Fellow are good options.
But before fixing anything, remember to explore and experiment. Happy meeting!
Want to start with Fireflies? Get it for free today!