While tl;dv has been a popular choice for note-taking during online meetings, there are better alternatives available in the market today that are both feature-rich and cost-effective.
In this blog post, you'll discover eight notable tl;dv alternatives, each having unique features and capabilities to help you enhance your meeting productivity.
Let's get started!
8 best tl;dv alternatives
Thanks to AI note-taking tools, it's become easier to capture and transfer information discussed in online meetings automatically.
One such tool that helps with it is tl;dv, which offers accurate meeting transcriptions in real-time in over 20 languages. But is that the only one?
Here are 8 best tl;dv alternatives:
Fireflies
Airgram
Sembly
Otter
Noty
Grain
Tactiq
Vowel
1. Fireflies
Are you looking for a tl;dv alternative that offers similar (and even more advanced) features with cost-effective pricing plans? Then Fireflies is for you!
This versatile AI notetaker allows you to record, transcribe, summarize, and analyze online meetings on popular video conferencing platforms like Zoom, Google Meet, Webex, and more. It supports transcriptions in a total of 32 languages and identifies three distinct English accents (US, UK, and Australian), surpassing tl;dv by an additional six languages.
And, after every meeting, Fireflies automatically sends meeting recaps to everyone (based on your settings) so that everyone can review hour-long meeting conversations in mere minutes. Unlike tl;dv, Fireflies provides you with data-driven insights from your meetings, including sentiment analysis, talk-to-listen ratio, and talk time.
That's not all. It also seamlessly integrates with popular 50 storage, video conferencing, collaboration, and CRM tools, thus offering more integrations than tl;dv. Fireflies enables easier collaboration with your co-workers, analyzes meetings using conversation intelligence, and automates workflows, so your team can get more done in less time.
Key features:
Records, transcribe & summarizes live virtual meetings with 90%+ accuracy, timestamps, and speaker labels.
Transcribes meetings in over 30 languages.
Uses conversation intelligence to generate call insights.
Offers a user-friendly in-app text editor for easy reviewing and editing of transcripts
Lets you download transcripts and AI-generated summaries in 5 formats: PDF, DOCX, SRT, CSV, or JSON
Allows you to decide which meetings the Fireflies notetaker bot joins and when.
Allows you to annotate meeting transcripts with comments and reactions with the Thread feature.
Integrates with 50+ tools, such as Aircall, Slack, Salesforce, Zapier, Zoom, etc
Offers API for custom integrations
Has a Smart Search feature that helps you pinpoint crucial meeting details such as questions, dates, and times.
Allows you to extract and share meeting soundbites for easy reference. Also, collect soundbites from multiple calls into a single folder as a Playlist.
Offers a Chrome extension to transcribe & capture Google Meet calls directly from the browser.
Provides a personal AI-powered meeting assistant, "AskFred,"  to answer questions, create post-meeting content and customize meeting notes in one click.
Secures your meetings and ensures meeting compliance (SOC 2 Type II and GDPR compliant)
🤑
Pricing: Fireflies has a Free Forever, Pro, Business, and Enterprise plan.

The Pro plan is priced at $10/user, while the Business plan is $19/user (both billed annually.) A 7-day free trial is available for the paid plans.
2. Airgram
Airgram is another tl;dv alternative that records transcribes, summarizes, and shares all meeting conversations. With this AI notetaker, you can keep all meeting notes and decisions in one place, making it easier for team collaboration and knowledge sharing.
Airgram also allows you to share meeting highlights through video snippets, create structured meeting agendas, and easily collaborate with your team through shared notes and to-dos.
Key features:
Transcribes meetings in eight languages.
Provides a Chrome extension that automatically transcribes and records Google Meet & Zoom meetings.
Creates video clips alongside meeting transcripts.
Offers both video and audio transcription.
Offers meeting agenda templates.
Integrates with platforms like automation and video conferencing platforms like Zapier and Google Meet.
Keeps meeting data secure as it is SOC 2 and GDPR compliant.
💰
Pricing

Airgram has a Free, Pro, and Team plan. The Pro plan is priced at $8.99 monthly, and the Team plan is $17.99 monthly.
3. Sembly AI
Next on the list is Sembly, a meeting assistant that records, transcribes, and generates insights for all your meetings.
This notetaker allows you to easily search for past meetings, recall discussions using time-stamped notes and bookmarks, and receive AI-generated meeting summaries.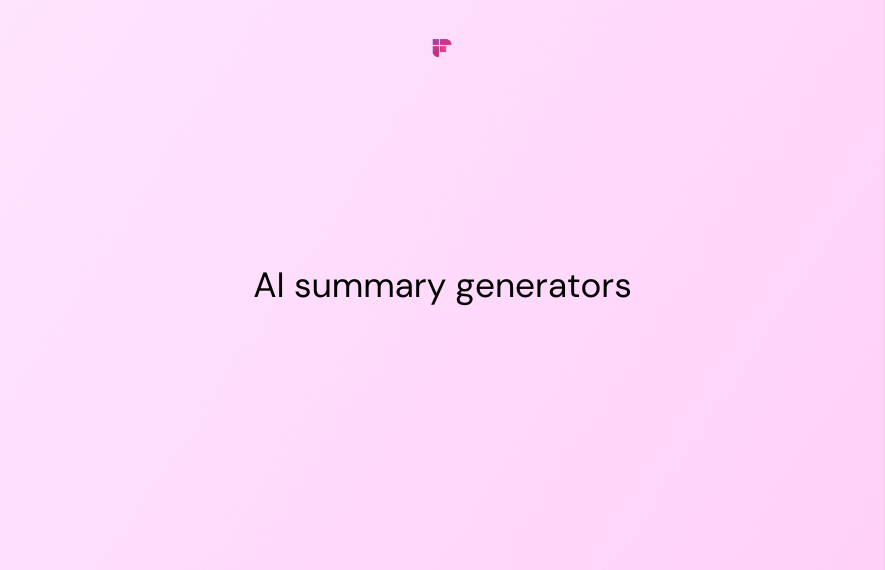 It also lets you use voice commands to add key information to your notes in real time.
Key features:
Records transcribes & summarizes meetings
Offers an AI assistant, "Semblian" that can answer questions and generate emails based on meetings
Supports 35 languages
Has a Chrome extension that records and transcribes Zoom, Google Meet, and MS Teams meetings
Generates meeting insights such as actions, decisions, issues, risks, and events
Increases meeting productivity with "Sembly Tasks"
SOC II and GDPR compliant
💰
Pricing

Sembly has a free forever, Professional, Team, and Enterprise plan. The Professional plan is priced at $10 monthly, while the Team plan is $20 monthly. A 7-day free trial is available for each of its paid plans.
4. Otter.ai
This next tl;dv alternative automatically records and transcribes all your meetings online. It also automatically captures and inserts slides into meeting notes for better context.
Plus, Otter integrates with several calendaring, video conferencing, and cloud platforms to automate your workflow.
Key features:
Automatically summarizes and captures meeting slides.
Transcribes pre-recorded audio or video files.
Available only in English.
Offers real-time collaboration features like commenting, highlighting, and revising.
Allows you to search meeting notes by keyword, speaker, date.
SOC II and GDPR compliant.
💰
Pricing

Otter has a Basic, Pro, Business, and Enterprise plan. The Starter plan is priced at $8.33/month when billed annually, while the Growth plan is $20/month when billed annually. A 7-day free trial is available.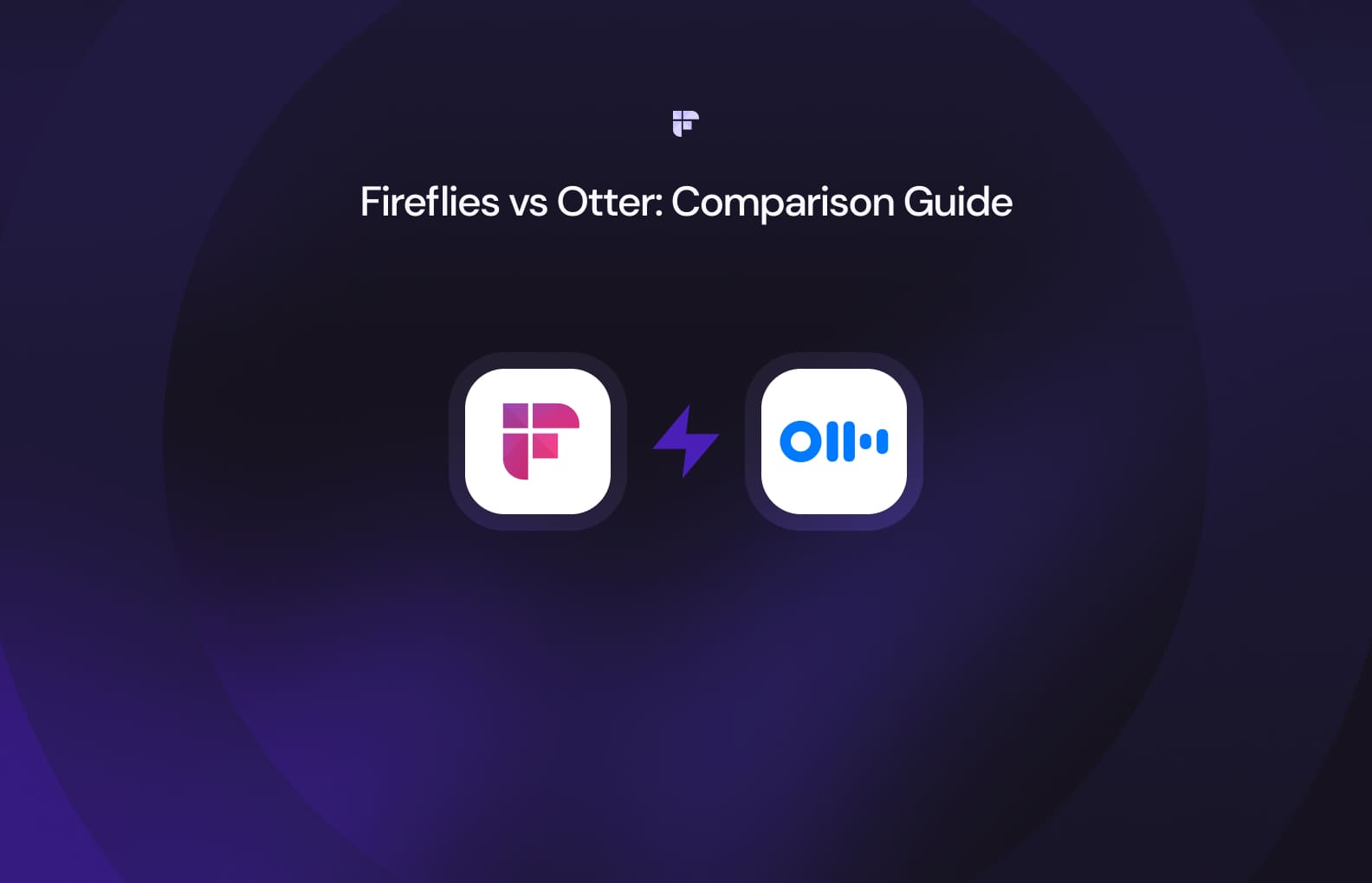 5. Noty.ai
Noty offers AI meeting transcription, one-click highlights for easy note-taking, and ChatGPT-generated summaries and action items.
This tool also offers pre-drafted meeting follow-ups and numerous team collaboration features to improve your meeting productivity.
Key features:
Offers ChatGPT-generated AI meeting summaries, tasks, action items, and decisions.
Has a Chrome extension that transcribes Google Meet & Zoom calls and generates meeting summaries.
Allows you to highlight and add comments to important parts of a meeting conversation.
Supports 18 languages.
Integrates with 5 tools, including Gmail and Zoom.
Allows you to create workspaces and folders for your projects.
SOC II and GDPR compliant.
💰
Pricing

Noty has a Free (Hero), Superhero, and Enterprise plan. The Superhero plan is priced at $14.99/month when billed quarterly. A 14-day free trial is available.
6. Grain
Grain is an AI-powered tool that automatically records, takes notes, and captures insights from all meeting conversations. It even provides accurate summaries that can be easily recalled, clipped, and shared with your team.
This notetaker also automatically syncs meeting summaries, key points, and action items to platforms like Slack, HubSpot, Salesforce, and more.
Key features:
Transcribes meetings in 9 languages.
Transforms meetings into short and shareable video clips.
Offers collaborative features such as commenting and tagging.
Allows you to search transcripts with keywords.
Lets you organize meetings into collections.
Secures meeting data
💰
Pricing

Grain has a Free, Business, and Enterprise plan. The Business plan is priced at $15/month when billed annually. A 14-day free trial is available.
7. Tactiq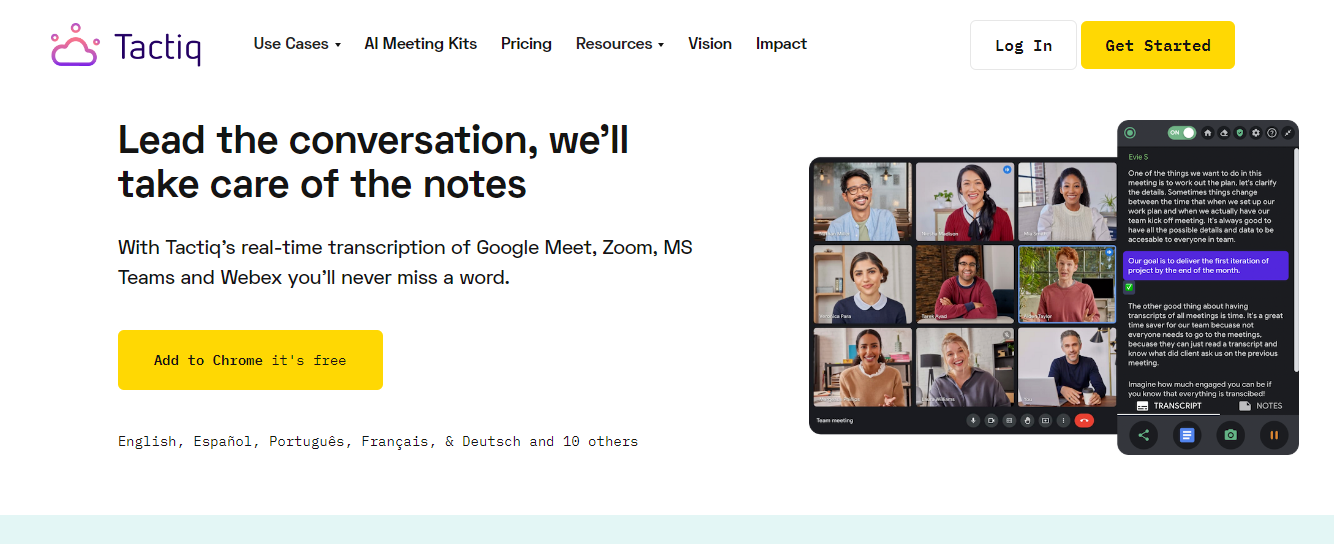 Tactiq is a transcription tool that provides real-time transcriptions for virtual meetings on Google Meet, Zoom, MS Teams, and Webex.
This Chrome extension uses GPT3 and GPT4 to automatically generate meeting summaries and provide you with meeting highlights, tasks, follow-ups, meeting agendas, and more.
Key features:
Highlights key points made during meetings.
Uses GPT4 to summarize meetings based on the transcript.
Transcribes meetings in 5 languages.
Allows you to save Zoom and Google Meet captions as transcripts.
Secures meeting data.
Offers integrations with 20 tools, including Slack, Asana, ClickUp, and Salesforce.
💰
Pricing

Tactiq has a Free, Pro, and Team plan. The Pro and Team plans are priced at $8 and $16, respectively (both billed annually.)
8. Vowel
Vowel is a meeting tool that allows you to host, record, transcribe, clip, search, and share meetings. This tl;dv alternative provides AI-powered summaries for every call, along with real-time AI action items, transcripts, and recordings.
It also allows teams to create agendas, set timers, and take notes during meetings to ensure that everyone is on the same page.
Key features:
Suggests AI-powered action items in real-time.
Offers real-time captioning.
Allows you to bookmark and timestamp important meeting moments.
Lets you create and share meeting clips with your team.
Transcribes meetings in 12 languages.
Allows real-time collaboration on meeting notes and agendas.
SOC2 Type II compliant.
💰
Pricing

Vowel has a Free Forever and Business plan. The Business plan is priced at $16.49 (billed annually.) A 7-day free trial is available for the paid plan.
Wrapping up,
While there are several notable alternatives to tl;dv that are worth testing out, Fireflies is the best choice for businesses and start-ups looking for a powerful AI meeting note-taker and assistant with advanced features and multi-language support on a budget.
Not only does Fireflies transcribe meetings accurately, but it also offers data-driven insights, seamless integrations with 50+ tools, and automated meeting recaps.
With this tool, you can effortlessly supercharge your team's productivity and collaboration while saving time.